Your brand new rug has finally arrived. The packaging has been cleared and the rug is unfurled in its intended room. But instead of a smooth, sleek foundation, you see waves, bumps, and curls.
Although this is a normal state for a new rug that has been rolled, wrapped, and shipped, it is not an ideal state. All area rugs and wall-to-wall carpet, whether new or not, are susceptible to developing ripples and bumps over time. A bumpy rug not only creates a tripping hazard, but the uneven wear and traffic also leads to structural damage. In this guide, we offer our favorite and most effective tips for getting your area rug to lay flat.
How To Get A Rug To Lay Flat
Here are a few of our favorite tips for how to flatten a rug or carpet:
Relax
Thankfully, most new rugs will naturally relax and acclimate in their new space, with little effort from you. Once the rug has been unrolled and smoothed into its new area, a couple of days to rest may be all it needs to lay flat.
Avoid placing furnishings on top of the rug for the first 24-48 hours. The weight of furniture and the resulting tension on the fibers can cause buckling. Once the rug has relaxed and adjusted, furnishings can be placed atop. The heavier the rug (think wool rugs or rugs with a deep pile or thick yarns), the more likely it will naturally flatten. Lightweight rugs may need extra time or extra help to relax.
---
How to Move an Area Rug
When moving or shifting an area rug, do not pull or tug the rug by the border or finished edge. This pressure can damage the border or finished edge. Instead, grasp the rug 2-3 inches inside of the border to adjust and move the rug.
---
Vacuum
For mild cases, rug wrinkles and creases may disappear with a thorough vacuuming. A strong suction pulls up compressed fibers and the creases and wrinkles vanish from sight.
Reverse Roll
If doable, roll your rug in the opposite direction. Rugs usually arrive rolled up, with the pile facing in or out, depending on the border application. When back rolling (against the direction rolled during shipment), keep the rug in this position for a day or two before unrolling.
Another variation involves simply turning the rug upside down, laying it flat, and letting it be for a few days. Gravity will help it relax in the opposite direction so that when you flip it back, the lumps and bumps are gone.
Rug Pad to the Rescue
We recommend rug pads underneath area rugs for multiple reasons. Rug pads provide cushioning, protect flooring underneath, help absorb sound, and non-slip pads keep the rug from slipping and moving. They also grip the rug's backing, pulling the rug down into a more flat position. To create another layer of adhesion, place double-sided tape in a grid pattern between the pad and the rug's underside.
---
A Word of Caution
Some rug pads contain chemicals that react with stains and finishes, potentially causing damage to hardwood floors. Non-slip rug pads made with natural rubber are generally safe to use on hardwood floors. We recommend contacting the flooring manufacturer for more information on the safest rug pad for your floor.
---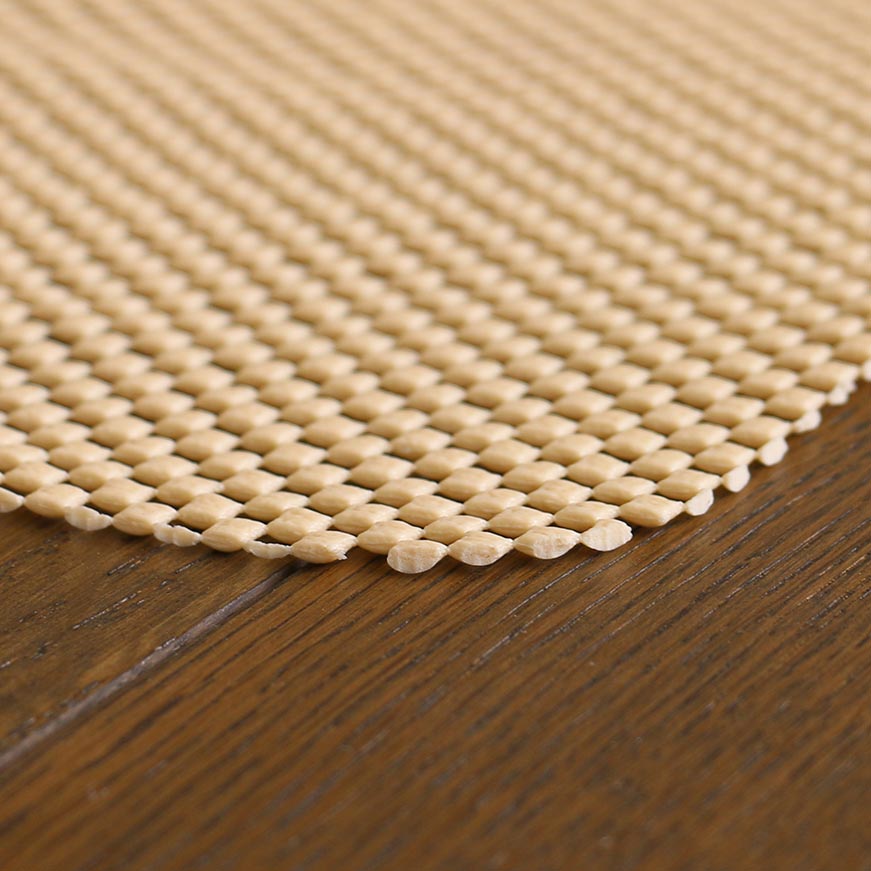 Weigh It Down
Heavy, solid pieces of furniture are excellent tools for flattening a rug. The more surface contact between the furniture and the rug, the better. Be sure that you have first let your rug acclimate 1-2 days in the space before layering on heavy objects. If your rug has not relaxed first, the weight and tension from heavy objects may make buckling worse.
For wavy portions or corners that pop up, piles of books or potted plants placed on the stubborn spots ease the fibers down. Although this may create a rather awkward furniture arrangement, a few days is all that is needed to force your rug to straighten out. If you have a smaller area rug, place it underneath a mattress for a few days.
Apply Heat, Carefully
Sometimes, a little bit of heat can soften the rug's backing and make it more pliable. The kind of heat to use depends on your rug's material. Listed below are the most common methods for flattening a rug by using heat or steam.
---
A Word of Caution
Always use care when manipulating the rug into shape—if you hear a cracking sound, stop! You don't want to break the backing and damage the integrity of the rug. Your rug may need more heat to soften the fibers or it is time to call a professional.
Synthetic rugs and backings can take longer to acclimate. Heat is a good option for these materials, but too much heat can melt some synthetic materials. Use low to medium-low heat and maintain a 6-8 inch distance.
---
Hair Dryer
A hair dryer held 6-8 inches from the crease or lump and moved back and forth softens the material so you can reshape or bend the rug into desired shape. This method works for natural fiber rugs (sisal, jute, or seagrass), wool rugs, and some synthetics. A medium heat setting works for natural fibers, while a low setting should be used on synthetics.
Steam
Steam from an iron or a steamer helps relax creases and curls. The steam also has some heat, so maintain a safe temperature as well as distance from the rug to avoid damage. Do not use steam on natural fiber rugs as the moisture can cause staining. Wools and some synthetics respond to steam treatments.
Sun
If you live in a place with plentiful sun and your rug is moveable, take the rug outside and lay it out for a few hours on a warm patio or deck. Or, if you don't have outdoor space, place your rug in a sunny spot in the house. This gentle warmth may be all the rug needs to flatten out.
Adhesives
There are many adhesive methods available to secure a rug to the floor or its rug pad that also help flatten a rug, including carpet tape, carpet grippers, and hook and loop fasteners (VELCRO). The first thing to consider before applying any of these materials is what kind of flooring or material will the adhesive contact. Many flooring types, like wood or laminates, have a finish that may react with adhesives, or the adhesive is not easily removed and you are left with a sticky residue. Contact your flooring manufacturer and find one that is compatible with your type of flooring.
Carpet Tape
Carpet tape or rug tape is a pressure sensitive, double-sided tape that adheres to many different surfaces, securing your rug in place. There are many different kinds of carpet tape, some are made from silicone or natural rubber, some use rubber and harsh adhesives. These products all have recommended applications, so determine which type works best with your flooring and follow product instructions.
To help flatten your rug, turn the rug over and apply the carpet tape in a grid pattern or a giant "X" on the backing, stretching the rug flat as you adhere the tape. Before removing the second protective cover on the double-sided tape, partially roll the rug up and place it in desired location. Remove the protective cover on the tape as you unroll the rug, stretching and applying pressure as you go. Not only will carpet tape flatten your rug and keep it from moving, it will help prevent the wrinkles and ripples from coming back.
How to Flatten a Rug on Carpet
Layering an area rug on wall-to-wall carpet is a common decor trick that adds visual interest. To help an area rug lay smoothly on carpet, try:
A rug pad intended for use on carpet that will pull the area rug flat.
Carpet tape that is formulated for use with area rugs on carpet to prevent the rug from slipping and moving.
A clever furniture arrangement that anchors the edges of the rug.
Corner Chaos
Sometimes, the corners of area rugs curl, creating a less than ideal look and causing a tripping hazard. Many of the same tips that help you flatten a rug work on curled corners, including:
Relax If this is a new rug, the corners might naturally flatten as the rug acclimates to its new position.
Reverse Roll Roll the corners in the opposite direction. One roll may be all it takes, or you may need to secure the backward roll for a few hours to force the fibers in the other direction.
Rug Pads Purchase a high quality rug pad that grips the underside of the rug, pulling it down. For extra insurance, add carpet tape at the corners between the rug pad and backside of the rug.
Weight Place heavy objects, such as potted plants or stacks of books, on the corners for a few days.
Heat Use the gentle heat from a hair dryer while rolling the corners back and forth. Place a heavy object on the corners while they cool.
Carpet Tape Tape the corners down with carpet tape. Determine which carpet tape product is best for your flooring type and use, and apply strips to the inside edges of the rug corners and adhere the corners to your floor.
Curl Stop Buy Curl Stop or a similar specialized product and attach them to the corners of your rug. Curl Stop is an anti-curling rug system that includes four thin, rigid boomerang-shaped pieces that are adhered to the underside of the corners. When properly installed, the curl stops are not visible and keep the corners flat.
When to Call A Professional
Unruly Area Rugs For area rugs that have become unruly over time or simply won't cooperate, consult with your local rug cleaning and restoration company. These professionals have the skills and the equipment to stretch or block the rug gently into shape.
Need more details about how to choose the right material for your next custom rug?
Our Everything You Need To Know series has the information you need.
Creating an outdoor gathering space?Need just the right amount of shade? Our guides are here for you.
Christy is the Flooring Content Specialist at Curran and sisalcarpet.com. She writes about flooring products with a focus on design and sustainability. For 5 years, her blog posts, technical guides, and product descriptions have led customers along the path from purchasing to maintaining their flooring investments. Her favorite natural flooring? A sisal rug, of course.