This stunning, modern wool rug collection from Best Wool is an homage to the incomparable characteristics of wool as a luxury design material. Manufactured in the Netherlands, the Monasch Collection exhibits wool's natural beauty, sustainability, and beneficial health properties.
Synergy
At Curran & sisalcarpet.com, we curate beautifully designed and thoughtfully crafted floor coverings for our design-oriented clientele. Niche products that radiate style, share fresh perspectives and showcase sustainability resonate with our company mission. So it is no surprise that founder Jeff Curran was drawn to Best Wool, a Netherlands-based company that has been designing and manufacturing woolen carpets with a focus on quality, style and sustainability since 1982.
"The synergy between our companies was evident," says Jeff Curran. "We both want the same product: we want sustainability, we want quality, and we want style. And we share the same customer base." From this synergy, a partnership emerged that brought Best Wool's new Monasch Collection to an American audience for the first time.
The Monasch Collection
The Monasch Collection is named after Best Wool's Managing Director Yvar Monasch. Monasch joined Best Wool in 1998 after spending many years restoring and selling grand pianos. Best Wool's focus on production appealed to Monasch. He appreciated how the process transformed a natural, raw material into a refined and beautiful finished product. To see people "…being so really involved in manufacturing, into manufacturing a natural material, that is what really excited me…[the] production side of our business is really something that I treasure," Monasch said in an interview with Elisabeth van Delden on her podcast The Wool Academy Podcast.
A New Yarn
The holistic production process honors every stage of wool's lifecycle. It not only encompasses the manufacturing of the carpets, but also the sourcing of raw materials and the creative energy that brings a piece of art to life. Monasch says that this creative energy "…all starts with the spinning of a new yarn." Thread spinners and designers work closely together to create new, exciting yarns that become the palette of these bespoke wool rugs.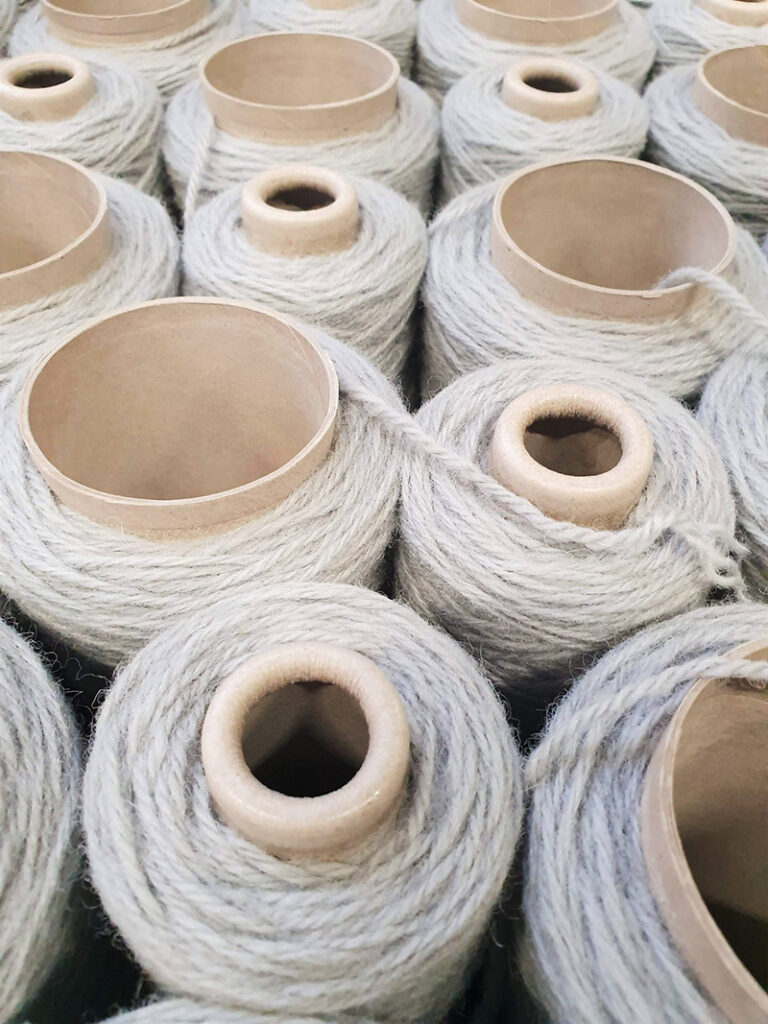 The Rugs
The Monasch collection includes 13 unique wool rugs that range from plush and thick to low-profile and soft, from multi-colored to monochromatic neutrals. All are available in custom sizes with your choice of refined border options. The interplay of unique yarns, textured wool, and fresh design create the spark in this collection. Eccentric names like Fat Cat and Bad Hair Day make these playful rugs all the more enticing.
Colors, from natural to dyed, play a starring role in this show. The undyed wools in The Hi-Low or Chalk range from cream-colored whites to steely greys and create a warm and welcoming neutral foundation. The multi-hued yarns in Flashback or Masai show bold combinations for those who welcome color into their homes.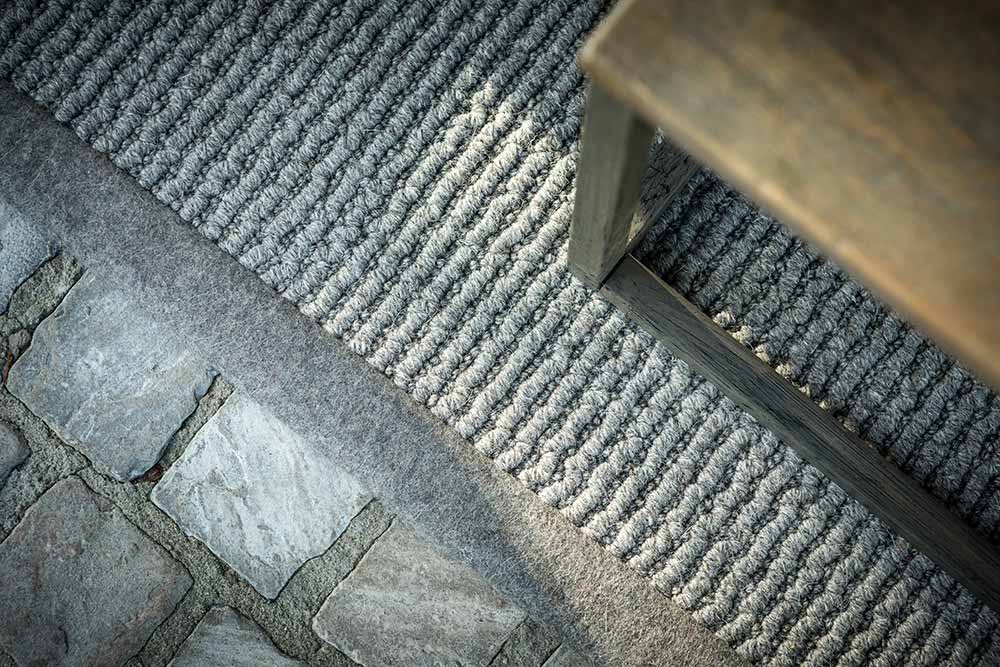 The skilled application and techniques used by Best Wool's craftspeople elevate the Monasch Collection to another level. Twisted and looped yarns in saturated tones delight in Fingers Crossed Flavoured. Spaced Out mixes multiple colors in one yarn for a rug that introduces a unique chromatic terrain to your floors.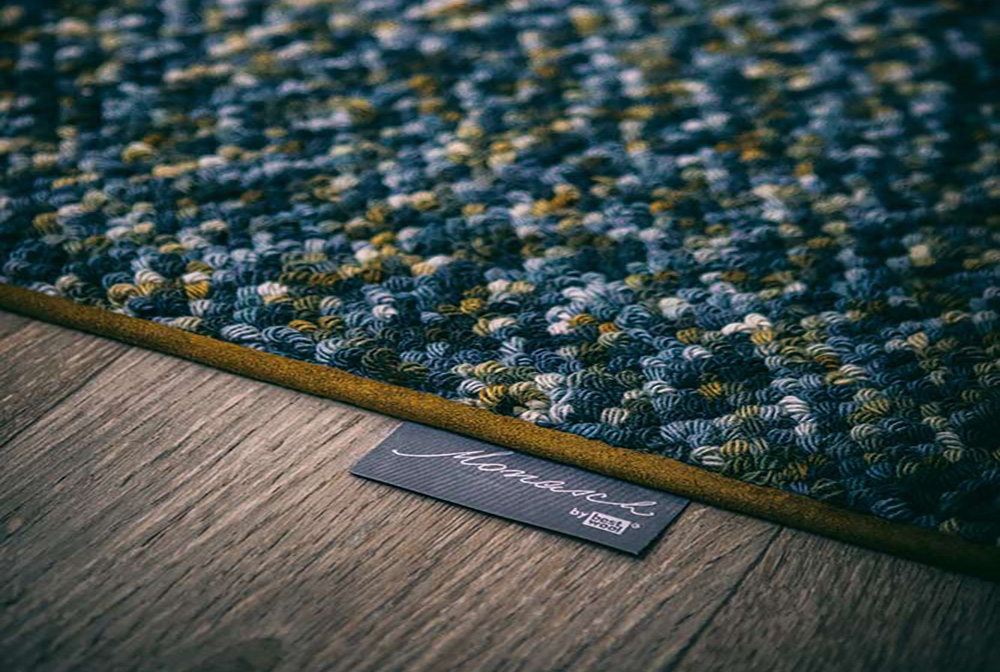 Best Wool History
At its inception, Best Wool was called Carpet Factory Best and produced broadloom luxury wool carpets for distribution throughout Europe, North America, and Australia. The name "Best" is a reference to the location of this company: In 1982, the original owner chose the town of Best because it was perfectly located near his three favorite suppliers. He marked the locations of these three main suppliers on a map, drew a circle to connect them, and saw that the town of Best was right in the middle. The company Carpet Factory Best was born and has evolved over the years to its current name Best Wool.
During this exciting transformation, Best Wool furthered their commitment to producing eco-friendly carpet in close collaboration with farmers. At the same time, they have also forged creative collaborations and formed new relationships with consumers. These values align in the Monasch Collection, which aims to strengthen the connection between the producer and consumer. Monasch says with the Monasch Collection, they aim to "…communicate directly with consumers [and] to also understand their needs for wool products in their houses."
To achieve this goal, Best Wool partnered with rug retailers in Europe and co-branded with e-commerce companies like Curran & sisalcarpet.com. Stephanie Piché, Curran's Head of Sales & Product Development, notes that "Best Wool wanted a crossover to a different channel, into the retail, designer store, and the Monasch Collection is a reflection of this shift."
Best Wool's Sustainability Story
The Monasch Collection offers bespoke woolen rugs that are more than a beautiful fashion piece for your floor. A commitment to transparency and sustainability are woven into every piece. And although the design process starts with the spinning of a new yarn, the production process begins with the wool itself and ends with a continued commitment to sustainable practices. From the sourcing of the raw material, to the carpet backing, to the facilities and operations management, Best Wool continuously demonstrates its commitment to eco-friendly practices. 
The Wool
Only the finest, sustainable wool from New Zealand and Europe is used in the creation of Best Wool's Monasch rugs, which means that your rug is part of a renewable fiber life cycle. Wool grows back every season and when it reaches the end of its useful life cycle, wool biodegrades and returns nutrients back to the soil.
Best Wool procures its wool in partnership with the New Zealand Merino Wool Company and ZQ wool, which awards its brands with RWS (Responsible Wool Standard) certification and sources wool that is ethically farmed and traceable. Wool already offers a host of benefits for the consumer, including comfort and improved indoor air quality, and ethically sourced wool benefits the sheep farmers as well as our environment.
The Backing
Monasch rugs are secured with a VOC-free backing called Niaga® (again spelled backwards). The Niaga® backing is a recyclable polyester that can be separated from the wool weave, leaving two distinct materials that can be recycled and put back into the flow for new product creation or, in the case of wool, biodegrade back into nature.
The Company
In 2014, Best Wool underwent renovations that included the addition of efficient heating systems, LED lighting throughout, and solar panels. The solar panels propel Best Wool into being an energy producer instead of a consumer and are forecasted to produce more energy than the company uses. Combined with their focus on 100% recyclable floor coverings, the operational improvements at Best Wool's headquarters reinforce their sustainability commitment.
Premiere Purveyors
Curran and sisalcarpet.com and Best Wool are proud to bring you the Monasch Collection: sustainability threaded into every piece, with breathtaking designs that are rich in luxury and comfort.
Christy is the Flooring Content Specialist at Curran and sisalcarpet.com. She writes about flooring products with a focus on design and sustainability. For 5 years, her blog posts, technical guides, and product descriptions have led customers along the path from purchasing to maintaining their flooring investments. Her favorite natural flooring? A sisal rug, of course.