A vital piece of any smart hotel decor is the flooring—the style, the feel, and how it performs. For a hotel, carpet and rugs are usually the flooring of choice. Why? In this post, we answer that question and offer our advice to help you make the right flooring decision for a hospitality space.
Benefits of Rugs or Carpets in Hotels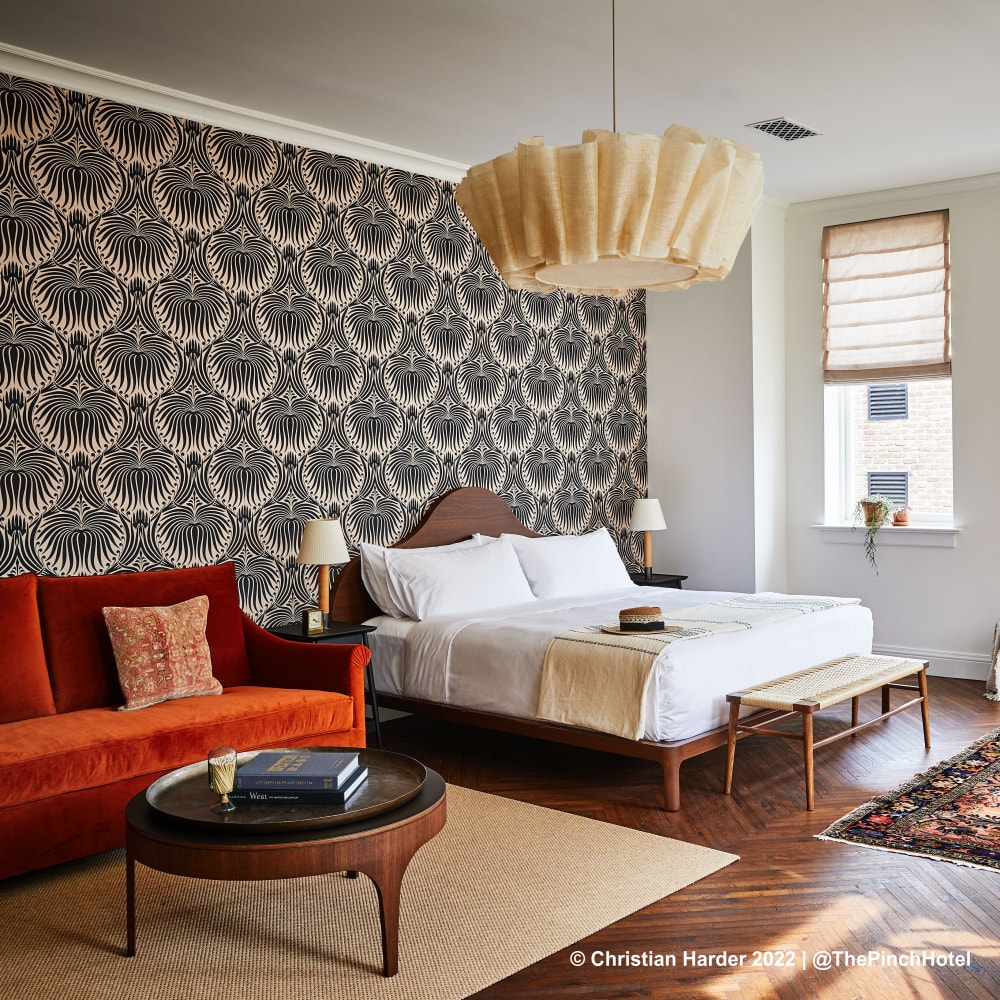 Aesthetics A well-placed area rug or a fitted carpet in just the right tone are design statements and should enhance the hotel's overall decor and style.
Comfort Underfoot Tired feet appreciate a soft landing after a long day touring a city or early in the morning before a big meeting. Soft rugs placed under hotel beds or a luxury carpet installed wall-to-wall add a layer of comfort.
Noise Absorption Hotels, from trusted chains to small boutique hotels, experience people coming and going 24 hours a day and therefore experience noise. Carpets and rugs absorb sound, helping to reduce overall noise pollution.
Temperature Insulation Carpet also is a great insulator against cold temperatures and helps equalize ambient temperature in hotel rooms.
Safety A wet, hard floor like linoleum or wood poses a slipping risk. Carpets provide traction and a commercial carpet is rated for anti-slip properties (check specifications).
Hotel Room Decor
An inspiring and cohesive interior design is vital to the viability and success of any hotel. Guests should be impressed the moment they walk in by the style, personality, and/or cleanliness of the space. Flooring plays an important role in establishing a vibe and thankfully, offers flexibility to help you craft a personality.
Texture
Most hotel carpets have a flat, low pile height with loops, multilevel loops, or cut and loop pile. A multilevel loop carpet or cut and loop pile carpet adds a bit of visual and textural interest to the decor and is still easy to clean. A plush, high pile carpet is not a good choice for a hotel room—spills or other accidents easily get caught between the longer fibers and require more effort and maintenance to keep clean.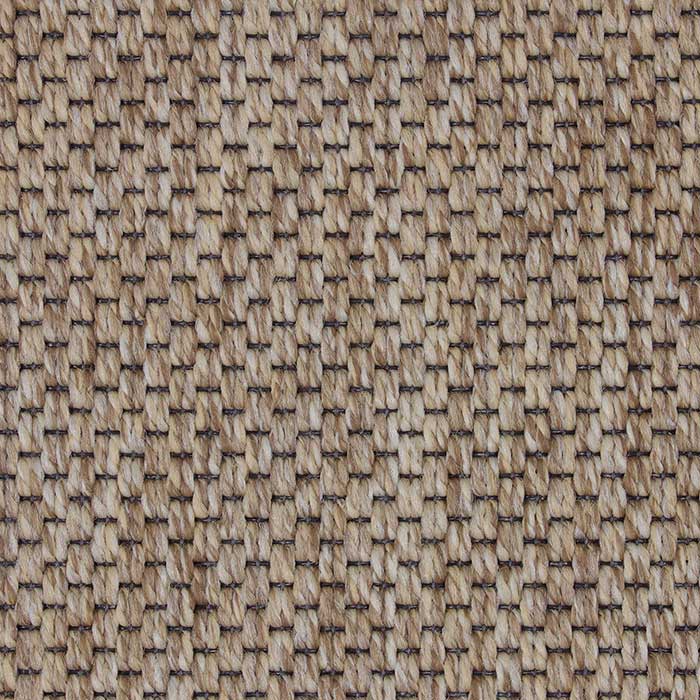 Pattern & Color
Carpets can be manufactured with an endless array of colorful patterns and designs. A custom, grand pattern with multiple colors makes a bold statement in a hotel lobby. Patterns are also present in a weave's construction—a flat weave carpet might highlight a herringbone or tiger-eye pattern with varying loop levels or duotone yarns, perfect for a subtle style effect in a hotel room.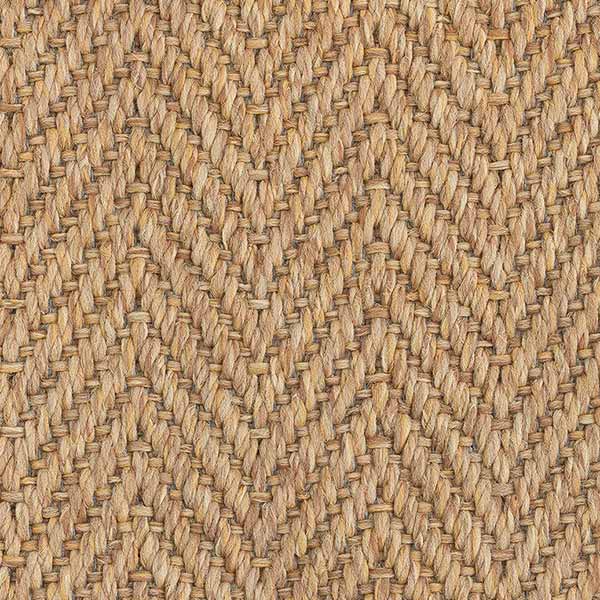 Carpets with monotone or neutral palettes are a smart investment since trends change—the wall decor, bedding or furnishings in a hotel room can be changed more easily than flooring, and a neutral carpet will always stay in style. Furthermore, the combination of a neutral colorway and a durable, high-performing material means less carpet ends up in a landfill—a win-win for the bottom line as well as the environment.
Check out the SynSisal® collection: beautiful carpet and rugs made from ECONYL® yarns, a 100% recycled nylon with low VOC contribution. SynSisal® mimics the traditional look of natural sisal in structure and color, but is soft underfoot and carries contract grade ratings.

Read more at SynSisal®—Sisal Without Limits or view our SynSisal® Lookbook.
---
Another great option for a hotel rug or carpet is a bright monotone color or a soothing neutral from tretford® roll, a contract-grade, fusion-bonded wool blend from Germany that is highly durable and looks amazing in any space.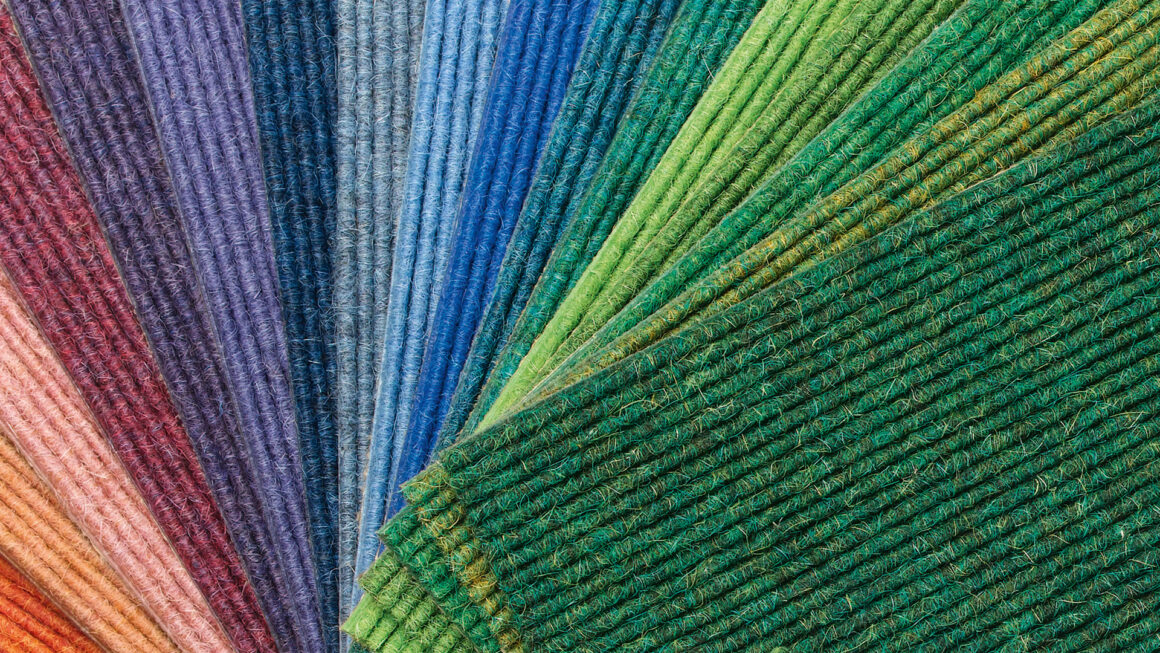 Performance
It is common practice for hotels to undergo a soft renovation every 5-7 years, bringing in new linens, window coverings, furniture, and rugs to refresh the space. A soft renovation is a cost of doing business, but extending the life and look of such furnishings saves money over time and helps the environment by reducing waste.
When it comes to flooring, choosing a product with a timeless look and high quality performance means hotel managers don't have to replace flooring as frequently. Instead, they can focus their budget on other design elements. Therefore, only specify contract grade or commercially rated carpet or rugs that will maintain structural integrity despite routine cleaning, maintenance, and regular traffic. Also, consider neutral yet classic colorways that blend with any decor and resist trends.
Best Carpet or Rug for a Hotel by Application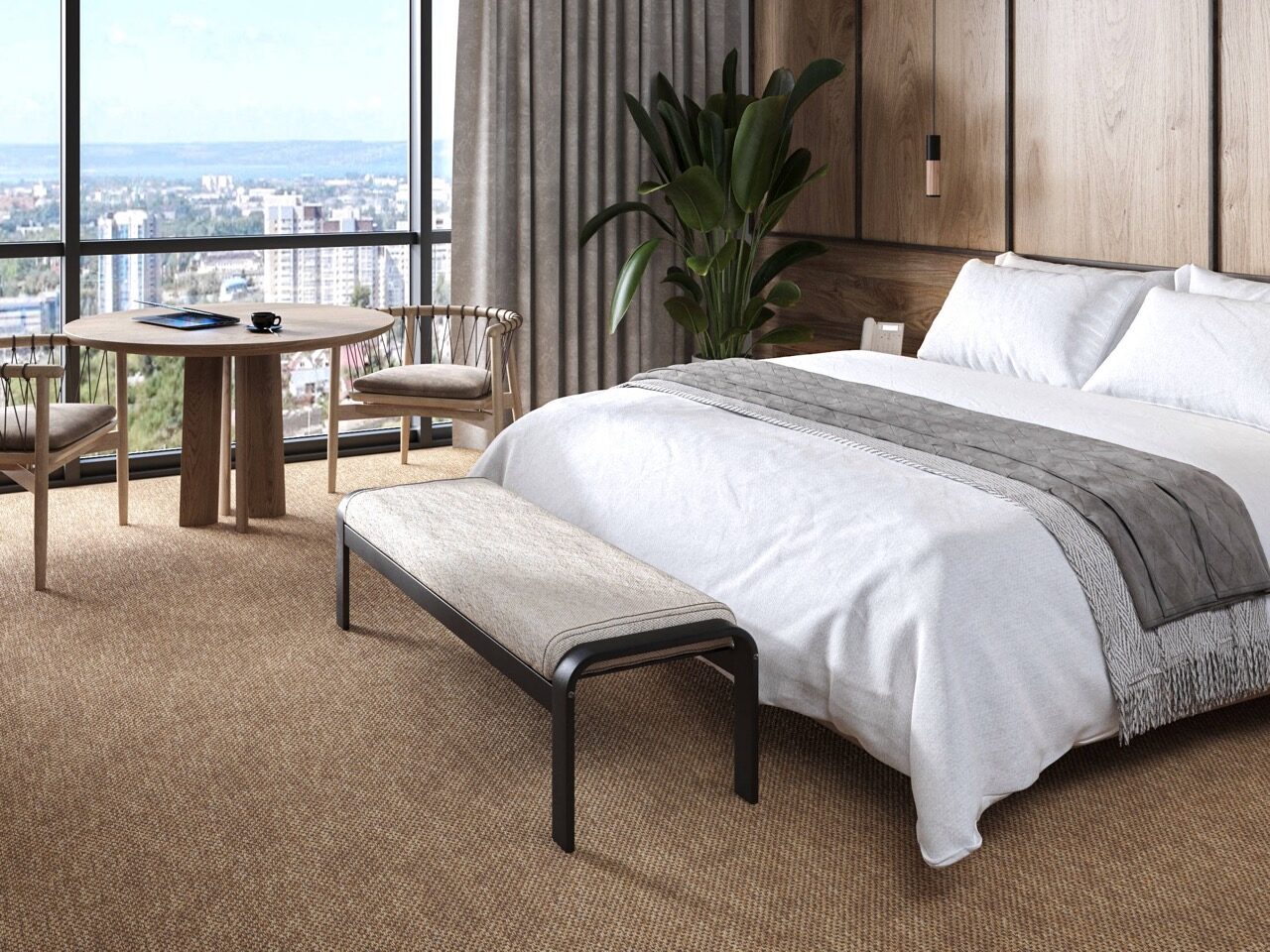 Luxury or Boutique Hotel
A boutique hotel has the opportunity to tell a story, thread a theme throughout the decor, reinforce brand recognition, and take more risks than larger hotel chains. A focus on sustainability, for example, leads to responsible sourcing of all materials. Here are a few other suggestions:
Sustainability Focus: Natural products, recycled materials, or carpets manufactured in a closed loop system meet sustainability goals.
Wool is a renewable resource and makes durable, beautiful carpet.
SynSisal® is a contract-grade nylon carpet that mimics the look of natural sisal and is crafted from regenerated ECONYL® yarns.
High-end hotel rooms with low traffic might look to Jacaranda's collection, with gorgeous carpets created from TENCEL™, a silk-like botanic fiber made from wood pulp that originates from sustainably-grown eucalyptus forests.
Wellness Focus: A wellness focus also welcomes natural and natural-look flooring options. Think wool, stain-resistant sisal, or modular tiles like Sisal Tiles or Contract Coir Tiles. For a natural look with softness underfoot, the Terasa collection offers carpet that is cleanable, soft, and available in organic structures with soothing colorways.
Luxury Focus: Bespoke area rugs and plush carpet enhance luxury decor but also elevate comfort to an art. Synthetic sisals like SynSisal®'s Langley or Terasa's Perth add a soothing yet sophisticated element to hospitality rooms. The iridescent colorways of Seoni or Satara from Jacaranda contribute a layer of visual intrigue and pomp into a luxury hotel's decor.
Hotel Lobby or Hallway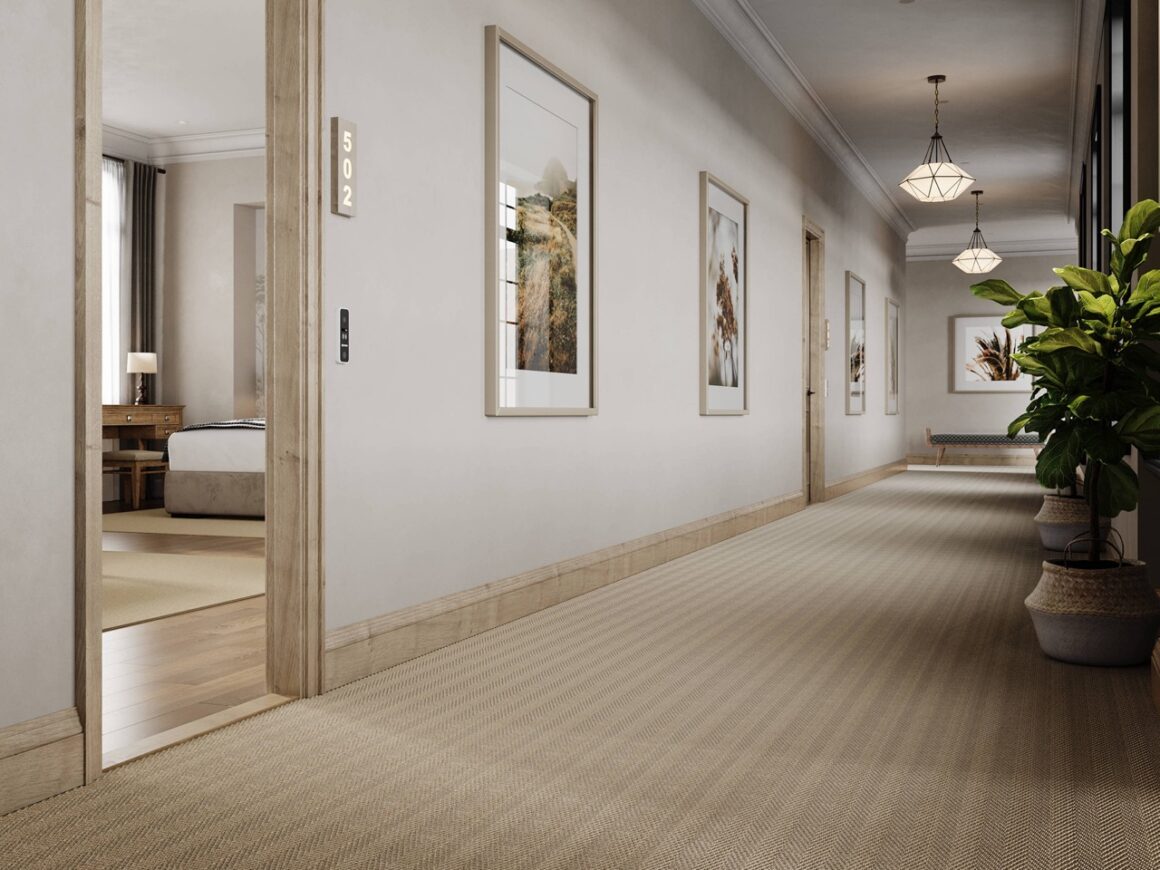 A well-designed hotel lobby welcomes your guests and hallways provide clear direction. The chosen carpet should be beautiful and inviting while meeting contract grade standards like durability and cleanability.
The acoustic properties of carpet in lobbies and hallways can not be underestimated—carpet is 10 times more efficient in reducing noise pollution as compared to other flooring options according to the American Society of Interior Designers. Look for nylon or polypropylene carpet for these high traffic areas.
Hotel Room
Hotel rooms are a home away from home and should be comfortable, clean, and contemporary. Carpet or rugs in a hotel room provide a soft landing, unify a design scheme, and absorb noise. Since hotel rooms withstand less constant foot traffic than a corridor or lobby, synthetic flat woven sisals or wools installed wall-to-wall or as area rugs are great choices.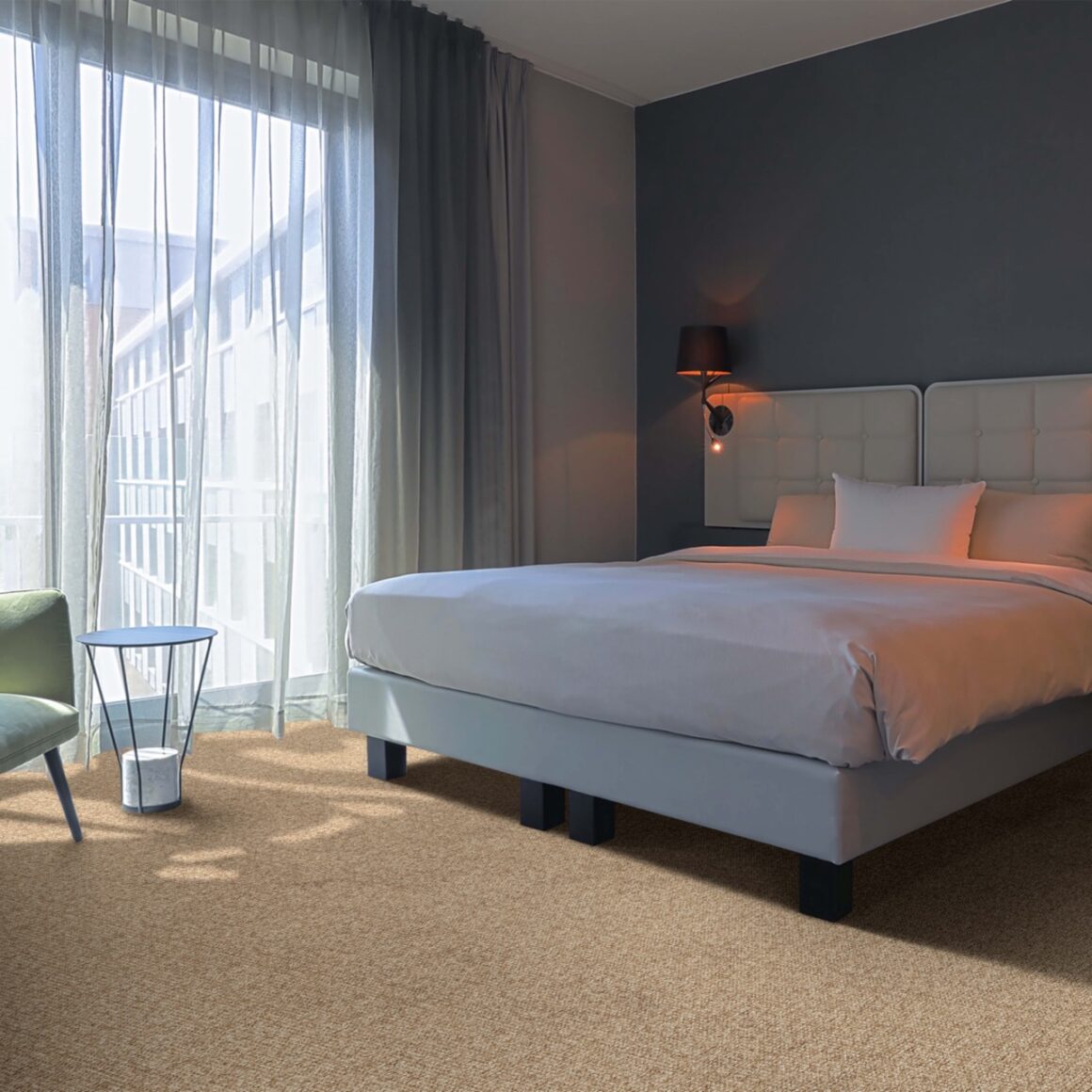 Hotel Restaurant or Bar
Although carpet in food and beverage prep areas is generally not allowed, a carpeted surface in a dining room or bar seating area is a nice way to enhance the decor and absorb noise. Look for a high-quality commercial carpet that is flat, dense, and has darker colors. The darker colors will help hide stains should they occur and the tighter or denser the weave, the easier it is to clean.
A carpeted floor adds ambiance and warmth to the environment, plus it creates a non-slip surface. Modular carpet tiles are a smart choice for these hospitality areas since a stained tile can easily be swapped out for a new tile.
Pool Area or Fitness Center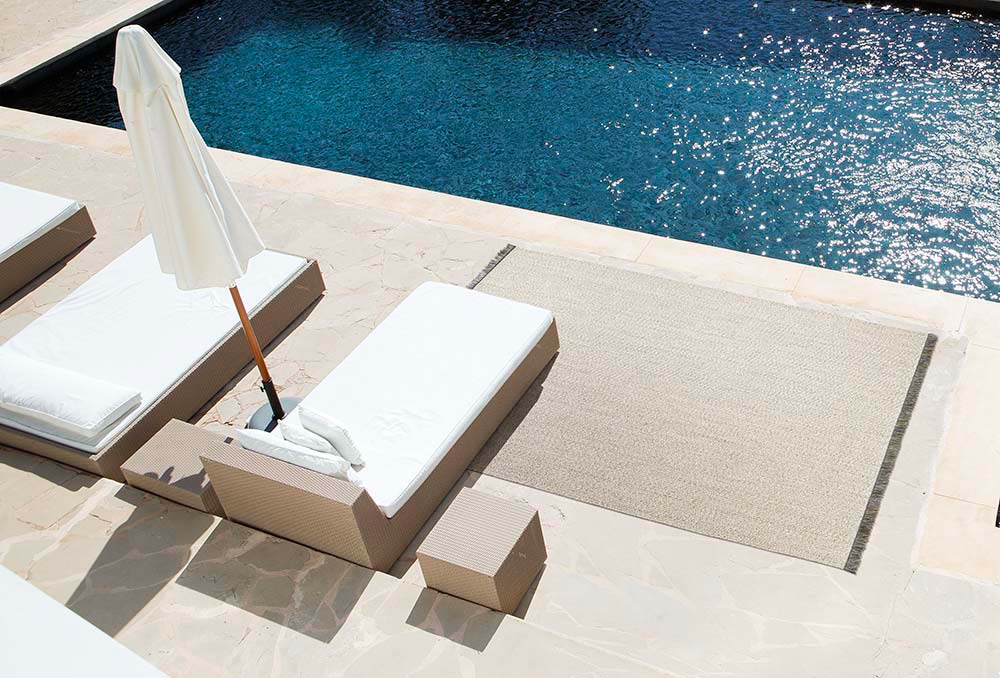 Any area that gets wet is an ideal candidate for woven vinyl. Not only can you find an array of designs and colors, woven vinyl carpet is non-slip, highly durable, anti-microbial, provides cushioning, and is super easy to clean. A woven vinyl rug or mat in between chaise loungers adds sleek comfort underfoot.
Can you use area rugs in a hotel?
Yes, and they add a wonderful design detail to hospitality spaces. An area rug can define a space in a hotel, like a sitting area in a lobby or in a hotel room. Area rugs are preferable to carpet especially in adaptive reuse settings where the designer wishes to highlight historic wood, stone, or marble floors—the beauty of the flooring is on display while area rugs complement the decor and add a soft touch.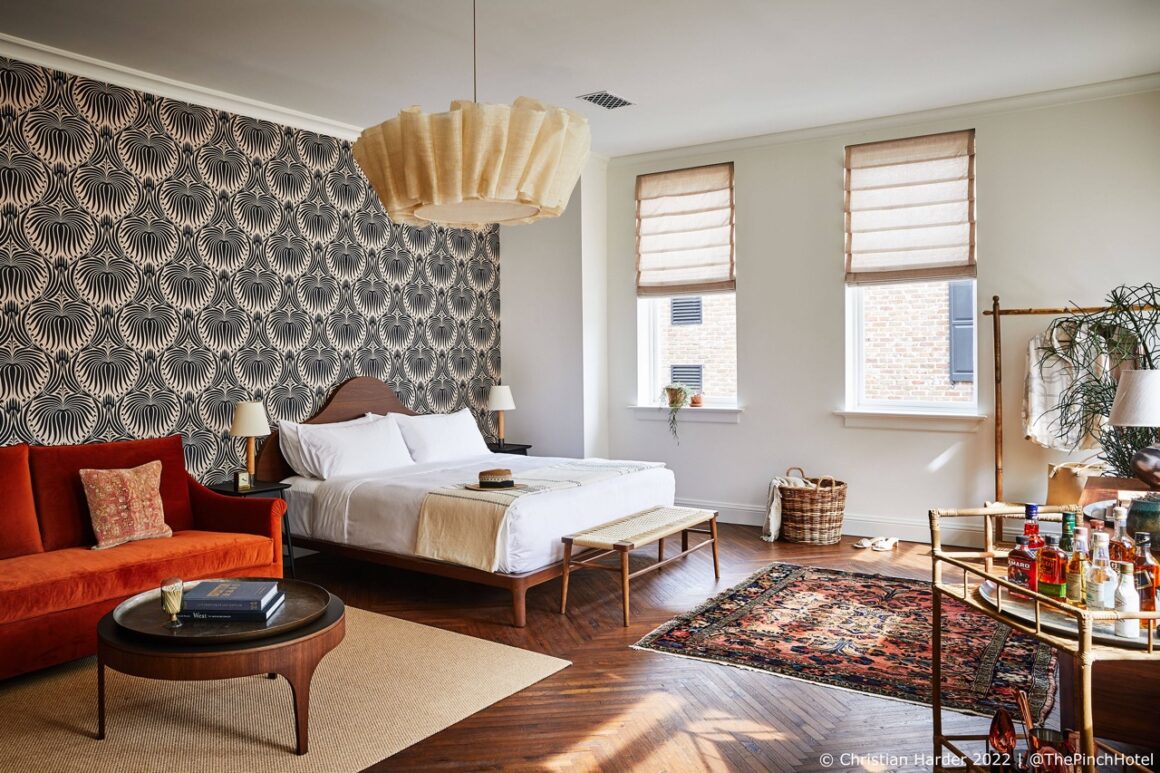 SynSisal® Rugs at The Pinch Hotel
The Pinch, located in the heart of historic Charleston, South Carolina, invites travelers from around the world to experience true Southern hospitality, from its in-house oyster bar to royally decorated rooms and residential suites. Every aspect of the space elegantly blends modern amenities with authentic period charms.
Discover why the design team behind The Pinch decided SynSisal® was the right weave for this unforgettable hotel.
Another hotel setting where area rugs are preferred include beach or waterfront locales. These locations, with sand and water tracked in daily, opt for ceramic or other hard flooring for ease of cleaning but still need the design element and sound absorption that area rugs provide. Plus, area rugs are easy to move when deep floor cleaning is scheduled and easier to replace than wall-to-wall carpeting.
For safety reasons, an area rug should be firmly secured to the floor with a rug pad, carpet tape, or heavy furniture. If corners are accessible, a product like Curl Stop or carpet tape will help keep the corners flat. Upturned corners create a tripping hazard and an unsecured rug is a slipping hazard.
Can you use carpet tiles in a hotel?
Carpet tiles are a versatile option for busy hospitality spaces like hotels. In general, carpet tiles are easy to install (see our tile install guide here) unless you have a complicated design. With carpet tiles, you can create subtle designs by simply rotating a tile or alternating colors.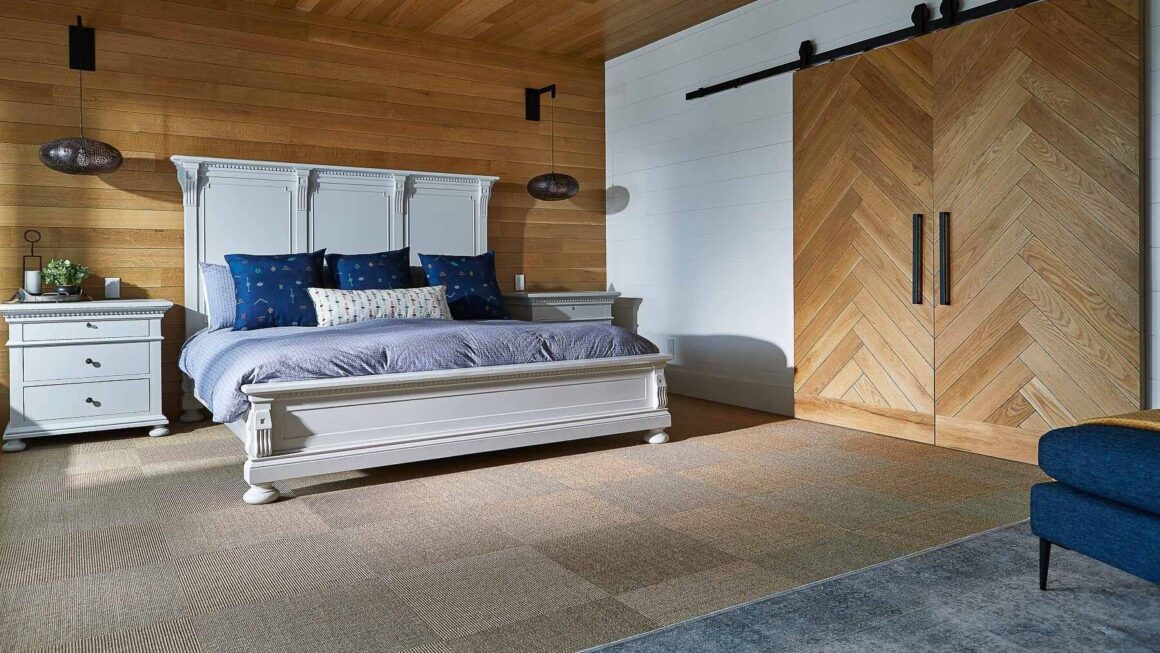 And if a tile becomes stained, swapping it out for a fresh, new tile is easy. This is also a smart environmental move since only a tile here and there needs to be replaced instead of entire swath of wall-to-wall carpeting.
Installing Carpet in Hotels
A cohesive look and sound absorption are key benefits of wall-to-wall carpeting in hotels. The right underlay or rug padding will further reduce sound pollution and increase comfort underfoot. Plus, a well-defined maintenance schedule will increase the lifespan of the carpet and keep it looking great.
A carpet installation is a big project. If you are installing a flat weave carpet, please check out all our resources that guide you to a successful installation:
Installation guidelines all in one place
Videos with our expert installer demonstrating installation techniques for flat weave carpet
An in-depth blog post with all the details you need to plan and implement a carpet installation
If you still have more questions or need guidance on the best carpet for your application, please do not hesitate to reach out to our knowledgeable customer service team.
Christy is the Flooring Content Specialist at Curran and sisalcarpet.com. She writes about flooring products with a focus on design and sustainability. For 5 years, her blog posts, technical guides, and product descriptions have led customers along the path from purchasing to maintaining their flooring investments. Her favorite natural flooring? A sisal rug, of course.