What is the best carpet for high traffic areas? This is a great question and the answer might depend on your location, if you have pets or children, or if you have a favorite flooring material. Let's explore the many carpet options available to find the best one for your situation.
How To Choose The Right High Traffic Carpet
Material Matters
High traffic areas need durable carpet that is easy to clean. High traffic carpet is made from materials like nylon, polypropylene, wool or wool blends, woven vinyl, or some natural fibers like sisal and coir. Other modern synthetics like poly silk also work well in busy spaces.
Want to learn more about the carpet materials?

Head over to our Rug Buying Guide and learn about different rug fibers, the best rug for each room of the house, how to order a custom rug, and more.
Location, Location, Location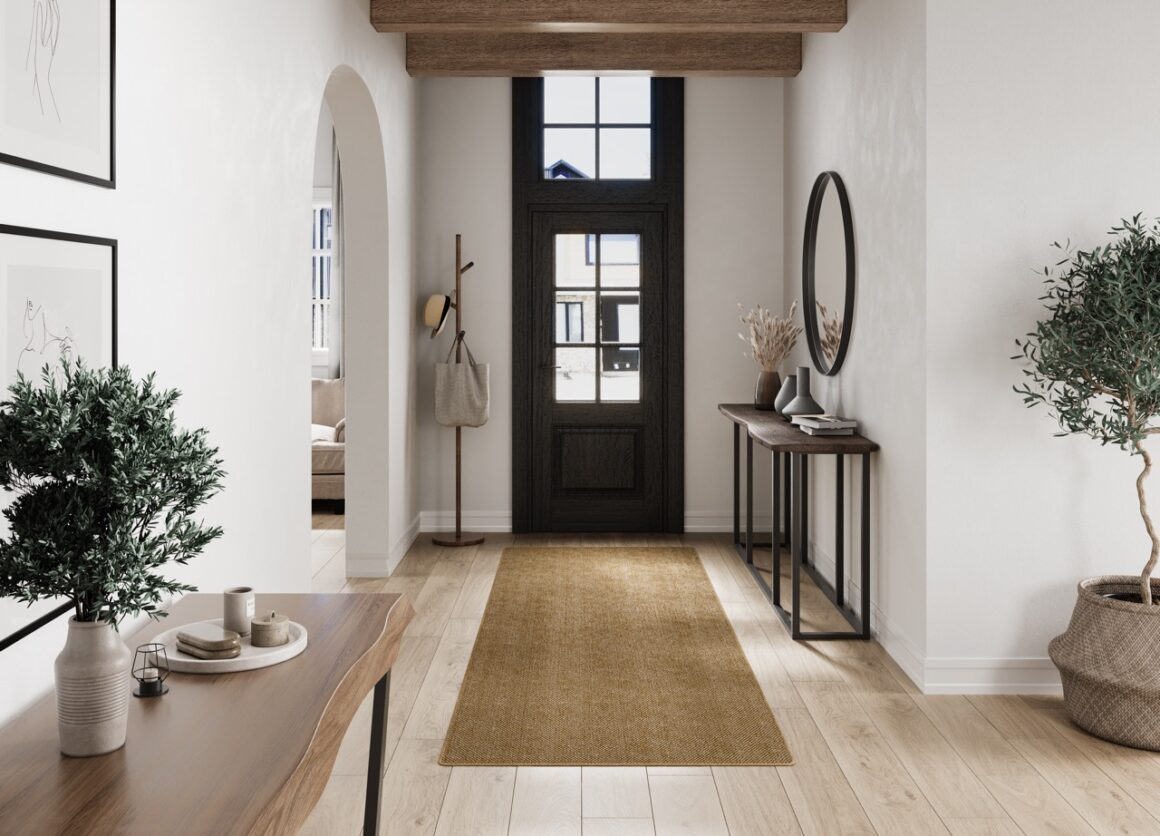 An entryway in a suburban residential home has different needs than a commercial retail shop. Nonetheless, there are many carpets that meet the needs of both, like a synthetic sisal or a stain-resistant sisal. Here are some quick carpet suggestions based on location:
Residential Home
A variety of high traffic carpet options exist for the residential dweller. Sisal and coir can stand up to heavy traffic but can be more challenging to clean. Wool is durable, available in many colorways and patterns, and moderately easy to clean. Synthetic carpets are made from tough materials that are easy to clean and built to last. Look for synthetic sisal woven from polypropylene or soft, colorful weaves from poly silk. High traffic materials make a good fit in entryways, mudrooms, living rooms, and kitchens, where stain resistance and frequently moving furniture are common.
Vacation Home
For high traffic areas in a beach house or mountain lodge, synthetic carpets check many boxes. If you have snow melting in your entryway or dripping bathing suits in your family room, synthetics like woven vinyl or a polypropylene from the Terasa collection are durable, fade-resistant, non-slip, non-absorbent, and easy to clean.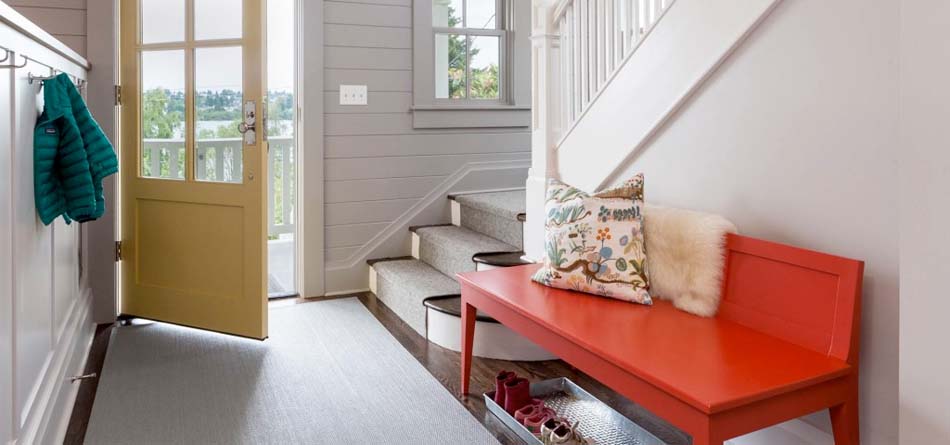 Commercial or Hospitality Setting
Nylon is the material of choice for commercial settings. It is durable, solution-dyed, crush-resistant, and cleanable. SynSisal® is a sisal-look weave woven with ECONYL® regenerated nylon yarn—it's perfect for high traffic areas and brings a soft, organic look to a commercial space. A retail storefront is a candidate for SynSisal®, Terasa, or natural fibers like stain-resistant sisal or Contract Coir.
Traffic Volume
If you have kids or pets and a high traffic family room, having a soft but tough floor covering is required. A poly silk like Indio or Gold Coast offer a colorful, cleanable, and comfortable carpet for gathering spaces like living rooms or family rooms. Busy corridors or lobbies in office or commercial setting do well with synthetics like nylon or polypropylene, materials that can take a heavy beating and still clean up.
How To Clean & Maintain High Traffic Carpet Areas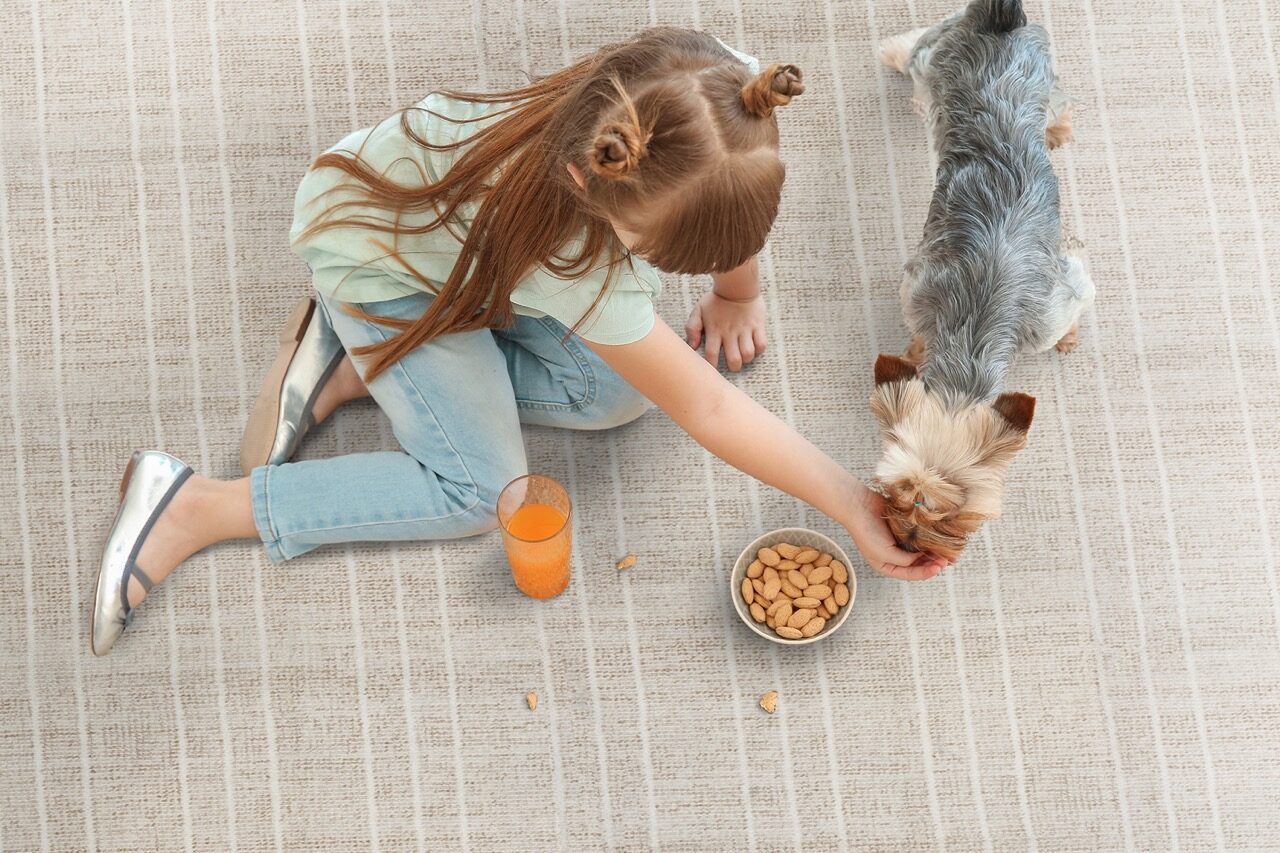 Prevention
The first line of defense for protecting carpet in high traffic areas is prevention. Here are key steps to take:
Make the right choice for the application. A commercial space needs contract grade carpet while a residential dwelling needs a carpet with at least a heavy residential rating. These ratings tell the consumer that the carpet can stand up to heavy foot traffic. Also, patterns or darker carpet colors help disguise difficult stains until scheduled deep cleaning can occur.
Both commercial and residential spaces should have a doormat or walk-off mat at all entrances. These sturdy mats grab dirt and dust before it enters the space.
For private homes, a "no shoes in the house" policy goes a long way in preventing soiling and staining on high traffic rugs.
A planned maintenance schedule—for both commercial and residential environments—restores high traffic carpet, increases its lifespan, and protects your investment. Regular vacuuming, spot cleaning, and routine deep cleaning are a must.
Cleaning High Traffic Carpet
As mentioned above, walk-off mats at entrances and routine vacuuming are the first steps in keeping high traffic carpet clean. Additionally, remember to:
Take care of spills as soon as possible. The longer something sits, the more difficult it becomes to remove.
Schedule routine maintenance in accordance with the rug's specifications or manufacturer's recommendations. Professional cleaning should be done on a regular basis. Whether it's every three months or six depends on the level of traffic. Be sure to read any care information that comes with your rug—there are various professional cleaning processes, each one suited to a rug's particular fiber or construction method.
Learn about the care requirements for your specific carpet material. All our rugs come with Care Guides to help you take care of your purchase. Our Care & Cleaning Guides page offers lots of cleaning information, stain treatment tips, and more.
Carpet in high traffic areas can last many years if not a decade or two if the right material for the application is chosen and if scheduled maintenance is implemented.
If you would like to know more about the best carpet for high traffic areas or how to care for your carpet, our customer service team is here to help. To learn more about commercial flooring specifications and ratings, read our extensive Commercial Carpet Classifications Guide.
Explore all our high traffic and hospitality guides: