Updated on September 14, 2023
SynSisal®: Synthetic Sisal Rugs & Carpet
Have you ever shopped for a sisal rug or carpet that showcases natural beauty, timeless design, durability, and sustainability, but then you stopped short of your purchase because sisal is coarse, requires maintenance and is susceptible to staining? We have the solution for you—our exclusive SynSisal® synthetic sisal.
SynSisal® presents the look of sisal without the worry. Unlike other synthetic sisals, SynSisal® is made from a clean, renewable and recyclable resource. Below, we compiled the most frequently asked questions about SynSisal® synthetic sisal rugs and carpet. We hope these topics will assist you in making an informed decision if SynSisal® is right for your next project.
What Is SynSisal®?
SynSisal® is not just any synthetic sisal. Our SynSisal® weaves are woven from ECONYL®, a 100% regenerated nylon yarn, and carry contract grade ratings. ECONYL® reclaims waste from fishing nets (25%), recycled nylon carpeting (25%), and repurposed materials (50%) to make its yarns.
Besides being sustainable, SynSisal® is an eco-conscious choice in flooring. The ECONYL® yarns are not only regenerated, they are endlessly regenerable and have low VOC contribution, so no need to vent your rooms for days or even weeks.
But what makes our customers really happy? SynSisal® rugs and carpets are easy to clean, especially compared to sisal. ECONYL® yarns resist staining, and with regular vacuuming and following our Care and Cleaning guidelines, SynSisal® flooring looks fresh and clean throughout its life span.
Why Did We Develop SynSisal®?
The majority of our clients, including interior designers, come to us not knowing which type of woven material is best for their project. Many simply state that they prefer a natural look. What they do know are the needs of the space: something soft and inviting for a low traffic area, or something stain-resistant and durable for a busy household or hotel. We are obviously big fans of natural fiber rugs, but we realize that natural fiber is not practical for every situation.
All of this emboldened us to design our own exclusive SynSisal® collection that showcases the enduring beauty of natural sisal but with an innovative synthetic fiber. SynSisal® synthetic rugs and carpet perform well in almost any environment—heavy traffic, kids, dogs, cats, at your seaside vacation home or your corporate office. SynSisal® redefines sisal's texture, dimensionality and beauty and marries it with easy-to-clean durability and softness.
Is SynSisal® Sustainable?
Some synthetic materials can be detrimental to the environment, but this is not the case for our SynSisal® rugs and carpet. We prioritized sustainability throughout the design process, using ECONYL® yarns to weave our beautiful rugs and carpet. ECONYL® is a sustainable product because:
Instead of consuming new resources or creating new waste, ECONYL® yarns are crafted from 100% reclaimed materials like fishing nets from the oceans, fabric scraps from mills and carpets destined for landfills.
ECONYL®'s innovative recycling process transforms these recovered materials into a pristine fiber: ECONYL® 100% regenerated nylon. ECONYL® demonstrates the same properties as virgin nylon—durability, cleanability and versatility.
The innovative recycling process generates an end product that is not only recyclable again and again, but also emits very low VOC throughout its lifespan.
Because ECONYL® fibers are recyclable and regenerable, a SynSisal® rug or carpet contributes to a circular economy focused on zero waste and sustainability.
Reclaiming, recycling and regenerating waste materials into beautiful new products means infinite possibilities for creators and consumers alike.
Every ton of ECONYL® raw material saves seven barrels of crude oil and avoids about six tons of CO2 emissions.
The SynSisal® Lookbook is here!

See the story of SynSisal® & discover the benefits of this innovative, contract-grade carpet.
Where is SynSisal® Crafted?
The life of a SynSisal® rug begins with ECONYL®, a regenerated nylon yarn created by the Italian firm Aquafil. The spun ECONYL® yarns are woven on looms in Europe, producing the beautiful herringbone structure of Astoria or the elegant basketweave seen in Ravenna. The broadloom rolls of SynSisal® make their way to the USA to our Georgia workroom. From there, the rolls are shipped out for wall-to-wall installations or transformed into stunning area rugs with cloth borders or the stunning infinity edge.
Is SynSisal® Good for High-Traffic Areas?
Finally we have a natural looking flooring solution that is beautiful and tough enough to work for any space! Whether your project encompasses highly used residential areas or demanding commercial applications like hotel lobbies, offices and airports, SynSisal® is the answer you've been waiting for.
Our SynSisal® flooring combines the fibrous texture and muted aesthetic of sisal with easy-to-clean durability. So you get the best of both worlds—we pair the natural look of sisal with the low maintenance and toughness of ECONYL®'s solution-dyed Nylon 6. Woven with this superior yarn, the weaves are UV resistant with high colorfastness. This ensures excellent long-term appearance retention.
All of our SynSisal® weaves are tightly woven, low profile, permanently anti-static, and come in a soothing, sophisticated palette of colors. Available in broadloom for sleek wall-to-wall installations or as custom-cut area rugs with a fire rating of Type 1 / Class A, SynSisal® is perfect for large-scale commercial, hospitality and contract-grade uses.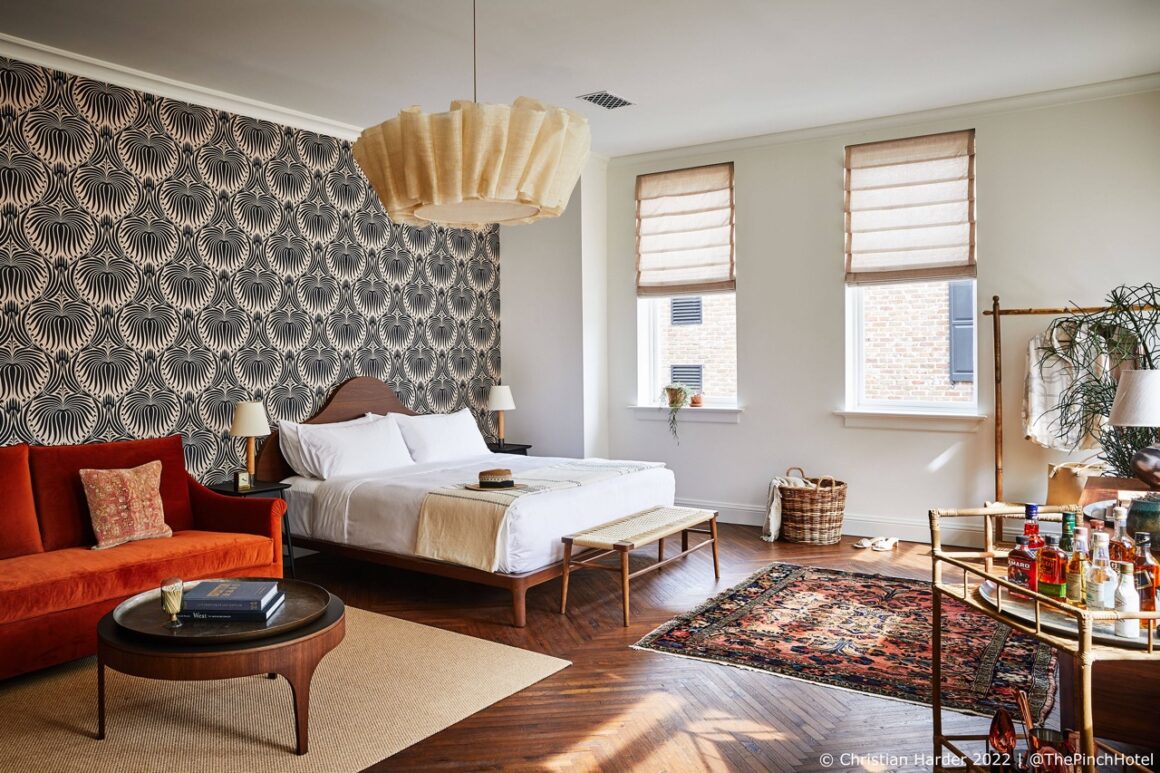 SynSisal® Rugs at The Pinch Hotel
The Pinch, located in the heart of historic Charleston, South Carolina, invites travelers from around the world to experience true Southern hospitality, from its in-house oyster bar to royally decorated rooms and residential suites. Every aspect of the space elegantly blends modern amenities with authentic period charms.
Discover why the design team behind The Pinch decided SynSisal® was the right weave for this unforgettable hotel.
Are SynSisal® Rugs & Carpet Soft to Walk On?
We all know the old sisal problem. Rugs and carpets made from sisal feel rough underfoot. But that is not the case for SynSisal®. ECONYL®'s regeneration and purification process creates a virgin product that is soft to the touch and comfortable to walk on. The pristine fibers resist compression and abrasion, lending smoothness to the end product while not compromising on longevity. No wonder SynSisal® is the go-to material for high-end residential settings or boutique hotels which try to recreate the homey feel.
Are SynSisal® Rugs & Carpet Kid/ Pet Friendly?
When customers inquire about kid and pet friendly carpets, they are looking for softness, sturdiness and stain resistance. Our SynSisal® offers it all. We make it from high-performing, 100% regenerated ECONYL® Nylon 6 fibers for a reason. Nylon 6 is tough due to its high-tensile strength while staying elastic to retain texture and a smooth feel underfoot.
We recommend James Cleaner products for general cleaning and treatment of stains. Approved for use on our SynSisal® weaves, the James Starter Kit comes complete with James Water, James Stainwonder and James Stainspray.
Order some swatches of our SynSisal® weaves to feel their softness and see their neutral yet refined colorways that harmonize well with different interior designs. Imagine a neutral, beautiful SynSisal® wall-to-wall carpet in any room of your house or a SynSisal® area rug to warm up a bedroom and introduce an additional design element.
Does SynSisal® Shed?
Shedding happens when rug fibers become loose or work they way to the top of the weave. This commonly happens with new rugs or carpet and especially with wools, jutes and seagrasses. Since SynSisal® is a synthetic carpet made from long strands of nylon fibers, it will have next to no shedding. Whatever shedding occurs will be on a microscopic level which regular vacuuming will resolve.
Is SynSisal® Good for Allergies?
The ECONYL® yarns that we use to weave our SynSisal® collection do not shed nor emit toxic antigens, making a SynSisal® rug or carpet a great addition to any space.
Is SynSisal® Carpet Good for Stairs?
Stair runners must be hard-wearing, tightly woven and non-slippery. And if your stair runner is super easy to clean, that's an additional perk. With a SynSisal® stair runner you can check all these boxes. Our SynSisal® weaves are classified for contract-grade applications as well as residential heavy use areas. The innovative ECONYL® yarns guarantee low maintenance and resistance to stains.
With SynSisal®, you get the natural sisal look for your stairs without the hassle of constant upkeep. SynSisal® weaves are low-profile and come in tightly woven patterns such as timeless bouclé, sophisticated tiger eye, classic panama and elegant herringbone. And the color palette complements any design style. SynSisal® on your stairs will provide warmth and cushioning under your feet while also buffering sound. Who would not want beautiful and worry-free stairs?
Are SynSisal® Rugs & Carpet Easy To Clean?
Don't we all have better things to do with our time than spot-cleaning our carpets day in and day out? SynSisal®'s ECONYL® yarns resist stains with proper care. Plus, ECONYL® yarns are elastic which minimizes flattening, carpet pile compression and deformation.
Never has cleaning been so easy. Regular vacuuming, prompt removal of spills and treating stains with approved cleaners like James Cleaner will keep your carpet's soft feel and luxurious look throughout its lifespan. We call this resilience without compromise.
Need more details about how to choose the right material for your next custom rug?
Our Everything You Need To Know series has the information you need.
Why SynSisal® is a Great Alternative to Sisal
If all of the above did not convince you of SynSisal®'s positive properties, here are three reason why a SynSisal® synthetic sisal is such a great alternative to natural sisal.
You get the natural look of sisal, the same classic weave structures and the timeless colors, but with a softer feel underfoot.
Whereas natural sisal might stain from spilled water, SynSisal®'s ECONYL® yarns resist staining. That combined with regular vacuuming and appropriate cleaning products, a SynSisal® rug will save you time, nerves and money in the long run.
Our SynSisal® is not like any other synthetic sisal. It is woven on traditional looms in Europe from 100% recycled materials. Our process utilizes regenerated yarn to weave elegant, artisanal quality sustainable rugs and carpets.
Our SynSisal® flooring is stunningly similar to natural sisal, but tough enough to go where you wouldn't dare to use the real thing. It's high performance is the right match not only for wall-to-wall flooring in commercial and hospitality spaces but also for custom area rugs (cut and bound) for high-end residential homes.
How Do You Install SynSisal®?
Installing flat weave carpet like SynSisal® requires extra attention to detail in order to achieve a beautiful looking carpet for years to come. All of our SynSisal® weaves come with Installation Guidelines. Below is a short video on how to properly cut and seal SynSisal® weaves for a proper seam. For a deep dive into installing flat weave carpeting, head over to our comprehensive blog post Flat Weave Carpet Installation – Everything You Need To Know.