Commercial and household project managers know that with any remodel or design project, specifying with the right material in the beginning saves time and headaches down the road. In this post, you will learn about the pros and cons of synthetic carpet materials like nylon, polyester and polypropylene so you can make the best choice for your application.
Common Materials for Synthetic Rugs
The majority of synthetic rugs and carpet are made from nylon, polyester, or polypropylene: three materials known for their durability, cleanability, and versatility. These same materials comprise the majority of commercially rated carpet in the market today.
Nylon
What is it?

Nylon is a synthetic fiber or yarn used in both residential and commercial carpets. It is strong, abrasion resistant, and resilient, and therefore most commercial carpet face fibers (the top pile) are nylon.
Also Known As

Polyamide, PA6 (polyamide 6), Nylon 6, Nylon 6,6 and ECONYL®.

Nylon is a synthetic thermoplastic comprised of a polymer chain with recurring amide groups, hence "polyamide."
The numbers refer to the different carbon structures—nylon 6's molecular structure has one monomer and 6,6 has two monomers. Although it is debated, there is little difference in performance between them.
ECONYL® is a regenerated virgin-quality nylon product made from recovered and repurposed materials. The SynSisal collection is crafted from ECONYL® yarns, which can be recycled and regenerated into nylon fiber for reuse. A cradle-to-cradle cycle with positive environmental impacts.
Pros

Contract Grade: nylon carpet is widely available with contract ratings for commercial settings
Cleanable: unlike natural fibers, a nylon carpet is cleanable and resists stains
Durable & Resilient: tough nylon fibers bounce back after compression
Abrasion Resistant: high quality nylon is tough and handles heavy foot traffic and regular cleaning
Colorfastness: thanks to solution-dyed yarns, colors stay true
Hypoallergenic: nylon is moisture and mildew resistant
Wide range of styles and qualities available
Cons

Cost, more expensive than a polyester and polypropylene carpet of comparable quality
Static electricity can build up unless treated with anti-static material
Not as soft as polyester, although technological advances are improving the feel of all synthetic carpet fibers
Not inherently stain-resistant unless treated; nylon is very absorbent but can be manufactured with a stain-resistant treatment
Polyester
What is it?

A synthetic fiber family used in the manufacture of both residential and commercial carpets. Often made from recycled materials, polyester fibers are soft and hold vibrant color well.
Also Known As

PET, poly silk

PET, or polyethylene terephthalate, is a polyester fiber made from recycled plastics (e.g., water bottles).
Poly silk is a manmade polyester fiber with a soft texture and a silk-like sheen. It does not absorb moisture and is mold and mildew-resistant.
Pros

Contract Grade: polyester carpets are becoming increasingly more durable and appropriate for busy commercial settings
Colorfastness: excellent color clarity and retention
Stain-resistance: resists water soluble stains
Feel: softer touch than nylon and polypropylene, although technological advances are improving the feel of all synthetic carpet fibers
Affordable
Wide range of styles and qualities available
Cons

Not all polyester carpets are rated for heavy commercial use
Less resilient and fibers will compress over time
Not as durable as nylon and may have to be replaced more frequently in busy areas
Polypropylene
What is it?

A synthetic fiber used in the manufacture of both residential and commercial carpets. It is a long chain polymer composed of ethylene, propylene or other olefin units, and accounts for about a third of carpet face fibers in commercial carpeting.
Also Known As

PP, Olefin

PP is shorthand for polypropylene
Olefin is the generic name for polypropylene
Pros

Contract Grade: not all polypropylene carpets are contract grade—it depends on the backing and the quality of the fibers. If the polypropylene carpet does not have a backing, then it is not contract grade. Unbacked polypropylene carpets are particularly great for outdoor residential settings. A backed polypropylene from the Terasa collection is commercially rated as well as outdoor friendly.
UV-resistance: yarns are colorfast and resist fading, even in sunlight
Outdoor friendly: polypropylenes are great for outdoor use. Check specifications to be sure that the backing and/or the border (on a rug) is appropriate for outdoor-use.
Anti-static: generates low levels of static electricity
Favorably priced
Hydrophobic: polypropylene is impervious to moisture, making it mold, mildew, moisture and stain resistant
Solution dyed yarns mean polypropylene is very stain-resistant and fade-resistant
Cons

Not all polypropylene carpets are rated for commercial use
Not as durable as nylon and polyester. However, construction plays a major role in longevity—a tightly woven, flat weave polypropylene carpet like Brisbane is very durable compared to a loose textured polypropylene carpet.
Oleophilic: not soil resistant and attracts oil-based dirt
Not as abrasion resistant as nylon
A Note on Sustainable Synthetic Fibers
The desire for cradle to cradle opportunities in the carpet industry is leading to exciting innovations and developments in the manufacture, production, and life cycle of flooring materials. Since virgin synthetic fibers are produced from petroleum products, the utilization of recycled or repurposed materials reduces the overall carbon footprint of a synthetic carpet or rug. Materials like recycled plastic bottles, fishing nets, and other post consumer waste (including nylon from carpets!) are being regenerated into synthetic fibers like ECONYL® and PET.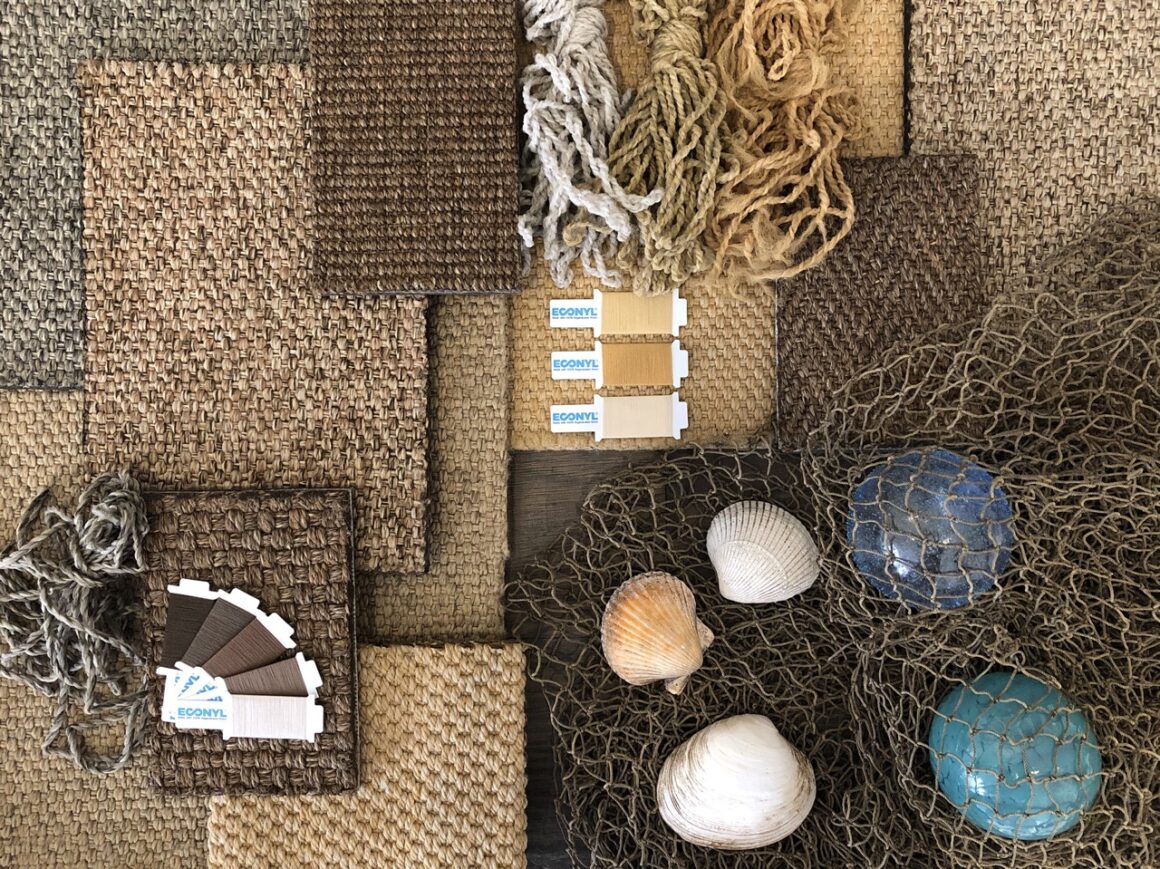 Consumers who want the durability of synthetic but also care about sustainability look for cutting edge fibers like ECONYL® and PET instead of virgin nylon or polyester. As with all new and emerging technologies, the product cost can be a barrier. But as the industry moves toward greener carpet production, costs will decrease while the benefits for all increase.
In the meantime, if natural is your preference, there are options. Consider durable, natural fibers like sisal but be sure to check the backing—some natural carpets have a synthetic backing. For example, Sisal Tiles are tough, woven from natural sisal, but have a synthetic backing for added durability. Also, stain-resistant sisal rugs carry a contract-grade rating but the yarns are coated with a stain-resistant treatment. For completely natural options, look at our Pure Wool or Jacaranda collections—biodegradable and/or renewable fibers with contract-grade choices.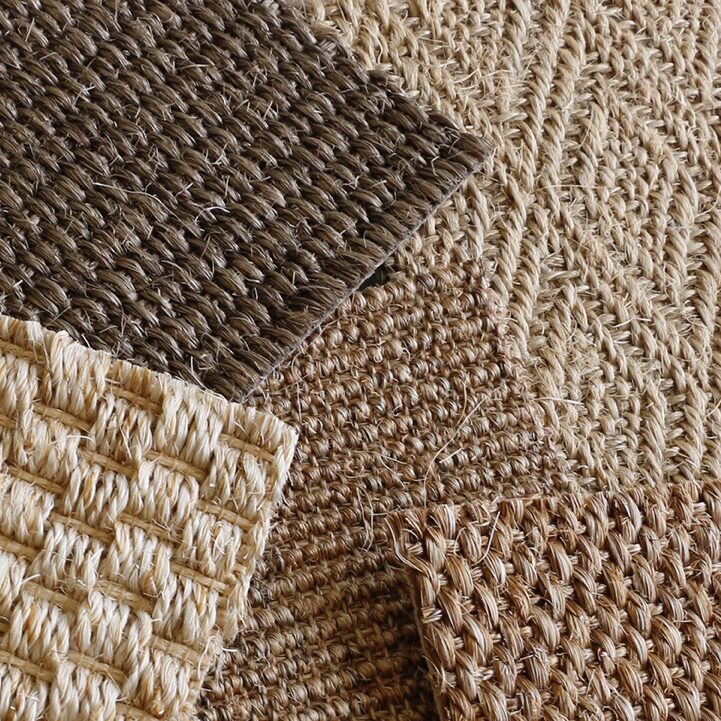 Nylon vs. Polyester vs. Polypropylene Comparison Chart
Always check the specifications for the carpet or rug you are considering. Synthetic fibers are manufactured to meet different needs and end use applications—one nylon carpet might have UV-resistant yarns but only a residential use rating, while another may have also UV-resistant yarns but a contract grade rating.
The comparison table below primarily references high quality, contract grade versions of these fiber types and assumes the yarns are solution-dyed, UV-resistant, and have some level of stain-resistant treatment.
* = Good, ** = Great, *** = Excellent
$ = least expensive, $$ = more expensive, $$$ = most expensive
| | | | |
| --- | --- | --- | --- |
| | NYLON | POLYESTER | POLYPROPYLENE |
| Durability | *** | ** | ** |
| Resiliency | *** | * | ** |
| Ease of Cleaning | *** | *** | ** |
| Stain Resistance | ** | *** | *** |
| Soil Resistance | *** | ** | * |
| Anti-Static | ** | ** | *** |
| Colorfast | Yes | Yes | Yes |
| UV-Resistant | Yes | Yes | Yes |
| OK for Pets? | Yes | Yes | Yes |
| Outdoor Use? | No | Maybe | Yes |
| Anti-Microbial** | Yes | Yes | Yes |
| Eco-Friendly Option? | ECONYL® | PET | — |
| Cost | $$-$$$ | $-$$ | $-$$ |
| Range of Styles & Qualities | Yes | Yes | Yes |
| Use Application | Heavy Commercial, Hospitality, Residential | Commercial, Hospitality, Residential | Commercial, Hospitality, Residential |
| | | | |
** Synthetic carpet fibers are generally resistant to moisture and mold growth, making the growth of bacteria more difficult. High quality and/or commercially rated fibers are usually treated with an anti-microbial product. Check technical specifications.
Common Characteristics For Synthetic Rugs
Tufted or woven, low pile or high pile—these are just a few examples of common attributes used to describe rugs and carpet. The construction or final pile height of a carpet often dictates its use—a hand-loomed carpet will not hold up well in a busy, commercial space and a carpet with a plush, high pile is best for residential settings. Let's go over a few carpet basics:
Tufted
Tufting is the fastest method of carpet production and most carpet on the market today is tufted. A tufting machine is like a giant sewing machine, with hundreds of needles stitching or punching the pile yarn (or face yarn) through a primary backing. A tufted carpet can have a variety of finished pile styles, like loop, cut and loop, multilevel loop, or plush.
Woven
A woven carpet is made on a loom, either machine or manually operated, and does not have knots. Instead, the stability of the weave depends on the interlacing warp and weft yarns. The pile yarns or face yarns and backing yarns are woven simultaneously. A woven carpet can have loops or cut piles, or be flat woven.
What is a flat weave rug or carpet?
A flat weave rug is made via the same process as a woven rug, with interlacing warp and weft yarns forming the dimensionality of the weave. But instead of loops or a pile height, the yarns are pulled tight and low, creating a flat surface.
Some flat weave rugs do not have a backing. For example, many polypropylene rugs are flat woven and not backed, making them ideal for residential outdoor use. Natural fiber rugs like sisal or seagrass are flat woven and have a latex or jute backing. Lastly, there are many synthetic flat weave rugs that have a durable backing and a tight, flat surface, making them a great choice for busy households or commercial settings with heavy traffic.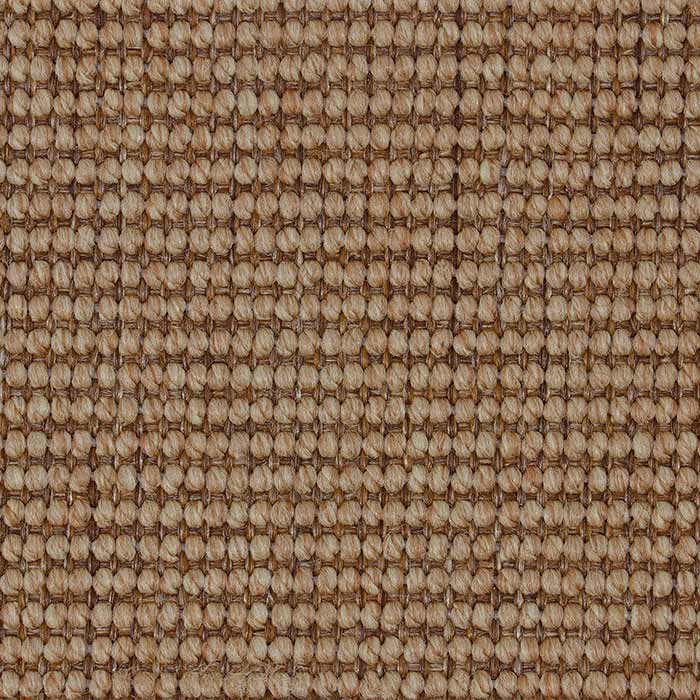 Pile Height
Pile height refers to how tall the carpet fiber or face yarns are and is an important consideration in commercial settings or residential settings. For example, a higher or more plush pile is great for a luxurious vibe, but may not comply with ADA regulations or may block clearance in a doorway. In general, contract environments require low-pile carpets that are easy to navigate over and keep clean.
High Pile vs. Low Pile
No matter the construction, all carpets have a pile height. A low or short pile carpet has very short fibers or tufted low level loops. High pile carpets have larger loops, multi-level loops, or cut fibers that are kept long for a more dense cushion. Since pile or face yarns represent the majority of the material cost of carpet, be sure you are specifying the right height for your project. The higher the pile, the more difficult it can be to clean.
A Word About Carpet Padding
The under pad or underlayment for any wall-to-wall carpet installation or area rug makes a positive impact on comfort level, sound absorption, and the overall lifespan of your floor covering.
For area rugs, a carpet pad stabilizes the rug in place while adding a cushioned layer. Keep in mind the thickness of the pad—the thicker it is, the more likely it creates a tripping hazard.
For wall-to-wall installations, rely on the expertise of your professional carpet installer.

When installing flat weave carpeting, the underlayment or carpet padding should be dense and not too cushy or thick which can compromise seams.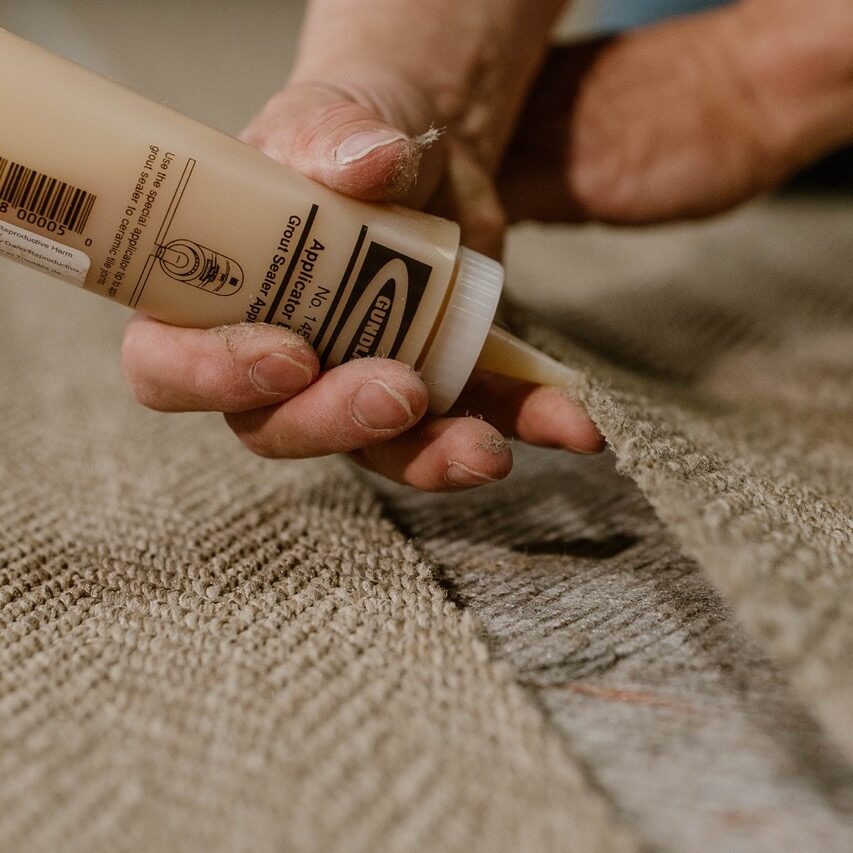 Installing a Flat Weave Carpet?
From planning the project to handling seams properly, we have all you need to know about flat weave carpet installation, including tips, tricks, and hands-on videos.
Final Words
In conclusion, synthetic fibers like nylon, polyester, and polypropylene are great options for contract settings or if you are looking for a cleanable, durable floor covering. Nylon reigns supreme in regards to overall performance: heavy contract ratings, high resiliency, cleanability, and longevity. But a polyester or polypropylene carpet carries many of the same credentials, like contract ratings, durability, and cleanability, potentially at a lower price point. And with the advent of regenerated yarns, a greener story is possible for all synthetic rugs.
FAQ
When would I not use a synthetic flat weave carpet?

If you are considering a flat weave carpet for an inset, extra consideration is required. Flat weave carpet construction requires all open or cut edges to be sealed with a seam sealer to prevent fraying. Additionally, in an inset application, the use of a transition or schluter strip further protects a flat weave carpet's edges and helps prevent the risk of sprouting or fraying. If the inset application does not use transitions or schluter strips, a flat weave carpet may not perform well.
Can a synthetic flat weave be used outdoors?

Always check the technical specifications for the carpet you are considering. With the proper backing, polypropylene and poly silk fibers can be used outdoors. Unbacked polypropylenes or Terasa rugs are particularly great for residential outdoor settings.
What are the common commercial classifications for synthetic rugs?

Whether it is a retail shop or a hotel lobby, it is important to understand commercial carpet classifications so you can select the best carpet for the project. Our helpful Carpet Classifications Guide talks about durability ratings, fire ratings, and some of the organizations that establish the ratings.
Are synthetic carpets considered low VOC?

VOC stands for "volatile organic compound" and in this context, it refers to a rug or carpet's off-gassing—how much VOC is released from the product? A carpet made from virgin synthetic (i.e., petroleum) materials will off-gas more than a natural product. Comparatively, regenerated synthetic fibers like ECONYL® and PET have lower VOCs. For those looking for low VOCs in a commercial carpet, we recommend SynSisal® or our selection of synthetic sisals woven from nylon. For a completely natural option, our Pure Wool or Jacaranda collections have no to low VOC contract-grade options.
Could I use synthetic carpet tiles instead of carpet?

It depends on the end use and your preferences. Carpet tiles offer many benefits over broadloom carpet and may be easier to install. Carpet tiles, whether synthetic or natural, are versatile and often budget friendly. To learn more about carpet tiles vs. carpet, head over to Carpet vs. Carpet Tiles: Choosing the Right Flooring Option.
How do I clean my polypropylene or nylon carpet?

You want to protect your investment and routine care and maintenance is a must. Most important is regular vacuuming, but for more information on caring for your synthetic rug, check out our High Traffic Area Rug Guide for tips on treating stains and more.