Buying a rug online can be intimidating—how do I know which rug material is best for my needs? Will it match my home décor style? What size area rug should I order? How do I order a rug online? What if I need to talk to an expert? Thankfully, we created this rug buying guide to help you navigate the myriad rug options and important decisions you will have to make along the way to purchasing the perfect rug.
About This Guide
In this guide, we will walk you through the considerations and steps to take to find the ideal rug or carpet for your lifestyle and your decorating style. We will cover rug materials and their best uses, borders and rug pads, best placement of rugs based on room layout, how to order your rug online, shipping and delivery, care and maintenance, and how to contact us for more help with your project.
---
Natural Fibers & Their Characteristics
A natural fiber rug is crafted from plant or animal fibers and combines distinctive qualities like shade variation and unique texture with authentic warmth and charm. The organic beauty of a natural fiber rug harmonizes with different design styles and color schemes, making it a celebrated flooring option. These rugs require a bit more care than their synthetic counterparts, so read on to learn more about each fiber type and consider your lifestyle before sealing the deal.
Order samples of your favorite natural weaves and colors to test out in your home.

How does the fiber feel? How does the color change depending on the lighting in the room? Will the height of the pile interfere with opening & closing doors?
---
Sisal
The long leaves of the agave sisalana plant make a durable, naturally beautiful fiber for floor covering.
Benefits: Sisal has rich tones, tough fibers, arresting textures and patterns. A sisal rug is ideal for layering natural elements into your design style, plus it's naturally flame retardant.
Considerations: Sisal has a rough texture and can stain easily.
Thrives In: High traffic areas like living rooms, hallways and offices.
Seagrass
Seagrass leaves are smooth, non-porous and deepen in color over time. An eco-friendly, renewable product.
Benefits: Neutral yet rich tones and comfortable fibers make seagrass a popular choice. Seagrass offers more stain-resistance than other natural fibers.
Considerations: Seagrass is susceptible to mold and mildew when used in areas with high humidity.
Thrives In: Indoors wall-to-wall or as area rugs in climate-controlled settings.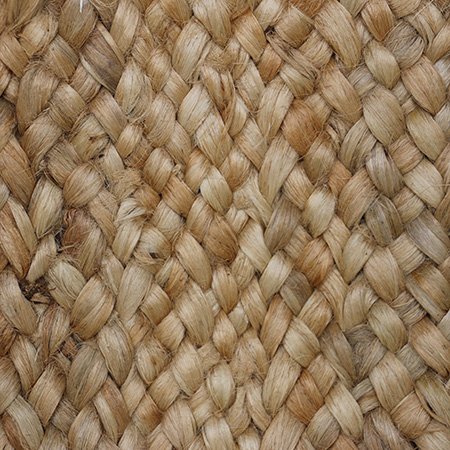 Jute
The silky fibers and natural color variations of jute create multidimensional rugs with rustic texture and rich hues.
Benefits: Eco-friendly jute has a thick and inviting texture underfoot. Jute fibers have a sheen that adds visual interest.
Considerations: Tends to shed and prone to staining.
Thrives In: Interior spaces like living rooms, sitting rooms and bedrooms.
Coir
Indestructible coir fibers from coconut husks are best for the busiest areas.
Benefits: Hard wearing coir rugs have a rustic look and organic beauty. Ideal for high traffic areas.
Considerations: Coir's coarse fibers are not friendly to bare feet. Coir comes in limited colorways and patterns.
Thrives In: Entry ways, shops, boutiques, hallways, or a foundation for layering in any room.
Abaca
An elegant fiber with a natural glossiness woven from banana tree leaves.
Benefits: Luxurious and soft, abaca creates glamorous show-stopping rugs.
Considerations: A too-dry environment may lead to brittle fibers.
Thrives In: Bedrooms, living rooms, sitting rooms, lofts, and other gathering spaces.
Wool
Wool is a renewable fiber with warm colors, insulating qualities and limitless designs.
Benefits: Durable and comfortable wool means long-lasting, well-loved rugs. The myriad styles, colors, patterns and structures available make it easy to find a perfect match.
Considerations: Wool is best in moderate to dry climates unless in a climate-controlled setting. Wool fibers may shed when new.
Thrives In: Anywhere inside as area rugs or wall-to-wall except in wet areas like kitchens or bathrooms.
Sisal-Wool Blends
Two durable fibers that complement each other perfectly, sisal and wool woven together make texturally rich rugs.
Benefits: Wool adds softness and insulation to durable sisal and the resulting interplay of natural fibers elevates all kinds of spaces.
Considerations: Indoor use only and not ideal for kitchens, bathrooms or mud rooms.
Thrives In: Living rooms, hall runners, stair runners and bedrooms.
TENCEL™
A silk-like botanic fiber made from wood pulp that originates from sustainably-grown forests.
Benefits: A lustrous shine, stunning colorways, soft texture, and high tensile strength add up to heirloom quality rugs and carpet. TENCEL™ rugs are biodegradable and naturally moth resistant.
Considerations: Indoor use only and not ideal for kitchens or mud rooms.
Thrives In: Living rooms, bedrooms, home offices, hallway runners, stair runners and wall-to-wall.
Discover the Jacaranda Collection and learn more about TENCEL™ in our blog post Jacaranda Carpets: Sustainable Beauty
---
Synthetic Fibers & Their Characteristics
Synthetic fibers include manufactured materials like nylon, polypropylene, ECONYL®, vinyl, poly silk and polyester. Rugs made from synthetic materials are durable and easy to clean, which is why they are often suitable for both commercial and residential settings. They also offer many of the same stylistic advantages of their natural counterparts, including a variety of colors, patterns and textures, plus softness underfoot.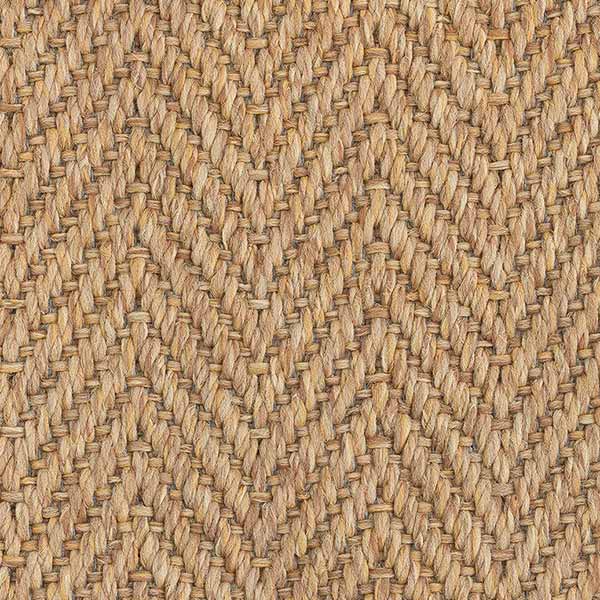 SynSisal®
More forgiving than sisal but just as elegant, SynSisal® is a synthetic flooring option rich in sisal beauty but without the maintenance.
Benefits: SynSisal® brings classic sisal colors and structures with a contract grade rating to home or commercial spaces. SynSisal® rugs have built-in stain-resistance, softness underfoot and are made from recycled ECONYL® fibers.
Considerations: Although synthetic, SynSisal® rugs are not for use outdoors.
Thrives In: Commercial spaces like hotels and headquarters as well as residential spaces of all kinds like offices, living rooms, dining rooms and bedrooms.
Polypropylene
Variety is the hallmark of polypropylene rugs. With distinct patterns, rich colors and various textures, a polypropylene rug is a fit for inside or outside spaces.
Benefits: Polypropylene rugs are easy to clean and ideal for families with kids or pets, plus these rugs have designs styles for every room in the house, including natural-look.
Considerations: If not treated properly, oil-based spills may stain. Not all polypropylene rugs are OK for outdoor use.
Thrives In: Busy zones likes dining rooms, craft rooms, playrooms, kids' bedrooms, stairways, hallways, entryways and outdoor spaces.
Woven Vinyl
Woven vinyls open up the door to imaginative designs, tough textures and deep colors. Not just for commercial spaces, woven vinyl is a highly versatile material that can go anywhere.
Benefits: Woven vinyl is easy to clean, durable and slip resistant. Vibrant colorways and structures make woven vinyl visually interesting.
Considerations: Rugs made with woven vinyl are not exactly warm and cozy. Practicality and style win with this flooring material.
Thrives In: Perfect for kitchens, laundry rooms, gyms, locker rooms, recreational vehicles and outdoor gathering areas, woven vinyl can go anywhere, including areas that may get wet.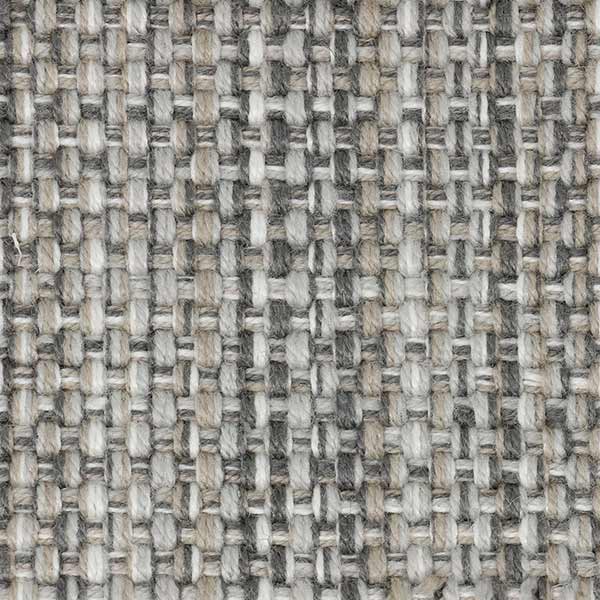 Poly Silk
The look and feel of soft wool but with easy cleanability and the freedom to use in covered outdoor spaces.
Benefits: Poly silk fibers are UV-stabilized with built-in mold and mildew resistance. The colorful options and interesting patterns provide exciting possibilities
Considerations: Not all poly silk rugs are approved for outdoor use, so be sure to check each weave's specifications.
Thrives In: Living rooms, dining nooks, kitchens, bedrooms and sun rooms as well as covered outdoor areas.
Be sure to order samples of your favorite synthetic weaves and colors to test out in your home. With samples in hand, see how the colors change depending on the lighting in the room and how the material feels underfoot.
Rug Materials Comparison Grid
A pdf version of this table is viewable here.
| Material | Usage | Durability | Texture | Cleanability | Sustainability | Design Versatility | OK for Pets? |
| --- | --- | --- | --- | --- | --- | --- | --- |
| Sisal | Indoor | High Traffic, Some Contract Grade | Coarse | Dry Clean Only | Sustainable & Renewable Fiber | Neutral Palettes & Myriad Textures | Owner's Discretion |
| Jute | Indoor | Low to Medium Traffic | Thick & Soft | Dry Clean Only | Sustainable & Renewable Fiber | Natural Foundation, Texture Rich | Owner's Discretion |
| Seagrass | Indoor | Medium to High Traffic | Smooth & Firm | Limited Stain Resistance | Sustainable & Renewable Fiber | Natural Foundation, Texture Rich | Owner's Discretion |
| Coir | Indoor | High Traffic, Some Contract Grade | Coarse | Dry Clean Only | Sustainable & Renewable Fiber | Natural Foundation, Texture Rich | Owner's Discretion |
| Wool | Indoor | High Traffic, Some Contract Grade | Soft | Naturally Stain-Resistant, Cleanable | Sustainable & Renewable Fiber | Array Of Colors, Patterns & Styles, Soft Texture | Yes |
| Leather | Indoor | Medium Traffic | Smooth | Professional Cleaning | Natural Material | High End, One Of A Kind | Owner's Discretion |
| Abaca | Indoor | Low to Medium Traffic | Thick & Soft | Professional Cleaning | Sustainable & Renewable Fiber | Luxe, Natural Foundation | Owner's Discretion |
| SynSisal® | Indoor | High Traffic, Contract Grade | Soft | Easy To Clean, Stain-resistant | Upcycled, Made From Recovered Materials | Classic Sisal-look & Versatility, Home or Business | Yes |
| Polypropylene | Indoor/ Outdoor* | High Traffic, Some Contract Grade | Smooth | Easy To Clean, Stain-resistant | Synthetic, Not Natural | Array Of Colors, Patterns & Styles, Soft Texture | Yes |
| Woven Vinyl | Indoor/ Outdoor | High Traffic, Contract Grade | Smooth | Easy To Clean, Stain-resistant | Synthetic, Not Natural | Hard Wearing, Subtle Colorations, Everywhere Foundation | Yes |
| Poly Silk | Indoor/ Outdoor* | Medium to High Traffic | Soft | Easy To Clean, Stain-resistant | Synthetic, Not Natural | Wool-like Feel, Subtle Colors, Patterns & Styles | Yes |
*Note: Not all polypropylene or poly silk rugs are suitable for outdoor use. Please check individual weave specifications.
---
Selecting The Right Material By Room
A rug and a room should be in collaboration, each one enhancing the other. An entryway rug is an invitation that serves as a functional piece and a stylish statement. A bedroom is transformed into a haven with the right rug. Below are our suggestions for the best rug material for each room of the house.
Living Room
The living room is the hearth of the contemporary home, a gathering place for friends and family, a room where we relax and socialize. Such an important space requires a flooring material that enhances your design style and meets the practical needs of everyday life. Natural fibers like wool or sisal are time-honored choices for any interior design style, and our SynSisal®, with its softness and stain-resistance, is an elegant and smart choice.
We Recommend: Wool, Sisal, Jute, Wool & Sisal Blends, SynSisal®, Seagrass, Poly Silk, Abaca
The SynSisal® Lookbook is here!

See the story of SynSisal® & discover the benefits of this innovative, contract-grade carpet.
Dining Room
A flat weave rug from our SynSisal® or polypropylene collections brings graceful styling and ease of cleaning to a much loved space. A low-profile, tightly woven wool or a stain-resistant sisal are great choices too. For unbeatable cleanability, a sleek woven vinyl is a shoo-in.
We Recommend: SynSisal®, Polypropylene, Wool, Stain-Resistant Sisal, Poly Silk, Woven Vinyl
Bedroom
A haven of rest deserves soothing, beautiful furnishings. A cozy wool rug is a fantastic choice for bedrooms because it insulates for warmth and for sound, plus feels great under bare feet. Choose softer fibers in calming colorways to reinforce relaxation.
We Recommend: Wool, SynSisal®, Poly Silk, Jute, Abaca, Seagrass, Wool-Sisal Blends
Kitchen
Often the busiest room in the house, a kitchen needs hard-working materials that are easy to clean and comfortable to stand on. Polypropylene and woven vinyl rugs range from colorful and dynamic to neutral and subdued. With extra cushioning built-in or rug padding added, these materials will keep you and your floors happy. Perfect for laundry rooms and bathrooms too.
We Recommend: Polypropylene, Woven Vinyl
Sunroom or Covered Patio
Ward off fading from UV rays with a rug made from UV-stabilized materials like polypropylene and woven vinyl. Nonabsorbent fibers mean easy clean-up of liquid spills and an array of styles makes decorating a breeze.
We Recommend: Poly Silk, Polypropylene, Woven Vinyl
Entryway
First impressions are important. Make a stylistic as well as sensible choice in the entry way with a custom area rug crafted from versatile woven vinyl or polypropylene. Coir, seagrass or stain-resistant sisal are durable choices for an earthy, texture-rich entry way rug.
We Recommend: Woven Vinyl, Polypropylene, Coir, Seagrass, Stain-Resistant Sisal
Stairway
Stair runners take a beating while cushioning feet and absorbing sound. You don't have to choose functionality over style with our options–natural fibers like wool, coir and seagrass make handsome runners while our SynSisal® or polypropylene bring beauty as well as stain-resistance.
We Recommend: Wool, Coir, Seagrass, Wool & Sisal Blends, Polypropylene, SynSisal®
Hallway
A hallway runner is a wonderful way to add a pop of color or design to an often overlooked space. Look for resilient, non-slip fibers and have fun with the design. A runner can elongate a hall, complement adjoining color schemes, add visual interest or ease the transition from one distinct room to another.
We Recommend: Sisal, Seagrass, Coir, Wool, SynSisal®, Wool & Sisal Blends, Polypropylene, Woven Vinyl
Office
Inspiration and productivity go hand in hand, so why not make your office an impactful space with the right rug? SynSisal® is a sophisticated, durable addition to home offices and corporate headquarters. Natural fibers display an organic feel in favorite neutrals. Wool blends and synthetics open the door to exciting patterns and colorways to liven up your office.
We Recommend: SynSisal®, Wool, Sisal, Seagrass, Jute, Polypropylene, Poly Silk
Outdoor Spaces
Create synergy in outdoor gathering spaces with a custom outdoor rug that complements your design and cradles your sun-drenched, sandy feet. A rug that is easy to clean and UV-resistant is a must.
We Recommend: Woven Vinyl, Polypropylene (note: not all polypropylenes are OK for outdoor use, please check specifications)
Create an unforgettable outdoor gathering space with the right outdoor area rug and comfortable yet stylish furniture. Perfect it with a patio umbrella and a fire pit and the great outdoors are yours to enjoy all year long.
A patio umbrella provides instant relief from the sun's rays. Our Patio Umbrella Buying Guide – Everything You Need To Know introduces you to all of the many styles, sizes, shapes, features, and components of commercial and residential patio umbrellas and other shade systems, as well as take you through all the decision points involved in the buying process.
When summer evenings fade into dark, a beautiful seating area and a fire pit offer a commanding and comforting presence. A fire pit surrounded by inviting seating should be an expression of personal style and also complement the character of the site's natural features. Our 7 Smokingly Stylish Fire Pit Seating Ideas offers landscaping and decorating principles to guide you toward creating the ultimate outdoor hearth.
---
Selecting the Right Size Rug
The size of a rug dramatically influences the dynamics of a room. A living room with a too-small rug feels uninviting and temporary. A rug that is too big is confusing, leading the eye toward the vast rug instead of the composed and carefully designed seating area or the beautiful, curated bedroom furnishings.
Proportions between the size of the room and the size of your furniture, the orientation of a rug to your couch or the length of the room, and the colors or patterns in the rug all need to be considered. Here are our tips and guidelines for finding that perfect size and achieving balance in any space.
Standard vs. Non-standard: Most area rugs are sold in standard, set sizes and may not work for your space. Create your own custom-sized rug that fits your unique space perfectly.
Frame: A living room area rug should extend at least 6-8 inches beyond the width of the couch on both sides and, ideally, the couch's front feet should be on the rug. If possible, leave 18-24 inches of exposed flooring on the edges of the rug to show off your floors and further define the space.
Measure Twice: Just to be sure, measure twice and consider using painter's or masking tape to mark the rug dimensions on your floor and help you visualize the rug's footprint.
Room Size or Furniture Layout?: Deciding on the right size rug is influenced by the size of the room, the layout of your furniture, or both. An open concept space needs a map—an area rug defines and unites a gathering space and should be proportional to the furniture layout as well as the size of the space.
Orientation: A rug should echo the dimensions of the space it is in. If the room is long, orient your rug lengthwise.
A made-to-measure custom area rug provides a unique accent to every room and is the ideal solution to the limitations of a standard-sized rug. All of our rugs are made to order—from classic layouts to customized shapes or runners. Bespoke finishing options and detailed craftsmanship paired with our finely curated assortment of weaves will bring your vision to reality.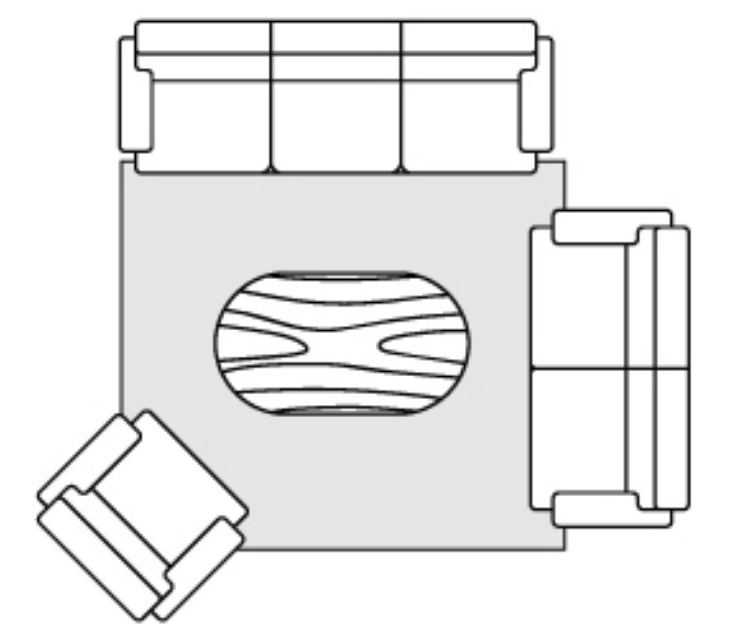 Living Room
The most preferred and economical option places the two front legs of your sofa and chairs on top of the rug to frame an inviting seating area. Buy the largest size rug you can afford.
Common sizes include 8'x10′, 9'x12′ & 10'x14'
Bedroom
Large bedrooms deserve large rugs. But if you have a medium to small sized bedroom, select a rug big enough to include the front feet of your end tables and that extends at least 18 inches on either side of the bed.

Common sizes include 5'x8′ (twin), 8'x10′ (queen) & 9'x12′ (king)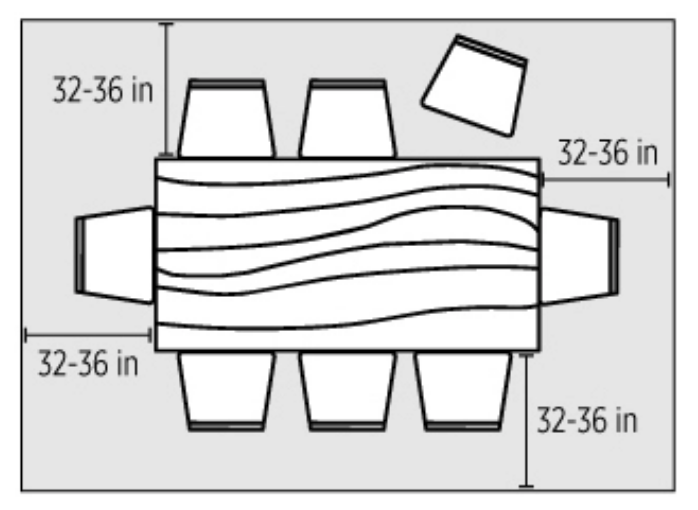 Dining Room
A dining room area rug should should accommodate dining chairs when they are pulled all the way out. Add about 32 to 36 inches to each side of your table's dimensions to comfortably move chairs in and out.

Common sizes include 6'x6′ round, 8'x10′ & 9'x12'
Kitchen
Kitchen rugs add a splash of style while protecting your floors and supporting your joints. The layout of your kitchen determines which rug size or shape you need. A decent-sized runner or a small rug in front of a sink are the most common shapes.

Common sizes include 2'x6′ runner, 3'x8′ runner, 2'x3′, 3'x5′, 5'x8'
Entryway
An entryway rug should be eye-catching and as big as possible to catch dirt and moisture before it enters your home. If your rug is short, add a walk-off mat at your front door for added protection.

Common sizes include 3'x8′ runner, 2'x3′, 3'x5′ & 5'x8'
Bathroom
A runner that matches the width of your vanity provides warm padding where desired the most. But don't be afraid to try something different, like circular rugs, for a fresh look in an often ignored space.

Common sizes include 2'x6′ runner, 3'x8′ runner, 2'x3′, 3'x5′, 5'x8'
For an in-depth guide on choosing the right size rug for your room, head over to Custom Rugs: What Size Do I Need?
---
Special Shape Rugs
Sometimes a square or a circle won't do. You may need a rug with a unique shape to fit an attic bedroom or a tailored cut to fit around a fireplace. Angled corners, outside cuts or inside cuts—we can help. Our team of experts can guide you through the process, from selecting the right material to the final finishes.
Tiles: Create Your Own Special Shape
Tiles are another option for creating a special shaped rug. With tiles, you can design a rug in the shape you need or the style you want. Unique patterns like stripes or checkerboard are possible by mixing colors or turning individual tiles to alter the weave direction. Tiles are easy to install and if a tile becomes damaged, swapping it out for a new tile is easy.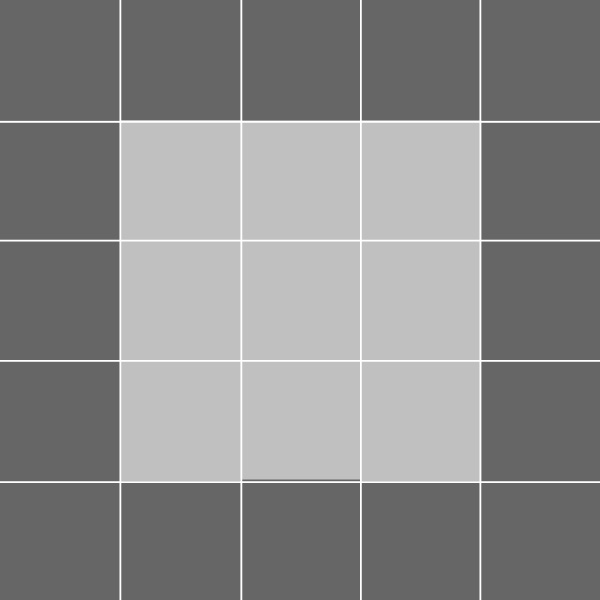 For colorful options in a goat-wool blend, Interlife Tiles offer durability, insulation and limitless design possibilities. Our Sisal Tiles combine the beauty of sisal and the versatility of tiles to create a modular flooring option with a beautiful bouclé texture and earthy tones. Learn more about the versatility of tiles by heading over to our Tiles collection page or our blog post Sisal Tiles—The Benefits Of Tiles Versus Rugs And Carpet.
---
Borders & Finishing Details
Borders
Area rugs usually need a border applied to the edges so that your rug does not unravel. Woven vinyl rugs and some tightly woven flat weaves like our Prep have a clean, sharp edge when cut and can go without a border. But in general, an area rug will need a border. Below are the most common border options available.
---
Which border is best for an outdoor rug?
For a rug that lives outdoor or if you have a busy household, we recommend a polyester border or a serged edge.
---
Cloth
A cloth border is a traditional way to finish an area rug. Cotton, Linen, Leather or Polyester are the most common choices and come in an array of colors and textures. The amount of cloth on the face of the rug ranges from 1" to 3 ½" and does not add to the width of the rug.
*You can order samples of our cloth borders to find the perfect match. From your selected weave page, click Order Samples, then Border Samples.
Serged Edge
Serging is the continuous application of yarn around the edges of the rug to secure and stabilize the weave. A serged edge is very durable and offers a discreet finish. The serging yarns are carefully chosen to match weave color.
Hand Serged Edge
Hand serging is a beautiful finish for a rug and is offered on some of our wools and poly silks. Extra time is needed for this border, but the beauty is worth the wait.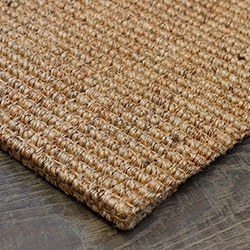 Infinity Edge
A beautiful and minimalist finish for several of our natural fiber rugs and our natural-looking SynSisal®, the Infinity Edge is a type of binding finish that has no border at all and creates a clean, elegant edge.
Finishing Details
If you decide to finish your custom area rug with a cloth border, you may be asked to choose between a mitered or lapped corner, or top stitch or hidden stitch. Not all of our weaves come with these options, but if yours does, we want you to be prepared to make a choice.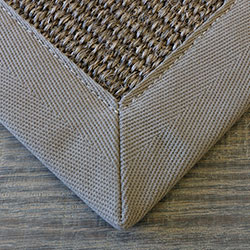 ---
Rug Pads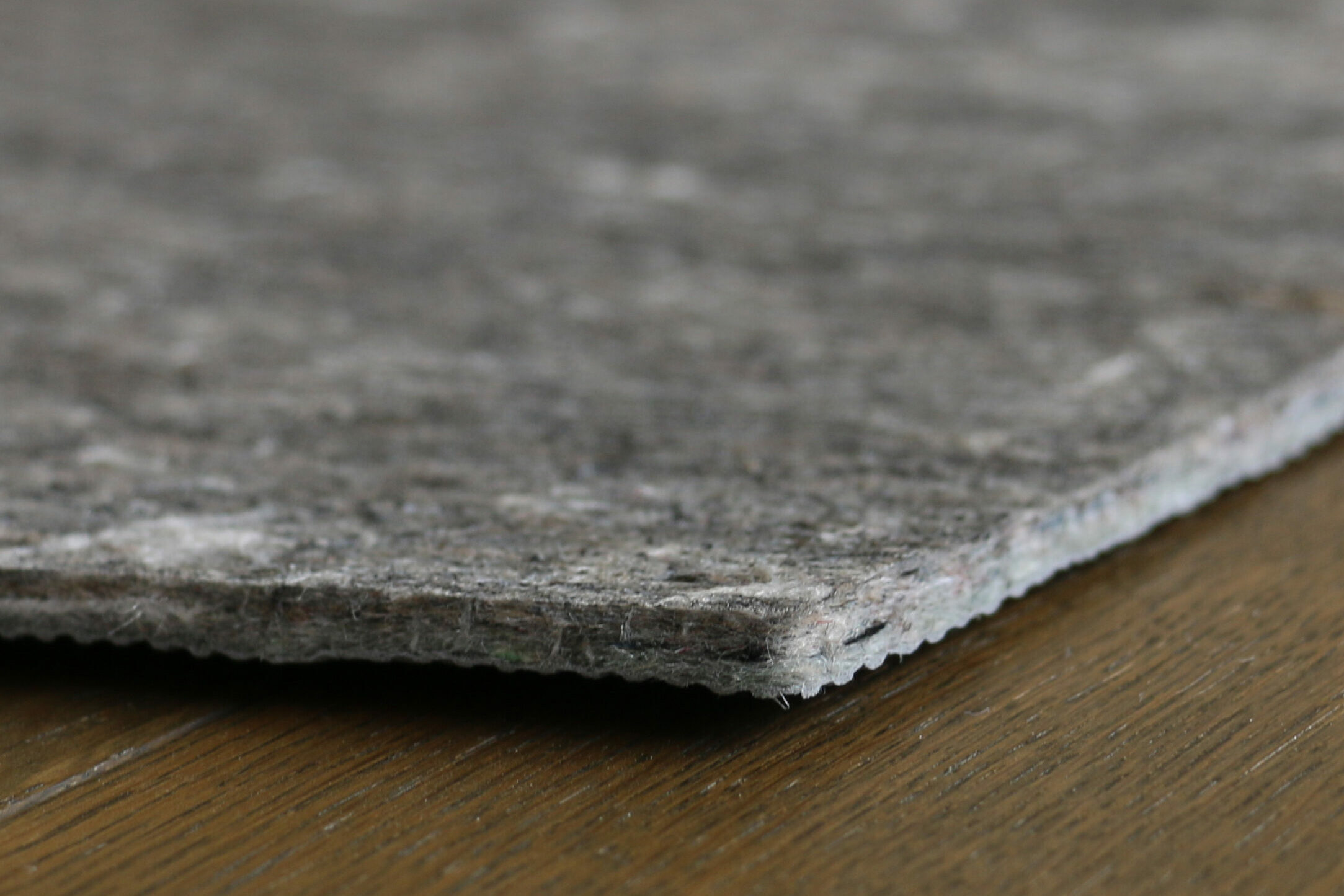 A rug pad is an under layer for rugs that is made from rubber, felt, wool, polyurethane or a combination of these materials. A rug pad may be loose or attached to the rug. A dual surface rug pad has felt on one side and a non-slip rubber on the other. These pads are versatile and can be used on either hard flooring surfaces or on top of carpeting.
Pro Tip: When placing your order for a custom rug, you will have the opportunity to add a rug pad to your order. Some of our custom weaves come with an attached rug pad. If you would like to purchase a rug pad separately, please reach out to our customer service team.
Do I need a rug pad?
Rug pads are encouraged under area rugs on all types of surfaces. Not only do rug pads add cushion and decrease slipping, a rug pad increases the longevity and supports the structure of the weave. Our rug pads meet many criteria and are suitable for use on both carpeting and hard surfaces.
On hard wood surfaces, place the rubber side face down over the flooring to keep your rug from slipping.
When layering onto carpeting, lay the fiber side down to keep your area rug in place on soft surfaces.
What about a rug pad for broadloom or wall-to-wall installations?If you are having carpet installed wall-to-wall, your installer will suggest and procure the proper underlayment or pad for your specific needs.
---
A Note About Latex Backed Rugs: If your rug is backed with natural latex, we highly recommend the use of a rug pad as a barrier between the latex backing and your flooring. The performance of natural latex backing varies depending upon environmental factors in a room.
If a room is too dry, natural latex can break down or start to crumble.
Different finishes and sealants used on wood floors, such as oil-based, solvent-based and water-based polyurethane, can react with natural latex and cause it to stick to the floor.
Moisture, cleaning detergents, soaps or other liquids can cause natural latex to stick to the floor.
---
Attached or Loose?
Most rug pads are offered loose and cut to your specifications. But many of our custom rugs come with the choice of an attached rug pad. The final location of your rug determines which material is required. If your area rug will be anchored under heavy furniture and you wish to add a layer of cushion, an attached felt rug pad is a great choice. Attached rug pads with a rubber surface are great for use on hard surfaces as well as carpets to help prevent slipping.
| | |
| --- | --- |
| Attached Felt | Attached Rubber |
| Loose Dual Sided | Outdoor Non-Slip |
---
How to Order Your Rug or Broadloom
You have narrowed down the best material for your intended use, ordered samples, picked your favorite, and now you are ready to create your custom rug. From our website, you can easily place your order online.
Custom Area Rug
From our website, select the weave you want and click "Price & Order Rug." From here, you will be prompted to choose color, enter dimensions, select binding or border type, and more. Once you are satisfied, add the rug to your cart.
Note: Some custom rugs with very special features require you to contact our team of experts for swatches and a quote.
Broadloom for Wall-to-Wall
From our website, select the weave you want and click "Price & Order Rug." Select your color and then click the broadloom icon. Enter the required length and add to cart.
Pro Tip: Have your installer measure your space and recommend the total amount needed (including overage).
---
Shipping & Delivery of Your Rug
How and when your rug is delivered are very important things to consider. Below we have highlighted the main factors that influence the speed and ease with which you receive your new rug. For more details, see our Shipping & Delivery resource page.
Method of Production: All of our rugs are made to order. Some of our rugs are handcrafted and require extra production time. Some of our rugs come from boutique workrooms that focus on quality over speed.
Finishing: If you chose a hand-serged edge as opposed to a standard machine-serged edge, extra time will be required.
Travel Time: Rugs that are produced in Europe take longer for delivery. All of our rugs are vulnerable to shipping or delivery delays that are beyond our control (COVID-related, weather, force majeure, etc.).
Size of Rug: If you are ordering a small area rug, like a 5×7, then you might be able to personally move the roll from your door into your home. A large 8×10 rug can weigh hundreds of pounds depending on the material, and having extra help on hand is a must. See Method of Delivery below.
Method of Delivery: Standard Curbside Delivery means your rug will be delivered by one driver to your curb or to your driveway and offers the quickest timeframe. Enhanced Delivery offers over the threshold delivery for an extra fee and is recommended for large rugs or oversized items that are difficult to handle or too heavy for one person to manage. Extra time is added to the delivery timeline with Enhanced Delivery.
When and how do I choose my shipping method? Once you have added your custom rug or broadloom to the cart and begun the checkout process, you will be prompted to select a shipping method. We offer standard curbside delivery, enhanced delivery, expedited shipping, international shipping and more. You can always reach out to us if you have questions or for more details, see our Shipping & Delivery resource page.
---
Preparing For Your New Rug
Clear The Way: Before your new rug arrives, make sure the path from entry to destination is clear. With a clear path, accidental damage to household items or interior walls is less likely to occur.
Open Carefully: Once the roll of carpet is inside, carefully remove the packaging, being careful not to use a sharp blade that could damage the product.
Lay It Out: Unroll the rug or carpet. Let it loose-lay for 24 hours in the room. Allowing the carpet to relax into its intended shape will ease its compliance when installation begins or placement commences.
Vacuum: New rugs might shed or have residual fibers from the production process, so an initial vacuum is a good idea.
Air it out: Some new materials or natural fibers may have a scent associated with them. Seagrass is known for its barn-like or grassy smell when new. Other natural fibers like sisal or wool have a fresh, earthy smell. And synthetic rugs might have a scent as well. These subtle odors will dissipate over time.
Pro Tip: Installing carpet wall-to-wall? If you are having wall-to-wall carpet installed, we highly recommend you read our blog post Flat Weave Carpet Installation—Everything You Need To Know. Installing carpet, whether flat weave or other, is a big project and we provide all the information you need to plan for a successful project.
---
Installation Guidelines
Installing carpet wall-to-wall requires its own set of rules and advanced planning. All of our weaves that are available as broadloom come with Installation Guidelines that are accessible under the Installation tab on each weave page.
To learn more about wall-to-wall carpet, see our resource Wall to Wall Carpet or review installation guidelines for specific materials here. As mentioned above,Flat Weave Carpet Installation—Everything You Need To Know is another excellent resource for planning a carpet install.
---
Care & Maintenance FAQ
The first step in maintaining your rug or carpet is selecting durable and appropriate materials based on intended use and lifestyle. To protect and prolong the lifespan of your rug, take proper care of it. All of our weaves come with guidelines for care and maintenance that are accessible under the Care tab on each weave page, but here are a few time-tested recommendations:
Keep a sturdy doormat at the entrance of your home or office. A doormat or walk-off mat with tough, coarse fibers will catch dirt, dust and moisture, keeping it out of your space.
Consider a no shoes in the house policy. The soles of our shoes are in constant contact with germs, dirt, oils and other contaminants. Keep your home free of these unwelcome guests by leaving your shoes at the door.
Regular weekly or biweekly vacuuming removes dust and dirt, thereby preventing those grimy particles from becoming an embedded stain or dust bunny debris.
For natural fiber rugs, Sisal-Guard is a spray-on sealant that acts as a barrier to reduce the rate at which sisal absorbs liquid. Applying Sisal-Guard will not guarantee that your natural fiber rug will never stain, but it will reduce the chances.
Care guidelines for specific fiber types can be found on our Care Guides page.
---
Curran Customer Service – What We Offer
Client satisfaction is a core priority for Curran and sisalcarpet.com. We created this rug buying guide to give you the confidence and knowledge to create the perfect rug for your home. But if you still have questions or need assistance, please contact us!
Our trusted team of design specialists are highly knowledgeable across all of our products and will help you navigate our offerings of over 250 unique weaves. If you need design support, are working on a deadline, with a budget or have a complicated delivery request, we will always do our best to accommodate your needs in a timely and professional manner. Connect with us – we are happy to help.
---
Not quite sure what that word means? A few key industry terms are defined below.
Backing
The backing on a rug or carpet refers to the material on the underside of a weave that holds the face yarns. A backing secures the yarns and gives the rug additional strength and dimensional stability. Oftentimes, carpets have a double backing: the primary backing and the secondary backing. Primary backings, which secure the face yarns, might consist of jute, cotton or a synthetic material like polypropylene. Secondary backings are an outermost reinforcement and provide a barrier between the rug and a rug pad or floor. Secondary backings are usually made from cloth, latex or urethane.
Basketweave
A basketweave rug pattern is a basic criss-cross pattern with a checkered appearance. Also called a Panama weave, the warp and weft threads or yarns are interlaced, with one group (usually two or more) of threads going over and then under another group of threads.
Blend
When two or more materials are combined in a rug, it is called a blend. The most common natural fiber rug blend is sisal with wool. Wool is also blended with other materials like goat hair, linen or synthetic fibers. Synthetic rugs are often just one material, but they too can be a blend of different fiber types.
Border
A border is material that is applied to the edges of an area rug to keep the rug from unraveling or fraying and provides a decorative finish. It is also referred to as an applied border or a binding. A border can be cloth or serged. A "no binding" or "cut edge" option will appear on select products, especially modern vinyls. This means the product will have a cut, raw edge that will not unravel. No additional binding or border is needed.
Bouclé
A heavily textured loop pile rug. The loops can be tight and small, creating a smooth and minimalist weave, or the loops can be large and more chunky, creating a texturally rich weave.
Broadloom
Broadloom or wall-to-wall is carpet that has been woven on a wide loom and usually refers to buying raw material off the roll. Standard width for broadloom is 13 feet but can range between 6 feet and 16 feet wide. For broadloom that is wider than the standard 13′, browse our collection of Extra-Wide weaves.
Chevron
A zigzag pattern where blocks or rectangles whose edges are cut at a 45 degree angle meet point-to-point, creating a more seamless looking zigzag pattern. Chevron is more easily seen in tile or hardwood flooring than in a woven rug where weft and warp yarns are interlaced. Browse our Herringbone and Chevron collection.
Custom Rug
A custom rug is an area rug with unique dimensions as determined and designed by the customer to fit any space or room. With a custom rug, you are not limited to "standard" sizes. To begin designing your custom area rug, browse our weave collection and order samples to get started.
Face Weight
Face weight is the weight of the carpet's fibers (the pile) per square yard and does not include the backing in the calculations. It is usually measured in ounces per square yard. (Total carpet weight is the pile plus the backing.) When comparing two carpets that are essentially the same (same fiber, same pile height, same style), a higher face weight usually indicates higher quality.
Flat Weave
A flat weave rug or carpet is created by interlacing the warp (vertical) and weft (horizontal) threads to create a loop pile rug that has a low pile height. No knots are used. Flat weaves are thinner and more minimalist than their hand-knotted or plush pile cousins. Almost all of our flat weaves have a backing to secure the weave structure and are not reversible like many kilim or dhurrie style flat weaves.
Handloomed
A handloomed rug has been woven on a loom that is operated or driven by hand or foot power. Handloomed wool rugs and carpet highlight the natural variabilities of wool and the unique qualities that only an artisanal product embodies, which is why they fetch a higher price point. Minor irregularities in yarn color, design, pattern repeat, texture are elemental to a handloomed product and are also what elevates it above other mass-produced wool rugs.
Herringbone
A zigzag pattern that brings together rectangles with ends cut at 90 degree angles that meet perpendicularly. Herringbone is more easily seen in tile or hardwood flooring than in a woven rug where weft and warp yarns are interlaced. Browse our Herringbone and Chevron collection.
Lapped Corner
A lapped corner refers to the style of a finished corner on a rug bound with cloth where the cloth binding lays over each other in the corner at a 90 degree angle.
LEED Points
LEED stands for Leadership in Energy and Environmental Design and is a green building rating system that has become an industry standard for excellence in sustainability. Building owners are awarded points based on compliance with different sustainability goals. Our SynSisal® collection is made from recovered and recycled waste and grants LEED points to any project in which it is installed.
Lightfastness
A product with high lightfastness means that the material or colors will resist fading when exposed to the sun's ultraviolet rays. Performance of the product also depends on use and exposure: a product in direct sunlight for many months will fade more quickly than one that is not in direct sunlight or is behind UV-protective windows. Most flooring products use the ASTM (American Standard Test Measure): I being an excellent rating to V being a poor rating.
Mitered Corner
A mitered corner refers to the style of a finished corner on a rug bound with cloth where the cloth binding is joined and finished (sewn) in the corner at a 45 degree angle, similar to a picture frame. This is the most formal finish to a floor covering.
Overage
For wall-to-wall installations, overage refers to ordering about 10% more material than your square footage needs to be sure that you don't come up short. Discuss overage with your installer—based on the layout needs of your space, your installer may recommend ordering more.
Pile
Pile and pile height are interrelated terms. Pile refers to the fibers or tufts of yarn that are visible on the top (or face) of your rug. These face yarns may be cut (shag), looped, or both. Pile height can be low or high and is the distance from the top surface of the yarns to the rug's backing. A high pile rug, like shag carpeting, is taller and a low pile rug has shorter yarns and/ or tighter loops. Low pile rugs tend to be more durable and easier to maintain. High pile rugs are taller and have a coziness about them—just be sure any doors near a high pile rug can open and close easily. See also Face Weight.
Sample or Swatch
A sample or swatch is a small cutting or example of a material. Ordering samples of different rugs and colors helps determine which style is best for your needs.
Seam
A seam is where two edges of carpet are laid next to each other for a continuous look. Seams may be needed when creating a large area rug that exceed the width of the material or when installing carpet wall-to-wall. Proper seaming is very important when installing a flat weave carpet and using an experienced installer is advised. See our blog post Flat Weave Carpet Installation—Everything You Need To Know to learn more about seams.
Serged Edge
A serged edge is a continuous wrap of yarn around the edges of your rug that binds the fibers and keeps your rug from unraveling.
Shedding
Shedding or fluffing commonly occurs with new rugs and especially with wool rugs. It is a normal part of a rugs life cycle and does not indicate a defect. The loose fibers that shed are remnants from the manufacturing process and will typically settle down in about 6 months. When your wool carpet is new, consider gently vacuuming it, without the beater bar, frequently or even sweeping the rug to help clean up the loose fibers.
Sprouting
Short, natural fibers from sisal, jute and seagrass may "sprout" during general handling and normal wear and tear. This is a normal. Clip sprouts off with scissors and do not pull. Trimming the sprouts will not hurt the integrity of the weave since the fibers are attached to a backing.
Stair Runner
A stair runner is a rug or carpet that is installed on your stairs and usually runs the full length of your staircase, from the top step to bottom step, and may extend the full width of each step (wall to wall) or have a border. Check out our Stair Runner resource page to learn more.
Tiger Eye
A tiger eye pattern or weave is constructed of thick loops, symmetrically offset to bring forward an organic, textural quality that is unique to its chunky texture.
Tufted
Tufted refers to a construction style of carpet wherein the yarn or thread is inserted, pulled through, stitched or looped through a primary backing material. A secondary backing is adhered to the backside of the primary backing to create a stable foundation. Tufted rugs can be made by hand but are primarily made by a machine.
UV-stabilized
A product that is UV-stabilized means it has an added stabilizer that protects the product from degradation caused by ultraviolet (sun) light. Prolonged exposure to sunlight can alter colors or lead to material breakdown. Look for "UV-stabilized" in the product specifications, especially for polypropylene, poly silk or vinyl outdoor rugs.
VOC
Volatile Organic Compounds (VOCs) are chemicals that "off-gas" or release into the air, potentially having a negative impact on our health. VOCs are used in many everyday products like paint, cosmetics, toys, furnishings, carpets and more. Indoor air quality is vitally important, so look for low or no VOC flooring options made with wool or other natural fibers. Our Pure Wool, Monasch or Tretford collections all help improve indoor air quality and for a synthetic, sisal-look option, look no further than SynSisal®.
Warp
In a woven carpet, the warp refers to the yarns that run lengthwise, or from top to bottom.
Weft
In a woven carpet, the weft refers to the yarns that are woven widthwise, or from left to right, into the warp yarns.
Woven
Woven is the traditional method for making rugs and carpet on a weaving loom. The yarn or pile is woven individually and simultaneously with the backing threads which creates a uniform structure with excellent durability and beautiful designs. A more time-intensive process, woven carpets and rugs can last a lifetime if cared for properly.
Christy is the Flooring Content Specialist at Curran and sisalcarpet.com. She writes about flooring products with a focus on design and sustainability. For 5 years, her blog posts, technical guides, and product descriptions have led customers along the path from purchasing to maintaining their flooring investments. Her favorite natural flooring? A sisal rug, of course.