Which material is best for a kitchen runner rug? Can I put a wool area rug in my bathroom? Are there stain-resistant options for a dining room rug? What are the best entryway rugs?
In this post, we answer these questions and more. In our 30-plus years of rug-selling experience, we have learned that sometimes a wool rug can go in a bathroom and a stain-resistant sisal area rug in a dining room is OK. Join us for a deep dive into choosing the best material for the room, proper rug sizing, a bit of color theory, and a few caveats here and there.
Entryway Rugs
First impressions matter—an entryway, foyer or mudroom is the first area that you or your guests see when entering your home. An entryway rug provides an opportunity to introduce your style and serves a functional purpose.
Intended Purpose
Entryway rugs capture dirt and dust and must stand up to heavy traffic. Think easy cleaning and highly durable materials. A rug made with water-resistant and/or stain-resistant materials is an added bonus.
Ideal Material
Look for tough materials like woven vinyl, polypropylene, coir, seagrass, stain-resistant sisal, and wool. A woven vinyl area rug can be scrubbed and sprayed with a hose if needed. Polypropylene rugs are easy to clean and come in a variety of patterns and colors.
For a natural fiber look in the entryway, seagrass is affordable and resists staining thanks to its non-porous fibers. A stain-resistant sisal or a wool entryway rug are both cleanable options that bring organic beauty to this reception area.
Placement
Double check the height of your entryway rug—you want clearance between the bottom of your door and the top of your rug. A low-profile rug is ideal to prevent snagging the door. Leave 12-18 inches of exposed floor on each side of the rug to show off your hardwood floors or marble tile, if possible. Entryway rugs are generally not anchored by furniture, so be sure to include a non-slip pad underneath.
Design Considerations
In traditional homes with large entryways or foyers, a gorgeous wool rug is a warm and elegant welcome. A seagrass or a stain-resistant sisal rug brings texture, subtle pattern and neutral color to an entryway.
Mudrooms or entryways in busy homes benefit from woven vinyl's ease of care, but also get a style lift from these modern marvels. Chilewich woven vinyl rugs showcase sleek patterns and textures, in inspiring color palettes. Tidepool or Eclipse bring a textile-inspired look to your floors.
Final Tip
No matter the size of your entryway, there are a few things you can do to make the transition into or out of the house more seamless. A bench or a stool provides a safe place to sit and remove shoes. Stylish hooks on the wall or a classic coat rack effortlessly replace the traditional hall closet. And a small console table or wall shelves are perfect landing places for keys and the mail.
---
Don't have room for a full-on entryway rug? A sturdy walk-off mat at the entrance of your home captures moisture, dirt, and dust. Set the tone with a colorful Titan walk-off mat or opt for the neutral hues of Murray.
---
Living Room Rugs
The living room is the heart of the contemporary home, a gathering place for friends and family, a room where we relax and socialize. The right area rug for the room enhances your design style and meets the practical needs of everyday life.
Intended Purpose
Whether your living room is formal or casual, a living room rug is the essential first layer for creating a style statement and a comfortable space. Set a design-forward focus with a bespoke designer rug or embrace casual comfort with a thick wool rug or a synthetic sisal area rug that is easy to clean.
Ideal Material
Natural fibers like sisal, jute, or seagrass are time-honored choices for living room rugs. These natural fibers add a layer of robust texture, an organic element, and a welcoming neutral palette. A wool living room rug provides incredible comfort, durability, insulation, and color options that range from neutral to bold.
An elegant synthetic like our SynSisal® has the sisal-look but softness and stain-resistance. SynSisal® weaves have beautiful, tonal colorways and classic structures, like Astoria's chevron or Medina's bouclé pattern.
For the utmost in a luxury living room area rug, a plush rug from Jacaranda or a stunning Abaca rug create a timeless yet unexpected statement.
Placement
One of the biggest design missteps is a too-small rug. No matter the size of your abode, finding the right size area rug makes any setting feel cohesive. Ideally, your budget allows the purchase of a rug large enough to house all your sofa's legs and other furniture feet. This large area rug should be proportional to the room and leave a minimum 6-8 inches of bare, visible floor on all sides.
If this scenario is not possible due to budget or room size constraints, the next best option is to chose a rug large enough to hold the front legs of your living room furniture.
Design Considerations
From coastal chic to transitional elegance, an area rug is a design staple that amplifies any aesthetic. Below are some of our favorite design style and rug material combinations.
Our curated wool collection offers low profile and deep pile wool rugs, fresh patterns and neutral canvases, pops of colors and earthy tones. A wool rug has universal design appeal and depending on the structure, color, pattern, it blends with many styles like Scandinavian, organic modern, mid-century modern, and traditional.
If modern cottage, Asian zen or boho is your vibe, a natural fiber rug is a multi-functional choice. Evoke sand and ocean with a foundational seagrass rug, neutral-colored furnishings, and blue decor accents. Or stay true to a soothing, minimalist interior with the unadorned hues of sisal. And a chunky jute rug plays well with textiles, tapestries, and saturated colors for a multifaceted look.
Art deco, Hollywood glam, and transitional interiors will light up with a bespoke TENCEL™ rug from the Jacaranda Collection. TENCEL™ fibers are durable yet plush, with an iridescent shimmer that reflects light while intensifying color. Both Limited Edition rugs from Belgium and SynSisal® weaves from Curran and sisalcarpet.com offer sophisticated rugs for a much-loved space.
Final Tip
Sometimes, the seamless look of wall-to-wall carpet is desired. Wall-to-wall carpeting has many benefits, including its ability to:
Cover existing flooring that is damaged, unappealing, or uneven
Add thermal and sound insulation
Provide cushioning and comfort underfoot
Allow flexible furniture placement—you are not limited by the size of an area rug
Create an expansive foundation and layer heirloom wool rugs or kilims to express your style or define a space
Almost all our weaves are available as broadloom for wall-to-wall installation. Visit Wall-to-wall Carpet to learn more about ordering broadloom carpet and shop our collection.
---
Installing a flat weave carpet wall-to-wall in your home or business? Our blog post Flat Weave Carpet Installation—Everything You Need to Know is a great resource.
---
Dining Room Rugs
Dining rooms are hubs of human interaction and vital nourishment, where a boisterous meal and the clink of china combine for a vibrant but sometimes noisy atmosphere. Soften the sound while protecting your floors with a smart and sophisticated dining room rug.
Intended Purpose
From separate dining rooms to open floor plans to casual eating nooks, a rug defines the space, adds a dose of character, and protects delicate flooring underneath. Rugs also provide sound insulation—a welcome feature in open floor plans—as well as a visual separation between your table and the floor. If your kitchen has a tile or hardwood floor that flows into your dining area, a dining room rug adds a layer of warmth.
Ideal Material
A dining room rug or eat-in kitchen area rug should be cleanable and reflect your design aesthetic. A flat weave rug from our exclusive SynSisal® collection is perfect for layering the natural fiber look into your design with a sensible, cleanable floor covering. If you love the rugged texture of sisal, look for a stain-resistant sisal like Lopez or Salt Spring.
A wool, polypropylene or poly silk rug all bring graceful styling and ease of cleaning to this favorite room. For eat-in kitchen area rugs or homes with small children and active pets, a woven vinyl rug is unbeatable. Woven vinyl is sophisticated, highly durable, a cinch to clean and available in an array of colors, textures and patterns.
Placement
Table size and room size both factor into determining the right rug size. A dining room rug should be large enough to hold the legs of chairs when pushed out—no one wants their chair to catch on the edge of a rug while holding a wine glass. When measuring for rug size, add 36 inches (and no less than 24 inches) to each side of your dining table's dimensions to allow room for chairs to easily move in and out.
For visual balance, we recommend equal amounts of exposed flooring on all sides of the rug. The shape of the rug should complement the table shape—a rectangle table with a rectangle rug, a round table with a round rug, etc.
Design Considerations
A dining room rug is a blend of function and style. Here are some tips to help narrow down your choices:
A dining room rug with a pattern or a darker color can help hide stains should they occur.
If you need a stress-free option, a wool, stain-resistant sisal or synthetic rug are all great choices that are cleanable.
A colorful rug breaks up a common oversight: too much brown or wood in one room. Wood floors with a wood table, especially if they are both in the same tone, benefit from a splash of color.
Flat weaves with a low profile and a tight, looped construction are ideal for dining rooms. Rugs with a high pile or shag provide hiding places for crumbs. Plus, a chunky or thick rug adds resistance whenever a chair is pulled out.
Practical considerations aside, a dining room presents a canvas, waiting for your touch. It is a place for high drama, traditional elegance or minimalist beauty.
Final Tip
Does your dining table have an extension? When deciding on rug size, remember to think about the size of your table fully extended. If you host frequent dinner parties with the table fully extended, buy a rug that will accommodate the full table size and chairs. If you rarely use your table extension, then purchasing a rug in the size that fits your everyday use is more practical.
Bedroom Rugs
A haven of rest deserves soothing, beautiful furnishings. Since we spend one-third of our lives sleeping, adding another layer of coziness to this sanctuary is an easy choice.
Intended Purpose
A bedroom area rug adds a layer of coziness, provides insulation, and a design element. Show off your style or personality with a brightly colored or richly patterned rug, or cultivate a calming retreat with nuanced neutrals and natural fibers.
Ideal Material
Wool rugs are a favorite for bedrooms. Wool is cozy, insulates for sound and warmth, helps purify the air, and is available in a variety of styles, colors and patterns. Modern fibers like TENCEL™, poly silk and polypropylene also provide softness and an array of styles. If you love the organic beauty and textural richness of natural rugs, a sisal, sisal-blend or jute bedroom rug is a perfect addition.
Placement
Ideally, all bedroom furniture, like your bed and end tables, is placed on the rug and the rug extends at least 18" from either side of the bed. For a room with a twin bed, look for a 5'x8' or even an 8'x10' rug. If you have a full or queen size bed, an 8'x10' or 9'x12' rug gives an expansive feeling to the room. A king size bed deserves a king-size rug, so look for a 9'x12' or larger if your budget and room size allow.
If your primary bedroom is large, we recommend that all furniture is placed on the area rug—queen or king size bed plus two nightstands.
If your bedroom is smaller or you have appealing hardwood flooring that you want to showcase, tuck the rug under the bed just up to the nightstands. Or, apply the ⅔ rule with the majority of the rug under the bed.
Two smaller rugs on either side of your bed give you the same amount of warmth at a budget friendly cost. Be sure to anchor the rug with furniture or include a non-slip rug pad underneath.
Design Considerations
Begin with the question "what do your feet want to touch first thing in the morning?" A wool rug provides a soft and warm landing for bare feet, and some people love the coarseness of a sisal rug—it's like having a foot massage. You can have the best of both worlds by layering an accent bedroom rug, like a wool heirloom rug, atop a larger sisal area rug. Layering rugs adds depth and dimension to this personal space.
Soft fibers like wool, TENCEL™ or poly silk in calming colorways reinforce relaxation. For a more lively expression, a bedroom rug in a bold color or an arresting pattern can be a cohesive element that ties a room together.
Final Tip
Does your bedroom already have wall-to-wall carpeting? Consider adding an accent rug in a contrasting pattern or in harmonizing color hues to lend dimensionality and texture to your bedroom. Even runners on either side of the bed add to the aesthetics of the room.
Kitchen Rugs
Often the busiest room in the house, a kitchen needs hard-working materials that are easy to clean and comfortable to stand on.
Intended Purpose
Are you an avid chef who spends many hours in the kitchen? Finding something that is comfortable to stand on, easy to clean and protects your floors are top of the list. Or maybe you want to add a pop of color or a pattern to flaunt your design style? A decorative kitchen rug is an affordable way to make your mark.
Ideal Material
Polypropylene and woven vinyl rugs are excellent choices for a kitchen area rug. Not only are these materials durable and cleanable, they come in a range of colors and patterns, from dynamic to neutral and subdued. Some kitchen rugs have extra cushioning or a non-slip backing built in. If your rug is not cushioned or backed, add a non-slip rug pad for added comfort and safety.
A natural fiber kitchen rug brings an outdoor element into your home. Since sisal stains easily, we do not recommend it for a kitchen rug. If you must have the natural look, you can treat the sisal rug with Sisal-Guard to help prevent staining, or opt for seagrass or one of our synthetic sisal-look options like SynSisal®.
Placement
Kitchen area rugs are commonly placed in front of sinks or stoves. The size of the rug depends on the size of your kitchen. A small 2'x3' rug may be all you need. It should be placed close to the baseboard below your sink or stove—you don't want the front half of your feet off the rug while cleaning dishes. If you have a larger kitchen or an island, a kitchen runner creates flow and is a practical accent. Leaving a few inches of exposed flooring on all sides of the runner is a standard rule.
Safety is important—tripping in a kitchen while holding a knife is not appealing—so look for low-profile, flat weave kitchen rugs. Additionally, add a non-slip rug pad underneath or consider curl-stops to keep corners down.
Design Considerations
Find a rug that complements your overall color scheme. This could mean a monochromatic palette, with a kitchen runner rug in the same color family as your cabinets and countertops. A little contrast never hurt either, and a dark rug against white cabinets is visually interesting and the darker color helps hide stains. Patterns in a kitchen rug are a great way to mimic color themes found elsewhere in your home. A stain-resistant sisal rug grounds a contemporary look and a colorful woven vinyl adds character and durability.
Final Tip
The same materials that make a great kitchen area rug make a perfect rug for mudrooms or laundry rooms. Indoor-outdoor rugs made from polypropylene or woven vinyl are versatile and fun options that aren't afraid of water.
Create an unforgettable outdoor gathering space with the right outdoor area rug and comfortable yet stylish furniture. Perfect it with a patio umbrella and a fire pit and the great outdoors are yours to enjoy all year long.
A patio umbrella provides instant relief from the sun's rays. Our Patio Umbrella Buying Guide – Everything You Need To Know introduces you to all of the many styles, sizes, shapes, features, and components of commercial and residential patio umbrellas and other shade systems, as well as take you through all the decision points involved in the buying process.
When summer evenings fade into dark, a beautiful seating area and a fire pit offer a commanding and comforting presence. A fire pit surrounded by inviting seating should be an expression of personal style and also complement the character of the site's natural features. Our 7 Smokingly Stylish Fire Pit Seating Ideas offers landscaping and decorating principles to guide you toward creating the ultimate outdoor hearth.
Bathroom Rugs
Bathrooms range in size and decor style, but a modern bathroom rug can elevate a generic, ho-hum bathroom into a comforting retreat. Bathroom rugs are an interior design choice and different than a bathroom mat.
Intended Purpose
A bathroom mat generally sits in front of a bathtub or shower and absorbs water drips and splashes that create slipping hazards. But a bathroom area rug is an intentional decor element that highlights your style, warms up the space, and insulates for sound.
Ideal Material
Our indoor-outdoor rugs woven with polypropylene, poly silk, or sophisticated woven vinyl make practical yet sleek bathroom rugs. For added comfort and decadence, a wool rug in a bathroom is delightful. All of these materials resist mold and mildew growth, are easy to clean, and come in a variety of styles.
Placement
No matter the size of your bathroom, at sisalcarpet.com we can create a custom area rug that fits your exact space. Areas in front of showers, tubs and toilets need bathroom mats, but the space in front of your sink or any large exposed area benefit from a bathroom rug. If you want the best of both worlds—a bathroom rug and a bath mat to absorb water—place the bathroom mat atop a larger bathroom rug when needed.
Design Considerations
A tried-and-true way to keep a space looking fresh is to swap out accessories. In bathrooms, a new set of towels, a shower curtain and a new bathroom rug are all you need for a makeover. A bathroom can be an extension of the main design schemes in your home or a unique destination, with a different color palette or a mix of patterns. A magazine-worthy en suite bathroom gleams with Limited Edition's Alfresco Wave or Best Wool's Flashback.
If your household has only one main bathroom and you have small children who love to splash, a wool rug may not be the best choice. Instead, look for something that you can towel dry, like woven vinyl, or opt for a non-absorbent fiber like polypropylene or poly silk. A navy blue bathroom rug woven from polypropylene or a chic, gray poly silk bathroom rug create a focal point and warm up the space just as well.
Final Tip
As mentioned above, swapping in new towels in the latest, favorite color gives bathrooms a style lift. To avoid competition with a bathroom rug, consider a sisal-look indoor-outdoor rug. A neutral foundation welcomes all kinds of colors and patterns, creating the ultimate in design flexibility.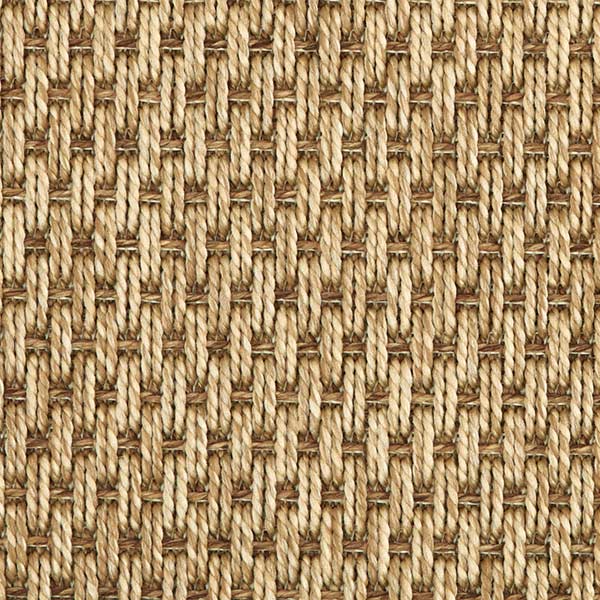 Home Office Rugs
The home office has seen an evolution in recent years—from the book-lined walls of a formal office or study that might require permission to enter to a dedicated work space that coexists with your bedroom, kitchen, or open floor plan. Homes of all sizes have welcomed (willingly or not) an office space into their floor plan, and an area rug is the perfect furnishing for defining and designing this space.
Intended Purpose
Whether or not you willingly have a work space in your home, it is important to honor the work you do from that space. A dedicated, thoughtful area, be it an entire room or a corner in the living room, with functional furnishings leads to success. An office rug defines the space, sets the tone, buffers sound, protects your floors, and should blend seamlessly with your workflow.
Ideal Material
The weave construction is an important consideration. Think low profile, flat weave or at least low pile rugs so that office chairs can move easily on the rug. Thankfully, we specialize in flat weaves and most of our offerings are flat or low profile. Here are a few of our favorites:
Placement
How much room do you have? If you have a room-dedicated office, floating your desk in the center or at least away from the wall and grounding the desk with a large rug is a statement choice.
For the best look, the rug should be proportional in size to your desk and be large enough to accommodate a chair when pulled out. Ideally, all furniture legs are on the rug. For small and cozy office spaces, the same guidelines apply: select a rug that is proportional in size to your desk and be sure that your chair can move in and out without snagging on the rug. An office rug that fits under most of your desk and accommodates your chair is perfectly fine too.
Design Considerations
There are many different uses for a home office—it might be a place for crunching numbers, disciplined writing, or sparking creativity. Whatever the purpose, a home office should feel relaxing yet dynamic. A rug is a great accessory for creating this balance.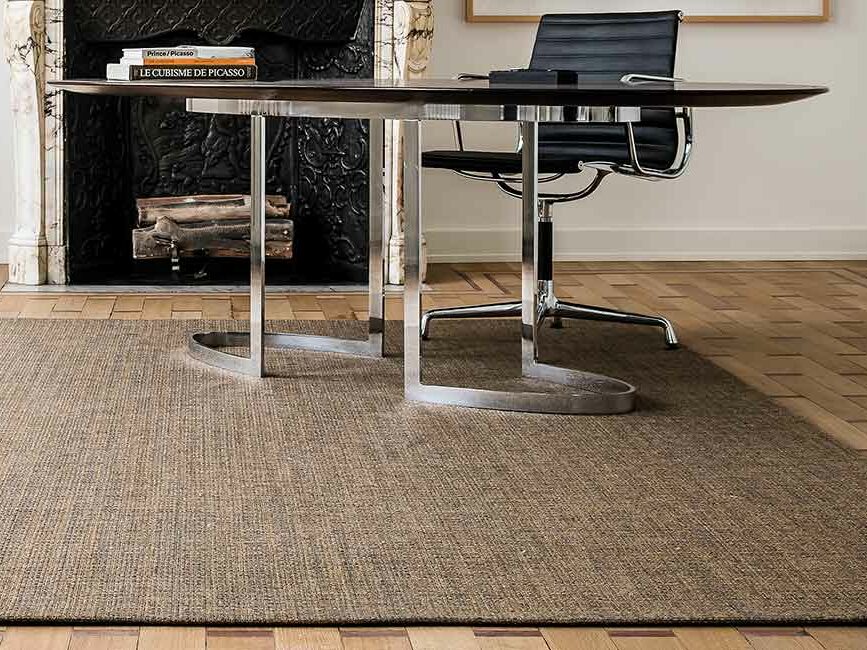 A contemporary desk, Eames office chair, and a bespoke rug like chic creates an inspiring atmosphere. Warm, wood tones from a desk or bookshelf are counterbalanced by a vibrant colored rug, the combination adding energy into the space. For a decidedly serene office, a natural fiber rug with subtle texture brings visual interest without being distracting.
---
From a home office to a corporate office, our Hospitality Collection has the right rug or carpet for your project.
---
Final Tip
If rolling in your chair from the desk to the file cabinet or printer is part of your workflow, be sure your office rug is large enough so that you are not rolling off the rug. And be mindful of fringes—fringes are a fun way to finish a rug, but chair wheels can snag and pull on fringes, leading to damage.
Hallway Runner Rugs
A hallway runner is a wonderful way to add a pop of color or a design element to an often overlooked space. Hallway runners highlight a path and make a home feel finished.
Intended Purpose
From a functional perspective, a hallway runner buffers sound, protects floors, and adds a layer of insulation. It can also elongate a hall, complement adjoining color schemes, add visual interest or ease the transition from one distinct room to another.
Ideal Material
Hard wearing materials are the best choice for busy thoroughfares. Resilient, non-slip fibers like wool, sisal, seagrass, woven vinyl, carpet tiles, or SynSisal® offer durability and a variety of styles. Low pile weaves tend to be more sturdy and easier to clean than a high-pile rug. However, the higher the pile, the more sound absorption and the greater sense of luxury. If your hallway runner is a low-profile rug, add a rug pad or underlay for extra cushion and sound absorption.
Placement
The size of a hallway runner should be proportional to the size of the hallway. A few rules to keep in mind:
The length of the runner should never extend into another room and the width should not extend to the walls. Instead, leave a few inches of exposed flooring on all sides and center it in the hallway, especially if you have beautiful wood, tile or stone flooring underneath.
Hallway runners generally measure between 2-3 feet wide and 6-12 feet long, but you can create any runner to your exact specifications at sisalcarpet.com.
Design Considerations
A unique place like a hallway provides an opportunity to experiment with color or pattern. For an overall coordinated effect, choose a rug color that complements the wall color and your existing color themes. This approach creates harmony throughout your home. For more drama, a bold or brightly colored rug stands out and adds a boost of character.
Chevrons or stripes are popular pattern styles for hallway runners. A striped hallway runner can elongate a hallway or widen it, depending on the orientation of the stripes. Since hallways experience heavy traffic, a patterned rug is a great choice because the pattern helps hide stains and overall wear and tear.
Final Tip
If a door opens onto your hallway runner, be sure to account for clearance: the door should be able to open easily over the pile height of the rug. To help the hallway rug stay in its place when doors open and close or when walked upon, add a non-slip rug pad. This increases safety and will add longevity to your rug.
---
Christy is the Flooring Content Specialist at Curran and sisalcarpet.com. She writes about flooring products with a focus on design and sustainability. For 5 years, her blog posts, technical guides, and product descriptions have led customers along the path from purchasing to maintaining their flooring investments. Her favorite natural flooring? A sisal rug, of course.