A functional and beautiful outdoor living space creates a welcoming addition to your home. Whether you have a sprawling patio or cozy balcony, time spent outdoors boosts your mood and adds value to your home. One of the easiest and yet often overlooked first steps to creating a loved outdoor space is adding the perfect rug. Outdoor rugs define an area, add an artful foundation, and provide comfort underfoot.
In this post, we share our professional wisdom on which types of outdoor rugs best withstand nature's elements, how to care for outdoor rugs, and how to choose the perfect rug that complements your design style. With over 30 years experience selling rugs and outdoor furniture, we know how to embrace outdoor living from the ground up.
What are the benefits of outdoor living spaces?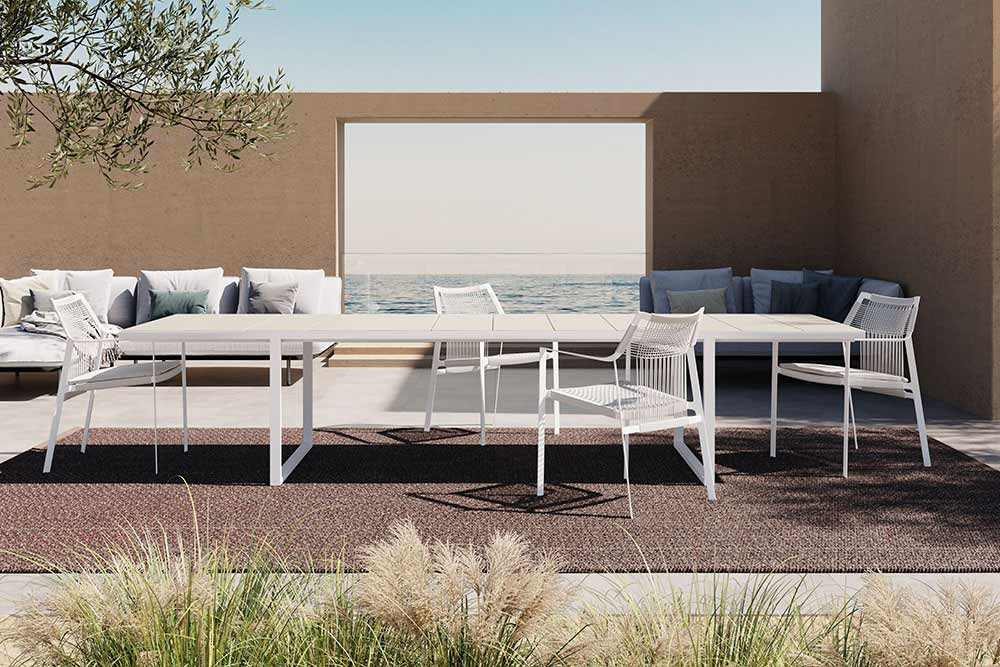 If you are lucky enough to have a porch to call your own or a pool deck waiting for a party, then you are poised to indulge in all that outdoor space has to offer. For decades, we have sold luxury outdoor furniture and bespoke flooring to design-minded consumers and know how a thoughtfully designed outdoor gathering space enriches our lives. Here are a few of the reasons we love outdoor living spaces:
Natural Benefits
Fresh air is rejuvenating and studies indicate that spending time outdoors has a positive effect on mood, blood pressure, and memory. Scenery, whether it is a verdant garden, a colorful flower bed, a manicured lawn, or a desert hardscape, adds an unforgettable ambiance. Since we spend so much time indoors, venturing out into fresh air adds balance and well-being to our bustling lifestyles.
Extend Your Living Space
Outdoor spaces essentially add coveted square footage to your living area. An attached deck becomes a grill station and dining area. A large patio is transformed into an outdoor living room, complete with deep seating and a patio umbrella to shade the sun. A balcony is the perfect spot for a comfortable chaise lounge, side table, and ambient lantern.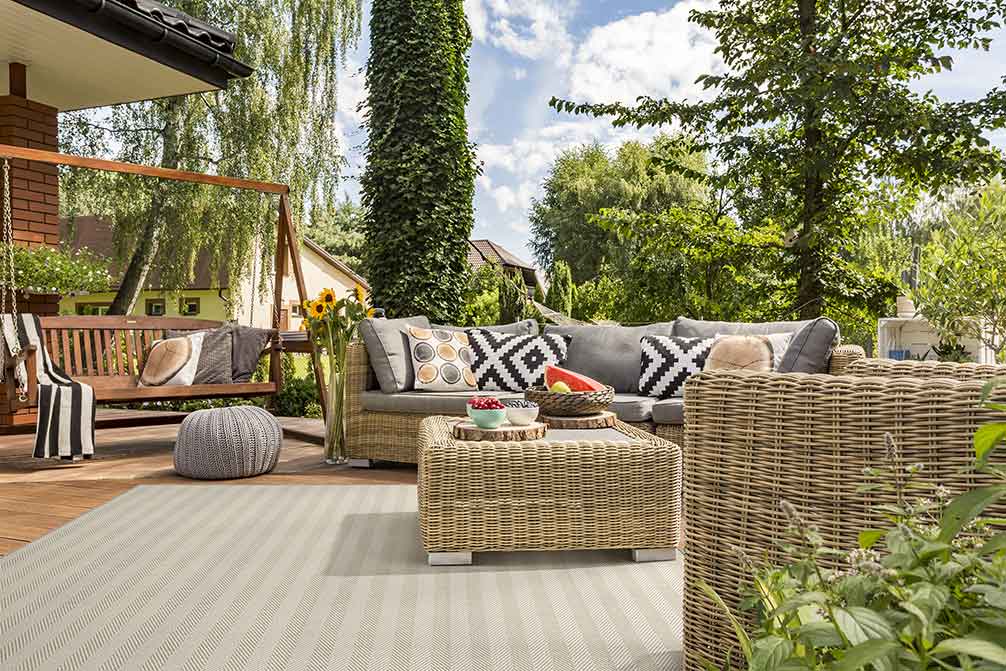 Layered Luxury with Foundational Rugs
A room is not complete without a rug or carpet and outdoor "rooms" are no different. A comfortable outdoor space will be used, and the right outdoor area rug sets a welcoming foundation. A classic chevron pattern, a vibrant color palette, or soft stylish fibers not only help tie your design together, they bring a enticing touch of luxury that lures you and your guests out into the open air again and again.
Entertain With Ease
Not everyone has a large dining room and many have only a cozy nook, just large enough for a small table and chairs. But by utilizing outdoor space, hosting a dinner party for 10 is not so daunting. Although we don't all have luxury outdoor living spaces, we can still fashion a charming setting for outdoor entertaining, even if its an old card table draped in a vintage block print tablecloth.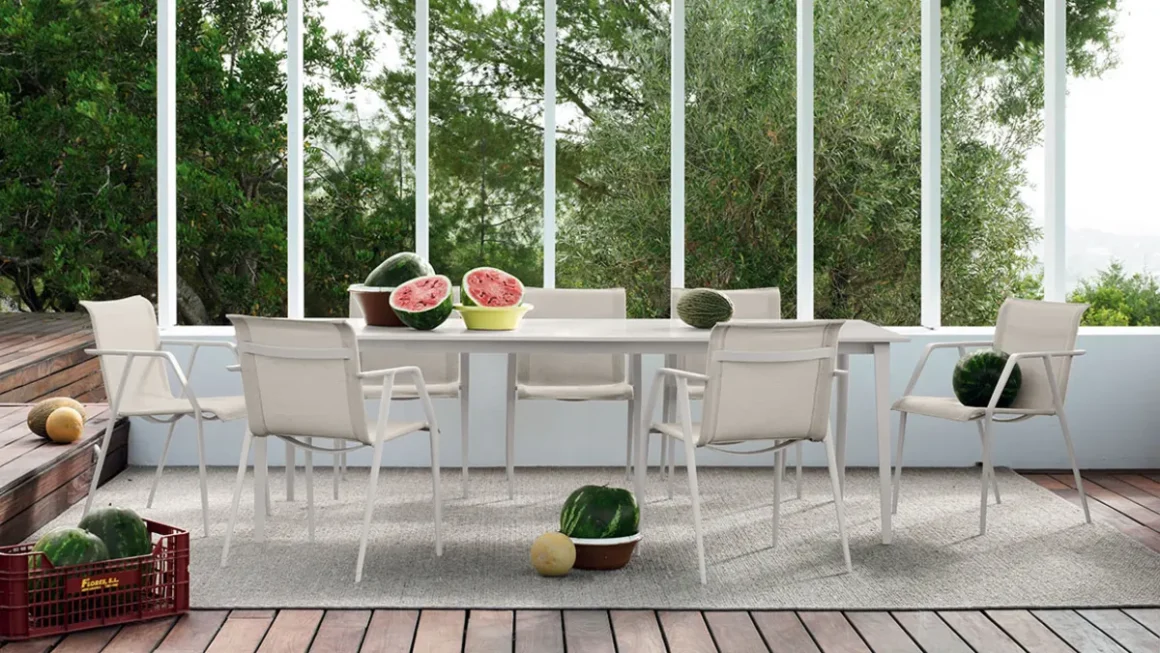 What are the best materials for outdoor rugs?
Outdoor rugs & carpets must be crafted with materials that can withstand the elements. This eliminates natural fibers like sisal or jute that would stain, shrink, deteriorate, or mold if left in the rain and sun. Instead, we recommend synthetic fibers because they are weather-resistant, durable, and easy to clean. Here are the pros and cons of the most common outdoor rug materials used today:
Polypropylene
Polypropylene is a solution-dyed synthetic material also known as olefin. Shop polypropylene rugs.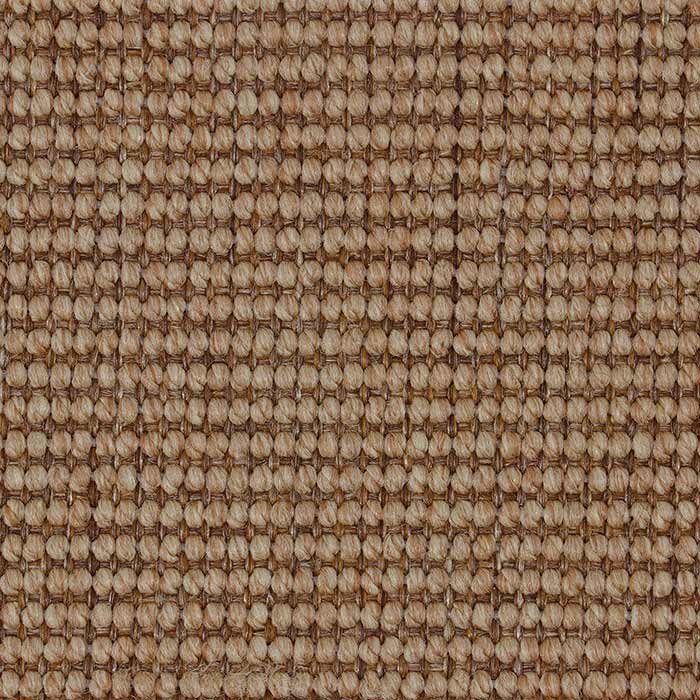 PROS
Colorfast and fade-resistant
Impervious to moisture and resists water-based stains
Mold and mildew resistant
Many of our polypropylene outdoor rugs are contract grade
Best for: pool decks, patio lounge areas, fully outdoor spaces
CONS
Oleophilic and oil-based stains might be difficult to remove
Poly Silk or Nylon
Poly silk is a manmade polyester or nylon fiber. Shop poly silk rugs.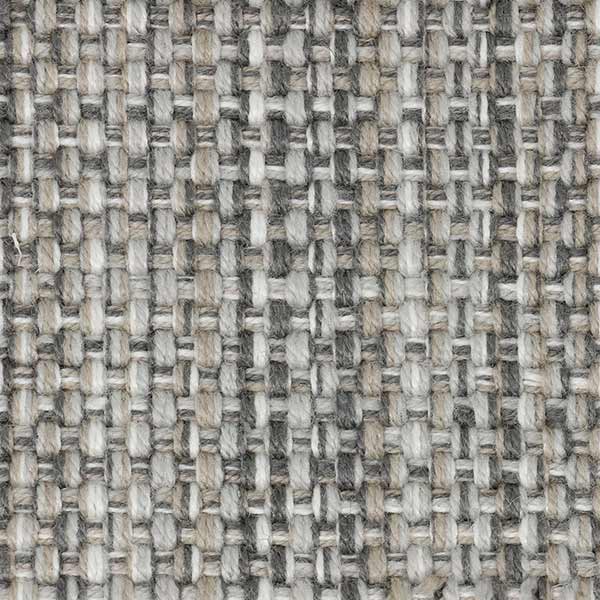 PROS
Soft texture and silk-like sheen
UV-stabilized and colorfast
Does not absorb moisture and mold & mildew-resistant
Easy to clean
Best for: lanai rugs, sunrooms, and other indoor/outdoor spaces
CONS
A covered area is recommended for best use
Store indoors when not in use or during inclement weather
Woven Vinyl
Durable, synthetic material woven from vinyl, polyester, or other synthetic yarns. Shop woven vinyl rugs.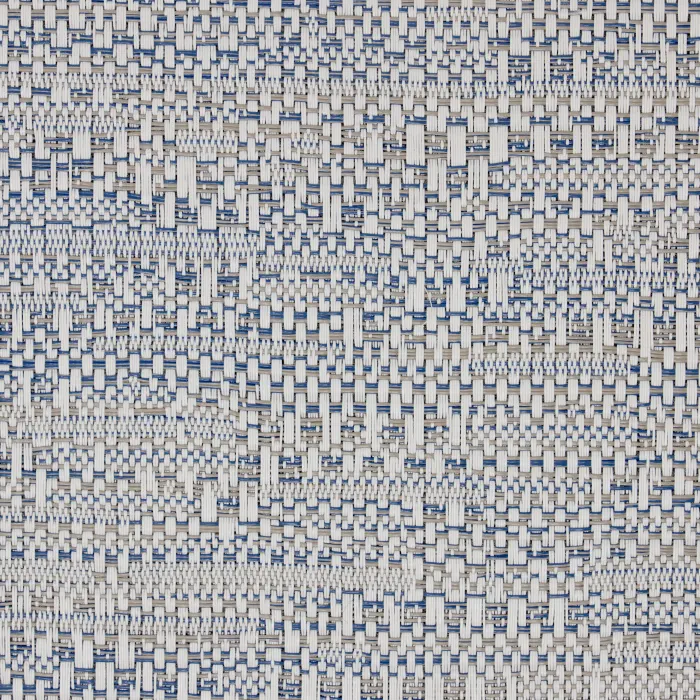 PROS
Contract grade
UV stabilized & fade resistant
Soil & stain resistant, easy to clean
Impervious to moisture, mold and mildew resistant
Many woven vinyls are crafted from recycled or regenerated yarns
Best for: outdoor rug runners, hospitality, patio dining
CONS
Not as "soft" underfoot or cozy as polypropylene or poly silk outdoor rugs
Acrylic
Acrylic is a synthetic fiber made from acrylonitrile, a clear plastic.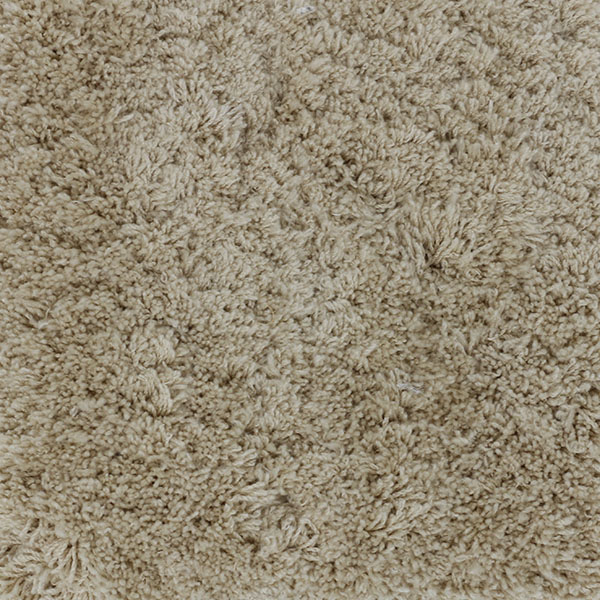 PROS
Inexpensive
Soft fibers & colorfast yarns
Resistant to water based stains & dries quickly
Mold & mildew resistant
CONS
Poor resilience, fibers do not bounce back after crushing
Oleophilic and oil-based stains might be difficult to remove
Low durability, best for low traffic areas
Material Match: Selecting an Outdoor Rug to Match Your Outdoor Furniture
Classic & Cottage Chic
Wicker furniture, with its charming woven design, evokes covered porches and iced tea. Pair this classic style with a flat weave, sisal-look polypropylene or poly silk in a subdued color.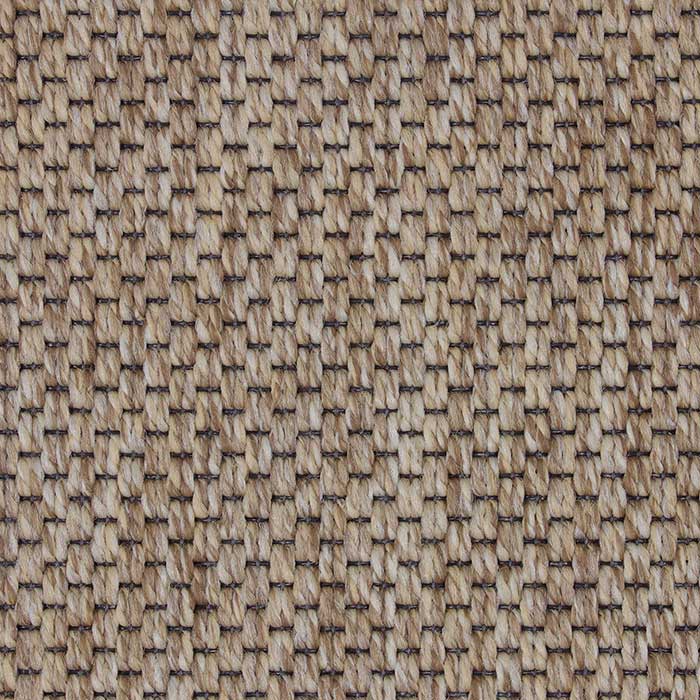 Sleek & Modern
Contemporary or mid-century modern outdoor aesthetics showcase powder-covered aluminum or stainless steel furniture. To amplify this look, woven vinyl rugs have a minimalist look, muted patterns, and sophisticated colors.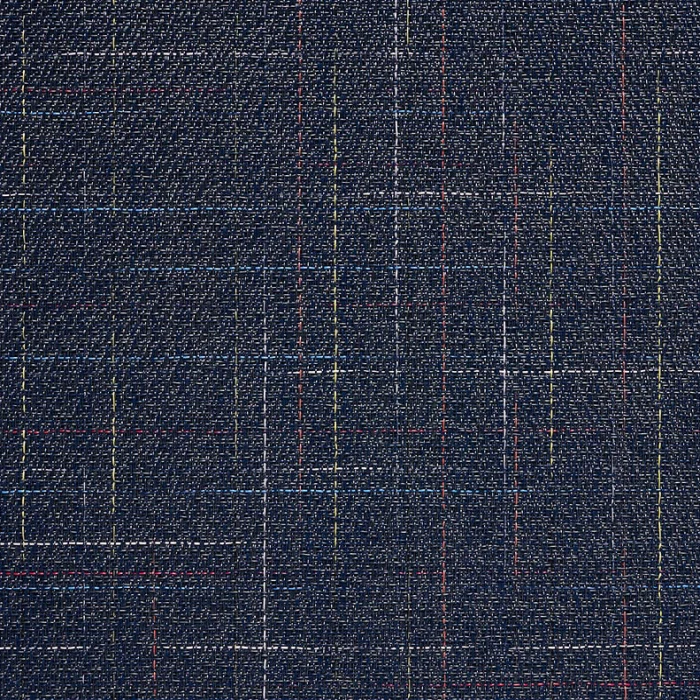 Traditional & Transitional
Teak frames and upholstered cushions set the standard for a comfortable and inviting outdoor living room. A soft floor covering woven from poly silk or polypropylene complement this design style and create a timeless, cohesive look.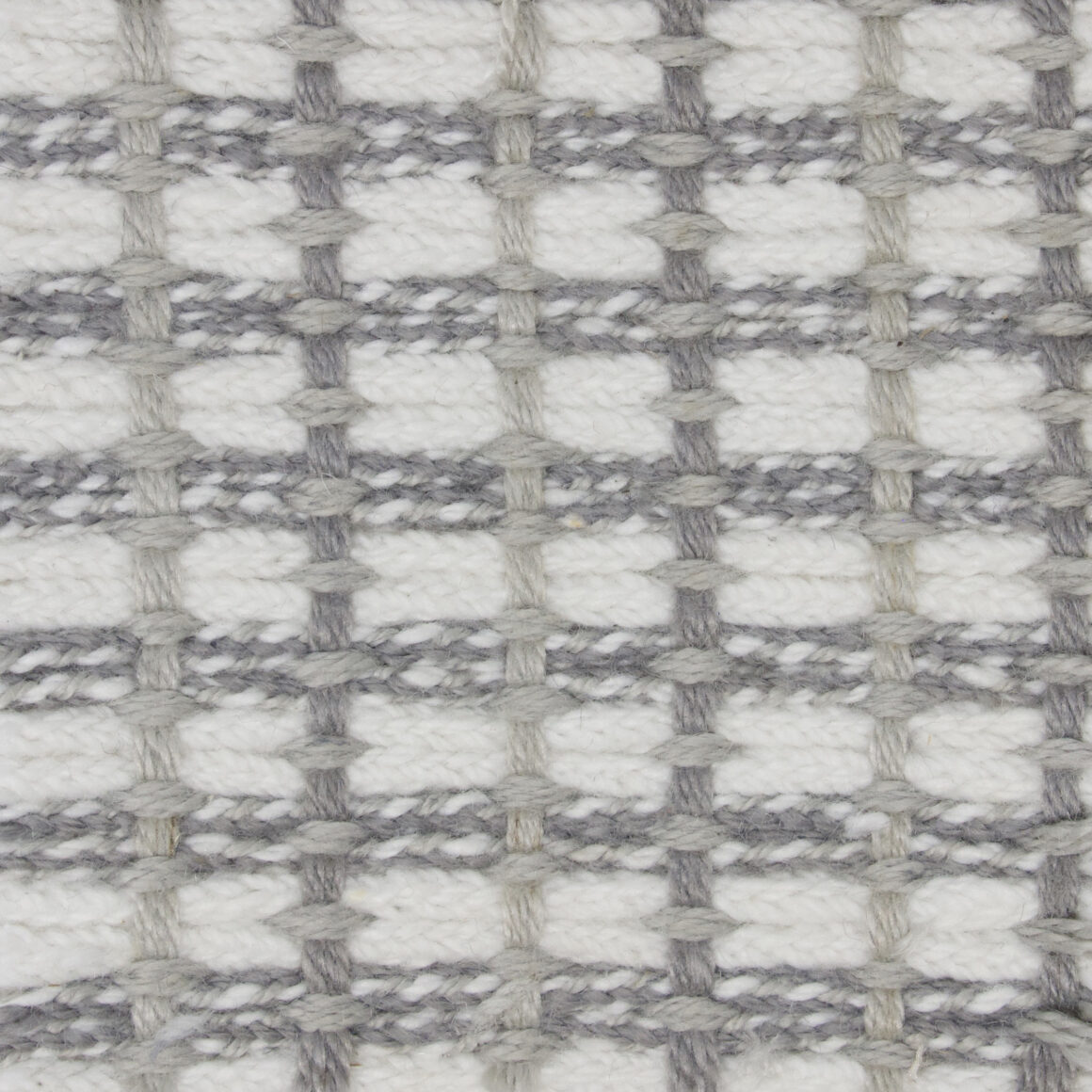 Colorful & Festive
Today's outdoor furniture options include colorful rope or synthetic high-performance fibers woven around durable metal frames, bringing a whole range of vibrant options to outdoor living spaces. Outdoor polypropylene or nylon rugs with dynamic patterns or hues add energy to this style.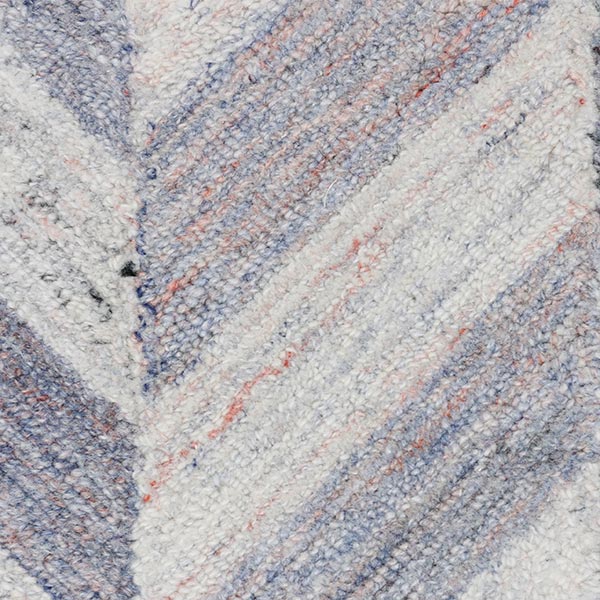 Resort Style
Creating a hotel-inspired ambiance in your own backyard is a trend that is here to stay. Loungers made with hand-woven fibers or supported by grade-A teak frames and paired with artisan-crafted synthetic rugs from Europe instantly elevates any patio into a chic resort.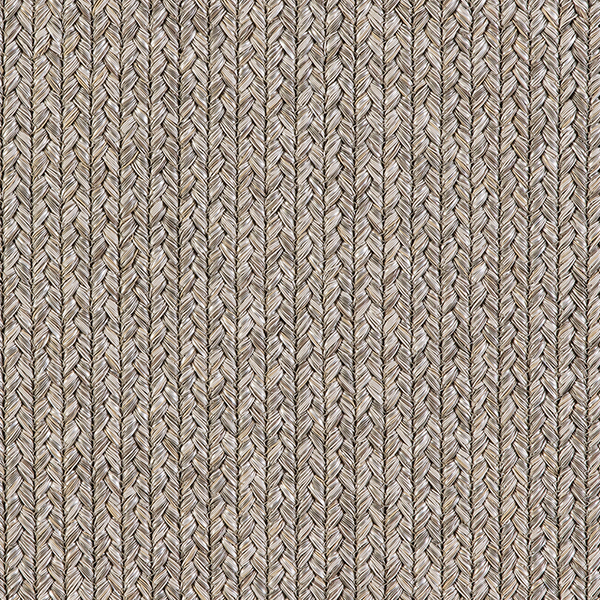 ---
Tips For Planning Your Outdoor Living Space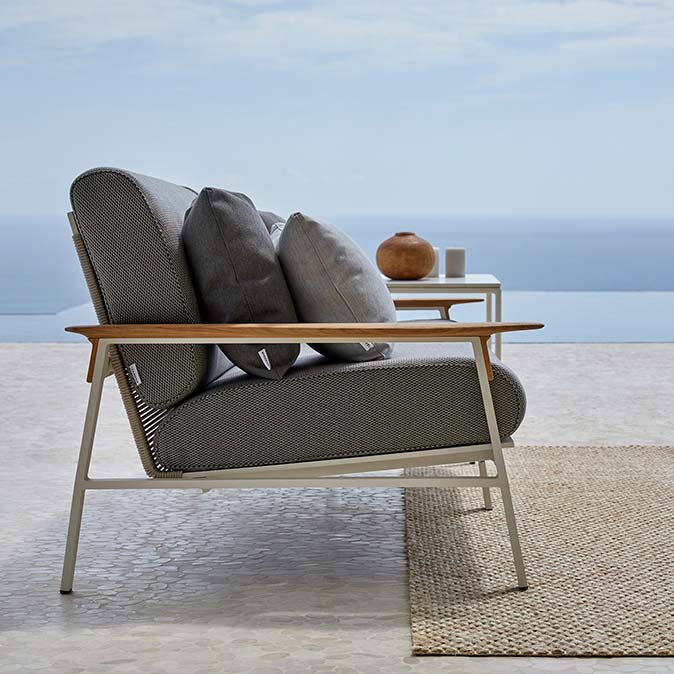 Size & Scale
How much space do you have? Maybe it is a petite porch or a brick patio, but either way be sure to measure twice before ordering any outdoor decor. No matter the size of the space or any outdoor furniture, an outdoor area rug can be crafted to fit your needs.
Before buying furniture or a rug, you need to measure your patio, deck, or sunroom to determine the square footage and dimensions.
A few rules of thumb for spacing: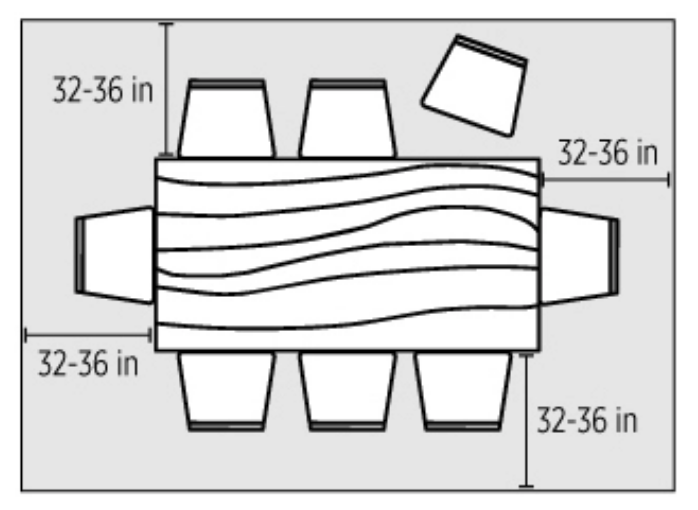 For outdoor dining areas, a rug should extend 32 to 36 inches from the edge of the table so that chairs can comfortably move in and out without snagging on the rug's edge.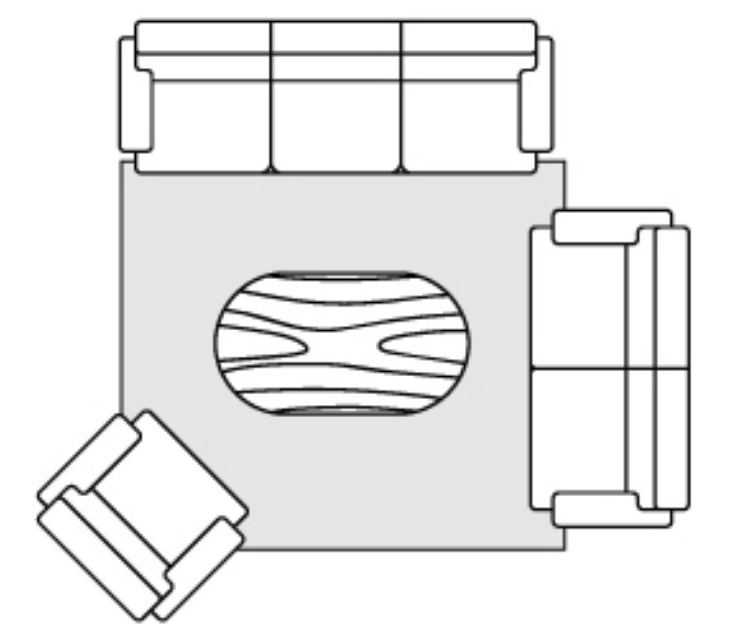 For outdoor living rooms, the front legs of the sofa or lounge chair should be on top of the rug. This secures the rug as well as creates a defined lounging area. If you have a coffee table, allow 18 to 24 inches between the coffee table and the furniture.
Outdoor Rug Care & Maintenance
Before deciding on a favorite rug material, reflect on your local climate and your ability to properly maintain and care for any rug purchase.
Climate
Do you live in the humid south, where moisture hangs in the air, or the dry southwest, with arid landscapes? Thankfully, our favorite outdoor synthetic rugs perform well in humid, sunny, or dry climates, thanks to UV-stabilized yarns that don't fade and moisture-resistant fibers that won't mold or mildew.
Rainfall: If your outdoor rug will encounter regular heavy rainfall and the soil that comes with it, we suggest housing your rug under a covered porch (especially for poly silks). If you want to leave a rug outside in the rain, choose an unbacked polypropylene or woven vinyl rug. Unbacked polypropylene, like our Westhaven or Leeds, allows water to flow through the weave and air to circulate around the yarns. Alternatively, woven vinyl is waterproof and rain puddles can easily be swept off the rug.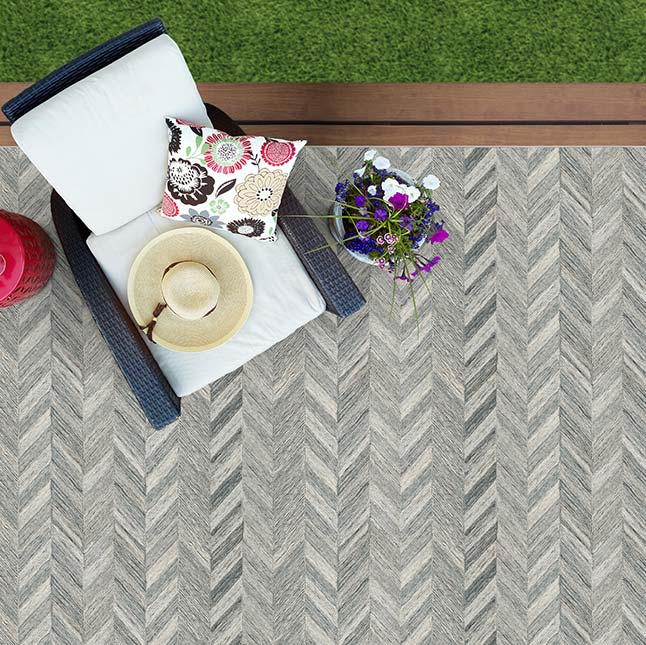 If your outdoor rug is sitting on a wood deck, lift up the rug after any big weather event so that the wood and the rug can dry.
Intended Use
If you love to entertain, creating a comfortable gathering space for your guests is a priority. Think outdoor dining sets, sectionals, or lounge chairs. And if you want to create a quiet retreat, maybe one chaise lounge and a side table is all you need. Either way, the use informs the material choice.
For the easiest, stress-free cleaning under a dining table and chairs, opt for a sleek, modern woven vinyl rug. This material is stain-resistant and can be sprayed with a hose. Wave or Kara have added cushioning, and Synthesis or Terrazza are highly durable vinyls with fun colorways. Also, a flat weave poly silk or nylon rug is easy to clean and resists stains.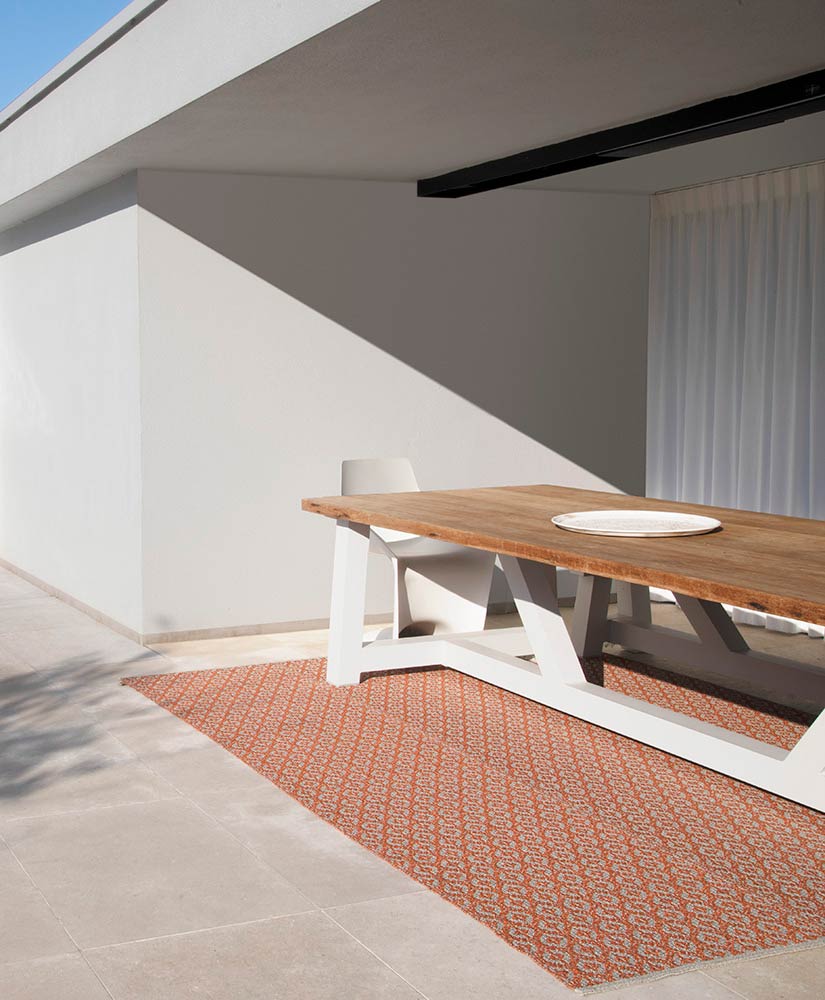 For added style and comfort in a seating or lounge area, a sisal-look polypropylene rug like Brisbane or Sydney has soft fibers and a backing that adds cushion, plus interesting textures and neutral hues that help hide dirt. Also, an unbacked polypropylene rug like Cozumel works well in a seating area—it can also be sprayed with a hose for easy cleaning.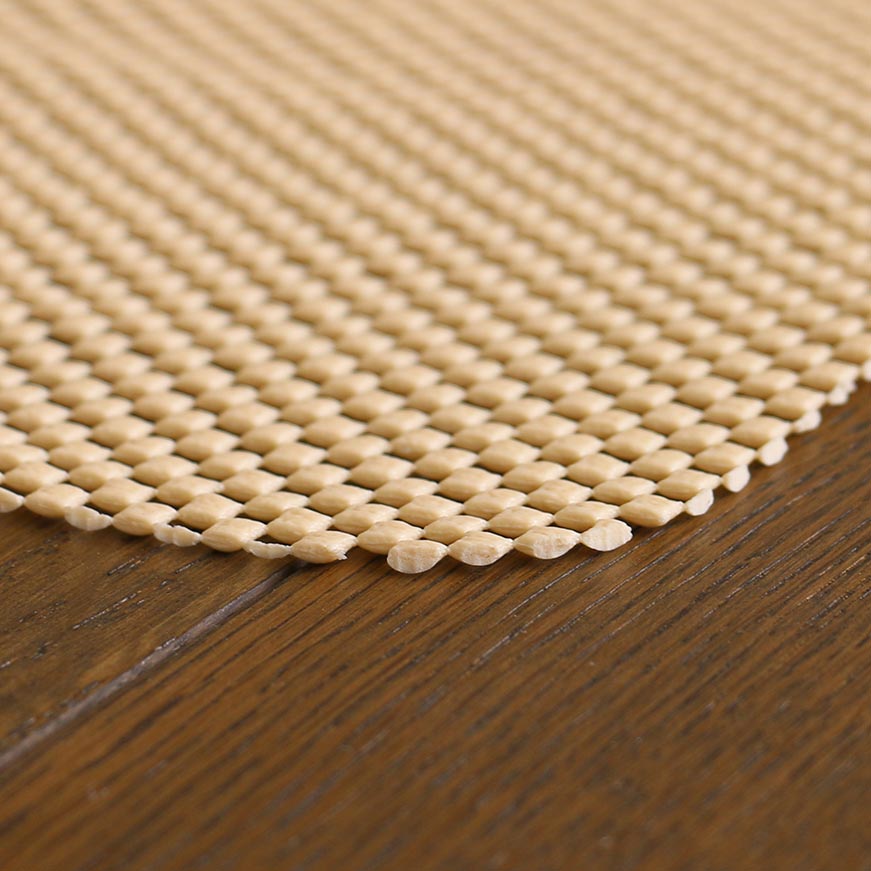 We recommend an outdoor-friendly rug pad under unbacked polypropylene rugs. The risk of slipping on a rug still exists outside!
Generally, area rugs must be finished with an edge border to prevent the rug from unraveling. When choosing a border for an outdoor rug, opt for a synthetic yarn or fabric. UV-stabilized polyester or Alfresco cloth borders are easy to clean, maintain their color, and if you choose a darker color, will hide potential stains. If you would rather not worry about cleaning a cloth border, a serged edge is the most economical and versatile option—durable, synthetic yarns seal the edges of the rug and can withstand weather and heavy foot traffic.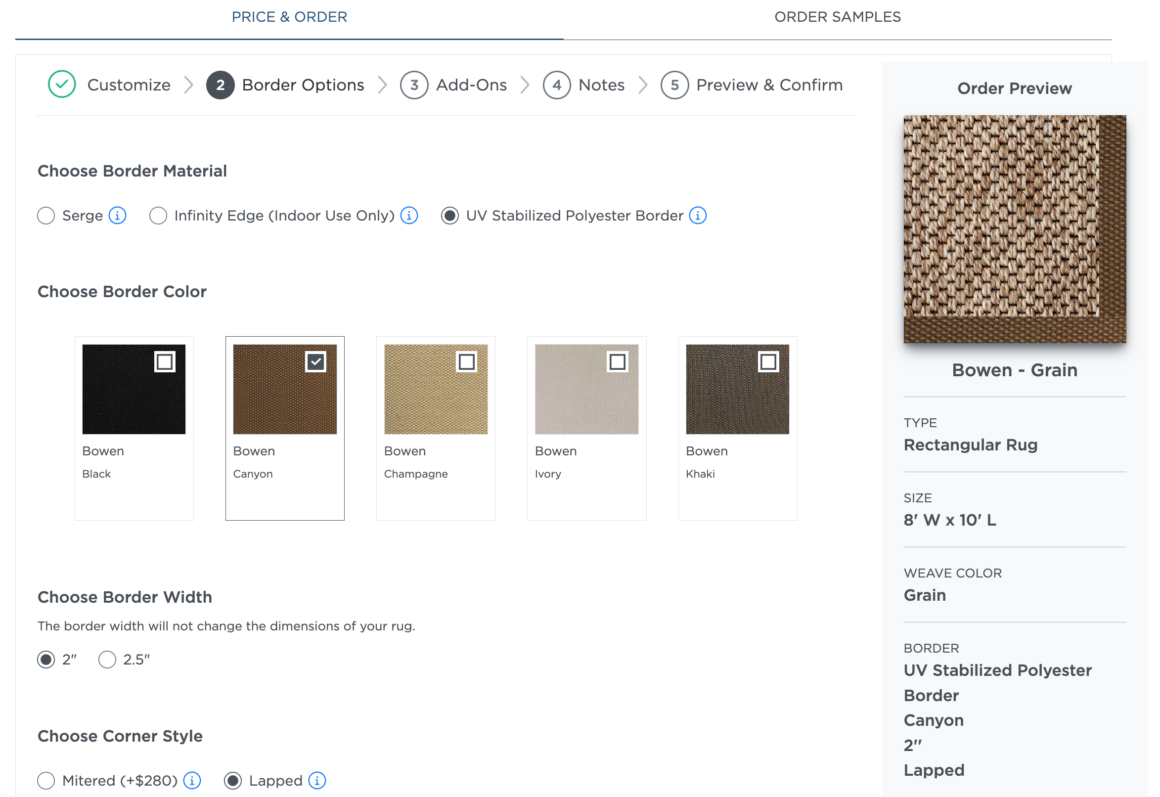 Maintenance
Routine maintenance, like shaking out area rugs or spot cleaning, will keep your outdoor rug looking vivid and fresh longer. Thankfully, our outdoor rugs come with handy care instructions, but here are a few basic maintenance tips:
Treat any spills or stains immediately. Even though synthetic fibers are stain-resistant, the faster the spill is cleaned up, the less likely you will encounter lasting troubles.
Be aware of the material your rug is made from and which cleaning agents are OK or not OK to use. For example, a polypropylene rug should never be cleaned with an oil-based solvent. Please refer to the care guidelines for your specific rug.
If possible, air out your outdoor rugs after any major rain storm by removing furniture and exposing the underside of the rug to sun and fresh air.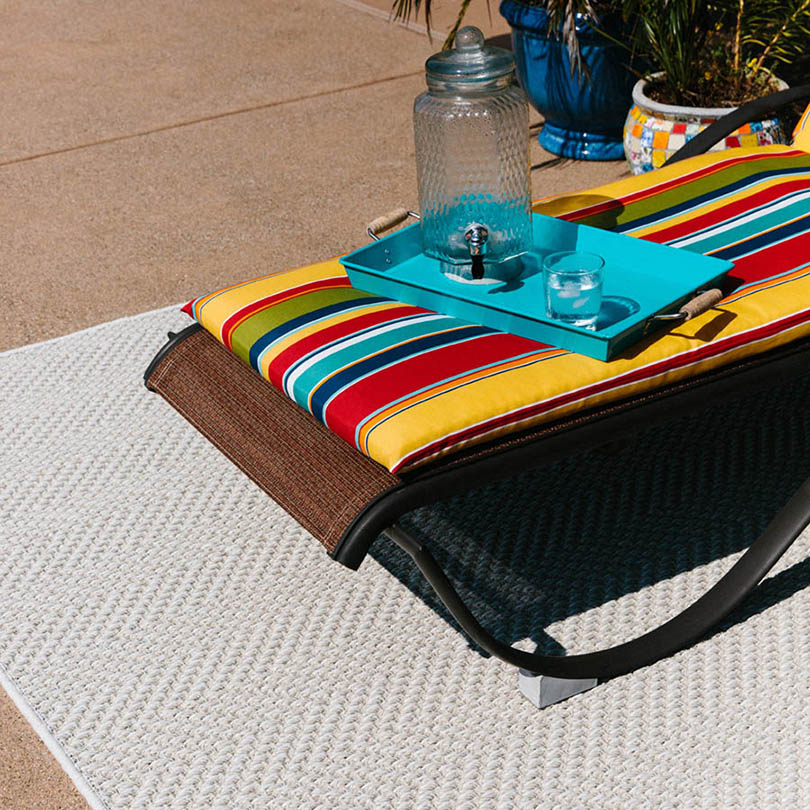 Rotate your rug's orientation for even wear. Try not to place the same heavy outdoor furniture on the exact same spot on the rug. This allows rug fibers to bounce back.
When the alfresco season comes to an end and fall and winter are real seasons in your location, outdoor rugs should be cleaned, dried out, and stored in a covered area.
Outdoor Spaces And How To Style Them
We have gathered our best ideas to guide you through decorating or updating your outdoor living space, from balconies to covered porches.
Balcony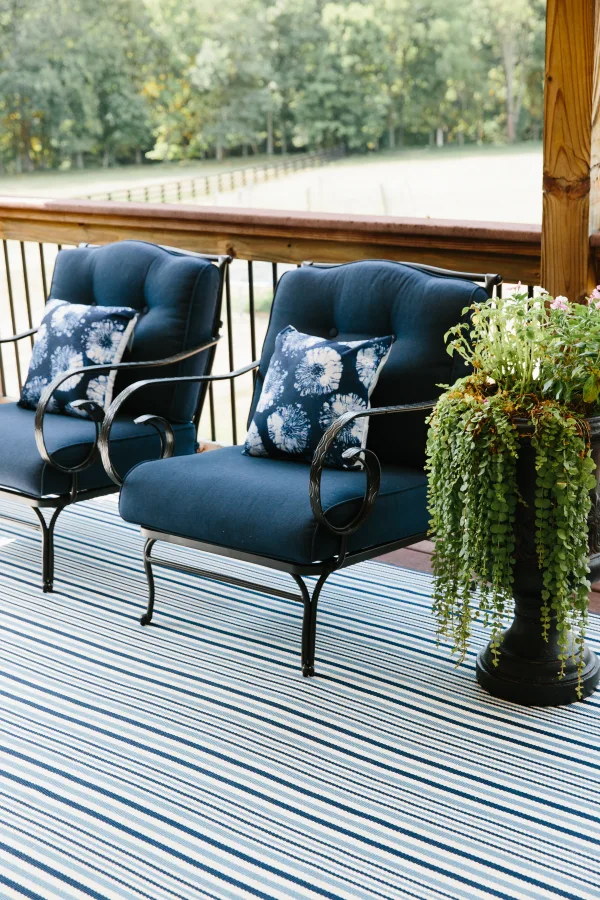 A balcony beckons the dweller out, to take in a view or some deep breaths. Since balconies have a smaller footprint, it is easy to create a private party pad or a relaxing oasis.
Begin with the right foundation: an outdoor carpet or rug. A polypropylene area rug in playful colors and soft yarns is an affordable and durable option. In addition, woven vinyl is available in many sleek styles, can be cut to size—either as a unique area rug or right up to the wall edges for a wall-to-wall look—and loose laid. Loose laid woven vinyl must be anchored by furniture.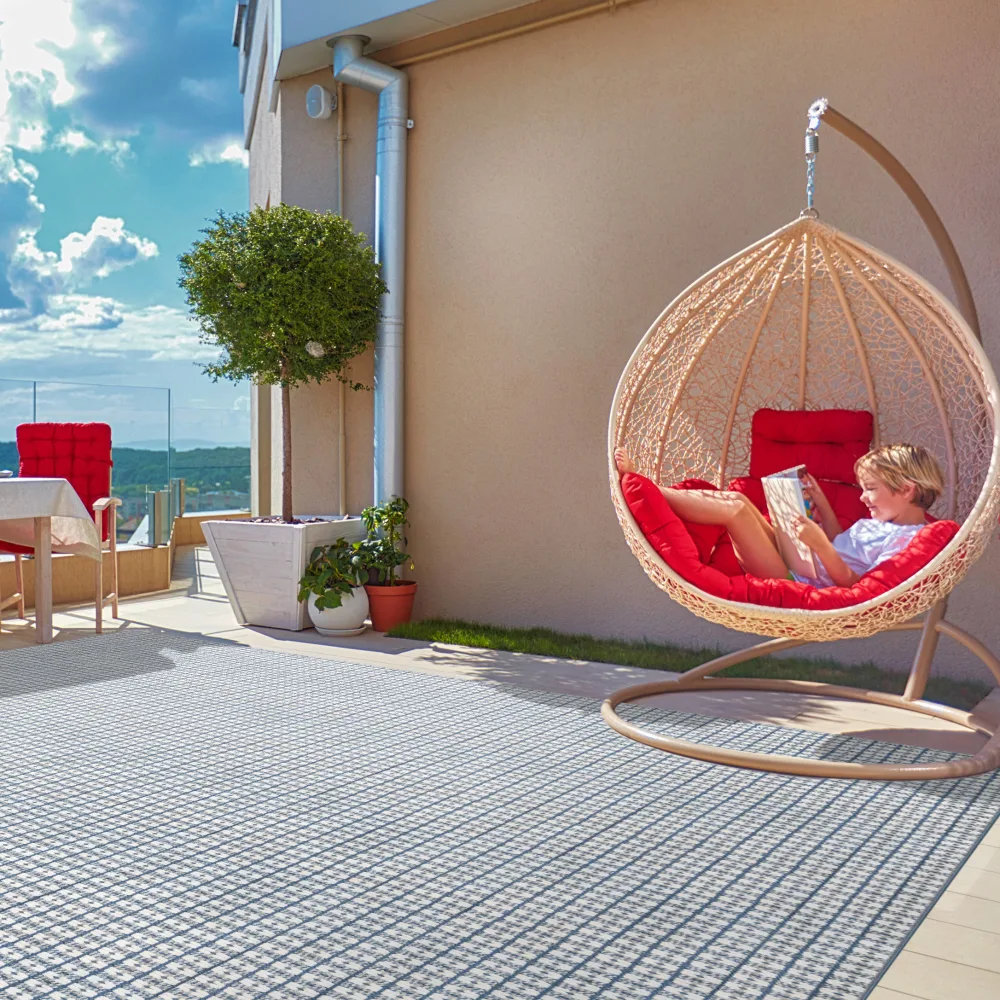 Add visual and textural elements with abundant plants, Edison lights or lanterns, and privacy screens like bamboo fencing.
Furnish your balcony with a small bistro table with chairs or a lounge chair with an ottoman.
If your balcony has a unique shape, create a custom area rug that fits perfectly. A semicircle, an L-shaped rug, or narrow rectangular rugs are all possible.
Porch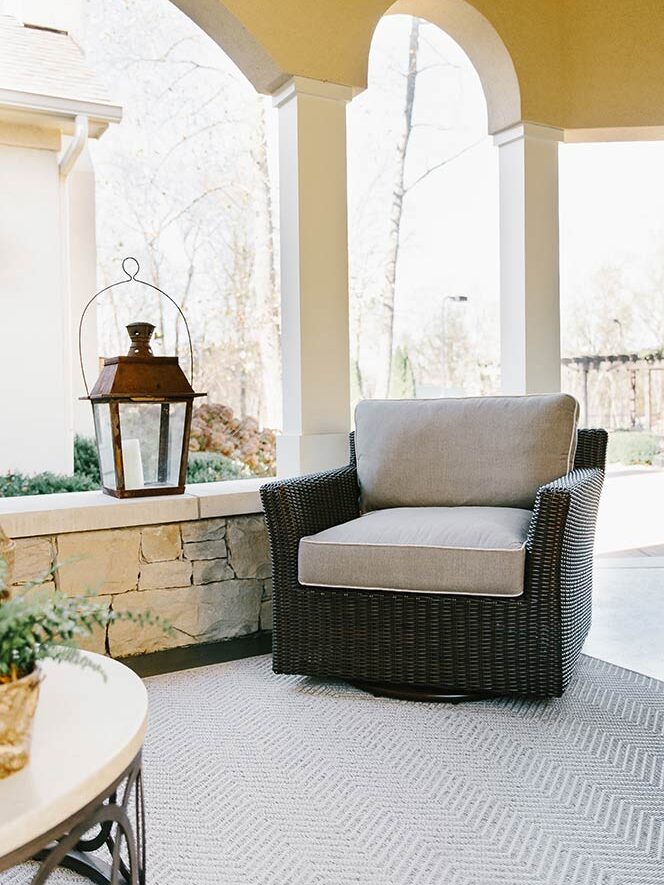 A front porch, back porch or a wrap-around porch provides the perfect spot for casual relaxation.
If your porch is covered, a soft poly silk rug like Indio provides a soft landing for bare feet. Or opt for a natural-look runner from Terasa, our exclusive polypropylene collection—comfortable, contract grade flooring available in beautiful, neutral colorways.
Weather-friendly wicker furniture, a bench or a day bed are ideal companions for a porch—perfect for visiting neighbors or stealing a midday nap.
Place small accent tables on your porch to hold your lemonade or a tropical plant.
Patios & Decks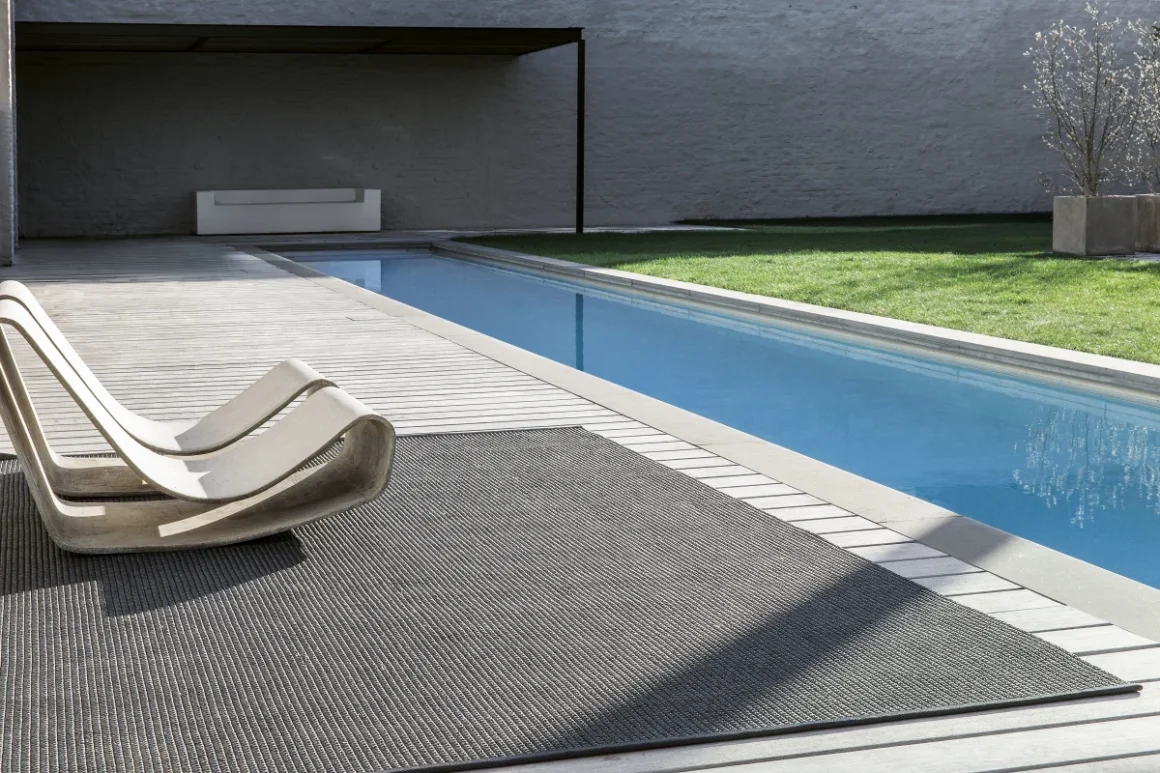 A patio surrounded by a thick garden or a large deck wrapped around a pool both provide enjoyable outdoor living opportunities. Larger spaces like expansive patios offer prime real estate for family gatherings or dinner parties with friends. Here are some ideas to help you realize your alfresco dream:
Patio Rugs Outdoor-friendly rugs can be used on concrete patios, brick terraces, wood decks, and more. Although unbacked polypropylene rugs are super easy to clean, we recommend using a rug pad to help stabilize the rug. Backed polypropylene rugs, like Bowen, or designer outdoor rugs like Alfresco Dune or Alfresco Wave, add an indulgent, luxury feel.
Storage Add a cushion chest for easy access to upholstered items, blankets, gardening tools, and pool floats.
Umbrellas An umbrella shades the sun or offers protection from falling leaves or raindrops.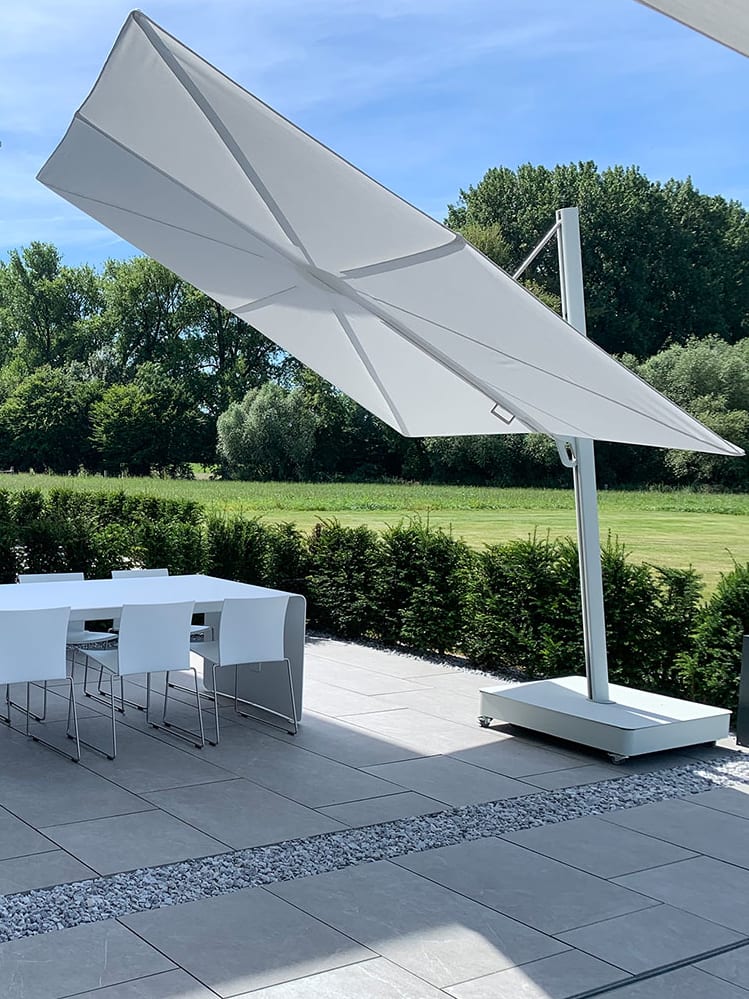 Flame Evening barbecues on the patio can linger into the evening with a fire pit.
Chill Deep relaxation is achieved with luxury outdoor furniture, like deep lounge seating, streamlined sectionals, or day beds.
Sunroom or Covered Porch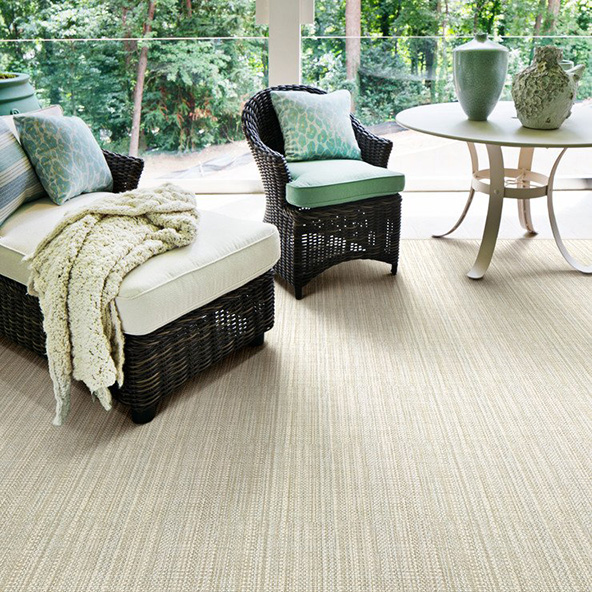 Indoor/outdoor living rooms, like sunrooms and covered porches, offer the best of both worlds—the cool breeze of fresh outdoor air and the protection of interior walls or a roof. Moreover, this kind of transitional space merges indoor living with outdoor lifestyles and offers extra square footage and breathing room. Small or large, a sunroom is a prized spot for watching a thunderstorm roll by or indulging in pure relaxation.
Design this cozy area from the ground up, with a smooth and soft polypropylene or poly silk rug. Sandpoint's stripes enhance a nautical theme, and if you are a plant collector and love boho chic style, the global patterns and terrestrial colorways of Tulum is an inspired match.
If you want wall-to-wall coverage, install an indoor/outdoor carpet in your sunroom. Keep in mind, carpet installation requires a properly treated surface and should be done in consultation with a professional to ensure proper adhesion.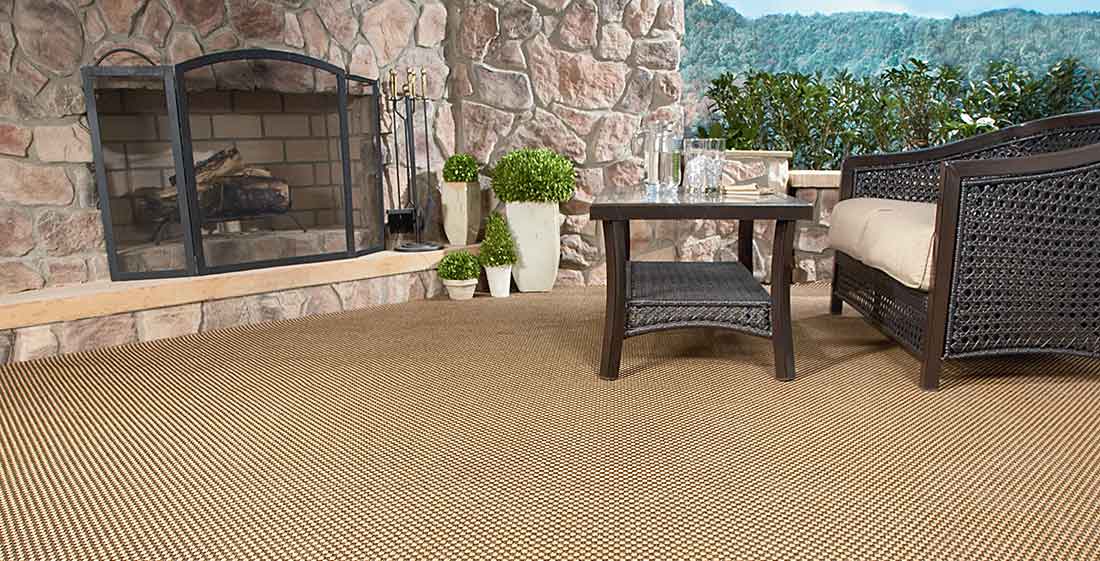 Wicker and rattan furniture with enveloping cushions or small sofas with upholstered pillows effortlessly channel restfulness. Throw blankets in lightweight fabrics for chilly nights and ottomans for tired legs are a must.
Ambient lighting adds visual harmony—think lanterns or string lights for a low-key evening. A proper reading lamp is essential for summer mysteries that keep us up late into the night.
Install a ceiling fan or tuck a pedestal fan in the corner to move heavy air and keep bugs away.
Final Thoughts
The key to embracing a well-loved outdoor area is to focus on creating a comfortable, well-defined space. Our eyes are drawn to composed settings and nothing defines an area like a rug. The colors in the rug blend with the outdoor furniture and tie a space together. Our feet touch the ground first, noticing the soft feel underfoot. All combined, an outdoor rug is an essential element for comfortable, embraceable outdoor living.
UV-stabilized
A UV-stabilized product means that the synthetic material has an added stabilizer that absorbs and dissipates UV light, protecting the product from long term degradation from exposure to ultraviolet light.
UV-resistance
UV-resistance is another way of saying a product is manufactured from UV-stabilized materials and will resist UV-light damage. With excessive or long term sun exposure, all products will fade over time, but a UV-resistant product will outperform any product not treated with UV-stabilizers.
Solution Dyed
In carpeting, solution dyed means that the yarns used in weaving or creating carpet are dyed before being extruded and made into yarns. This process uses less water and chemicals than traditional processes and the color vibrancy and retention is strong.
Mold & Mildew Resistance
A mold and mildew resistant product has been treated with a microbial additive that resists mold, mildew and algae growth. Mold and mildew growth damages materials, especially natural materials and in humid climates. Outdoor rugs or furniture that are mold and mildew resistant will look better over the course of their useful lifespan.
Stain Resistance
Stain resistance refers to a product's ability to resist or prevent stains or spills from settling into the fabric or material. Stain-resistant fabrics or materials are coated with a finish that resists liquid penetration. Nevertheless, Stain resistance does not mean stain proof. but it does mean high performance, stain-resistant fabrics will outshine non-treated fabrics.
Learn More
To learn more about rug & carpet terminology, read our full glossary.
Need more details about how to choose the right material for your next custom rug?
Our Everything You Need To Know series has the information you need.
Creating an outdoor gathering space?Need just the right amount of shade? Our guides are here for you.
---