Discover why jute rugs are so popular in the interior design world and decide if a jute rug is right for you. Designers and residential clients come back to us year after year asking for these beautiful, textural weaves. Over our 30 years of selling natural fiber rugs, we have learned a lot about jute, both the pros and cons, and share in this post all there is to know about jute rugs.
We believe there is a perfect application for this natural fiber in every home. Let us help you find the right application for your jute rug or set you up with a great alternative for your project.
What is jute?
Jute is a natural fiber harvested from the stalks of the Corchorus plant that grows in the monsoon climates of India and Bangladesh. Jute fibers are bast fibers, which means they grow in bundles inside the stem of the plant.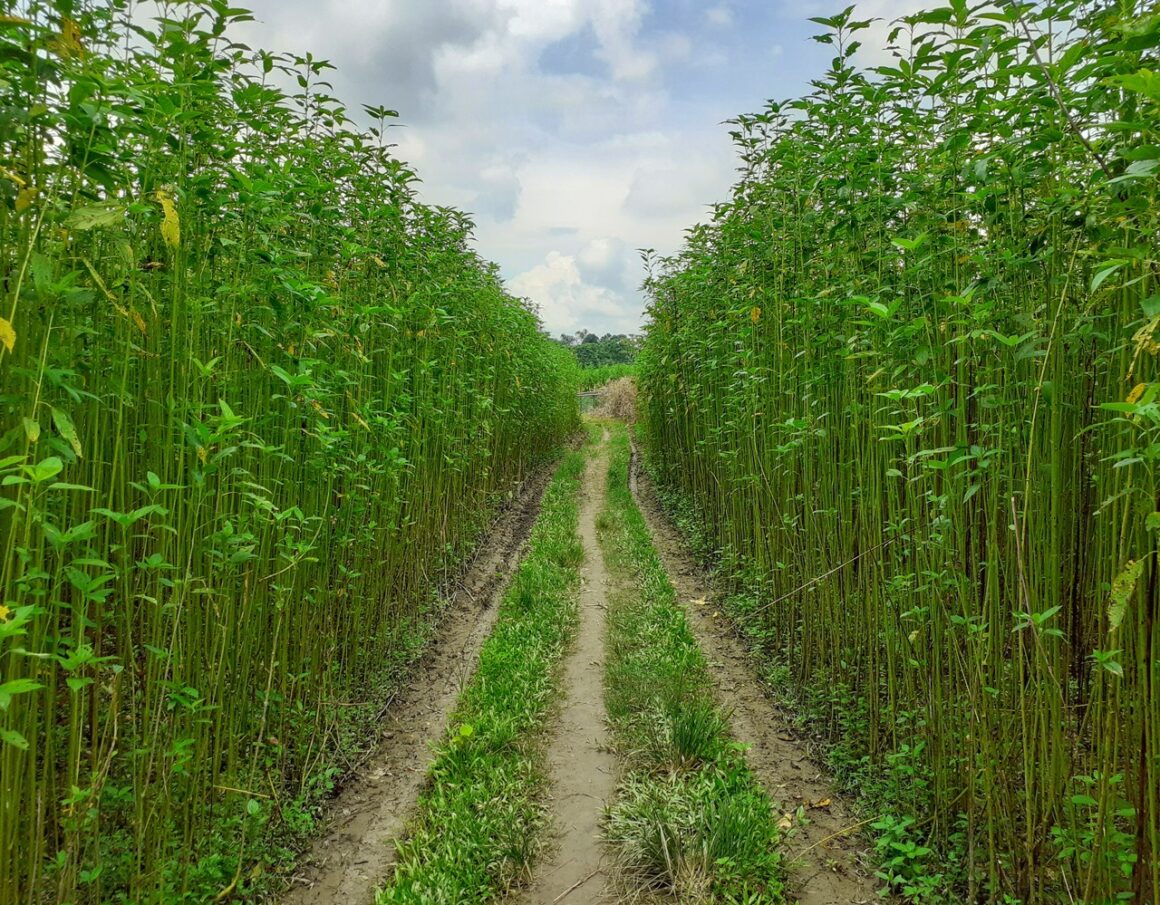 In a process called retting, the fibers are separated from the stalks and subjected to moisture treatments (like soaking in water). This process breaks down cellulose and softens the fibers. Next, the jute fibers are bundled together and set out to dry before being utilized for various jute products. The tropical climate and the retting process transform jute into one of the softest natural fibers in the flooring market.
What is a jute rug?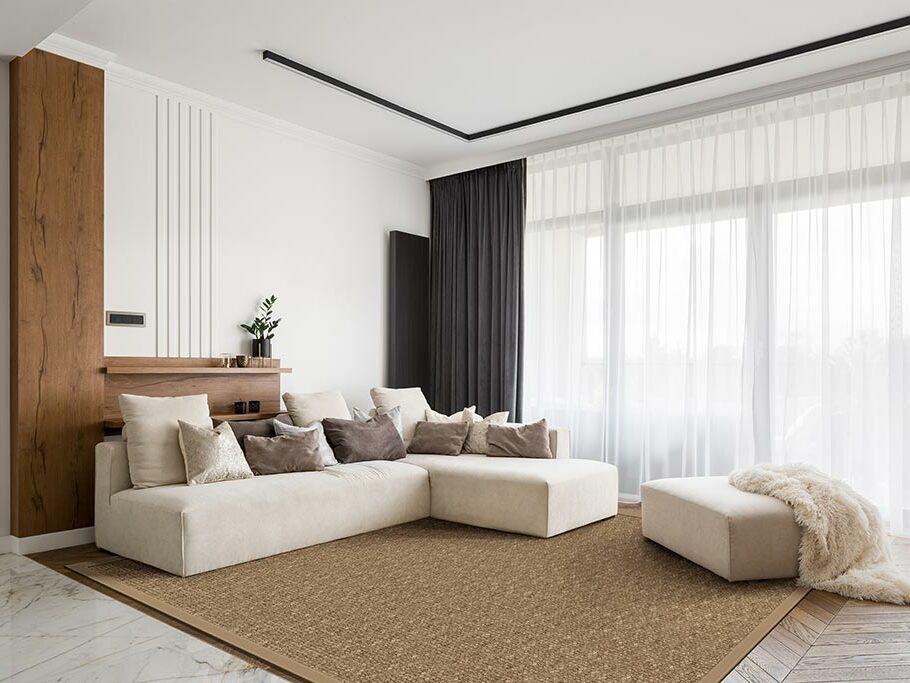 Jute is an intriguing rug material. It has a natural softness, distinctive luster, intriguing woven patterns, and a great eco story. Jute rugs are affordable and offer a neutral foundation. As a result, they are the perfect accessory for design experimentation.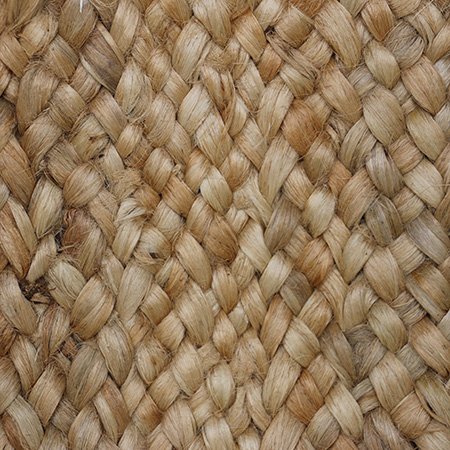 A jute rug has a limited color range, with earthy tones that range from alabaster to darker tans and blend with almost any color theme. Our collection of jute rugs has chunky braided rugs, classic bouclés, and tightly woven herringbone rugs.
Are jute rugs soft?
Yes, jute rugs are soft, especially in comparison to sisal or seagrass. They feel nice under your feet and add a layer of cushion and warmth to hardwood or tile floors. The chunkier jute rugs give your feet a little massage with each step while adding a texture-rich visual element to any space.
Do jute rugs shed?
Yes, jute rugs shed a lot, especially when they are new. Jute's unique softness comes with a price—the price of routine maintenance. Here are some of our tips for dealing with the shedding:
Regular vacuuming with a strong suction keeps jute debris to a minimum. Don't use a beater bar though because that can damage the soft jute fibers.
If you place your jute rug on top of a dark tile or hardwood floor, loose jute fibers will be more visible, requiring more frequent sweeping or vacuuming.
Get a high-quality rug pad and place it underneath your jute rug. This will reduce surface friction and shedding. Plus, it increases cushioning and absorbs noise.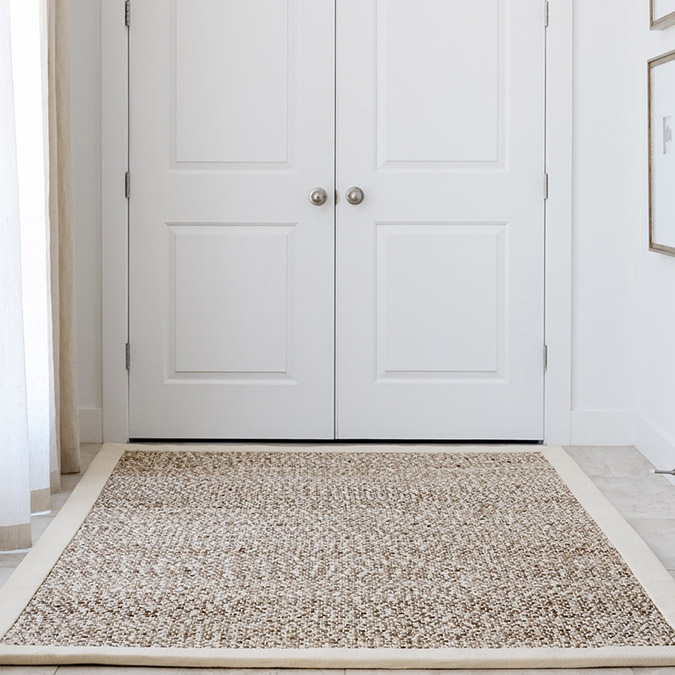 Is there a jute rug that doesn't shed? A tightly woven jute, like our Tobago, will shed less than a chunkier jute like Barbuda or Samoa. If you desire the natural fiber look for your flooring but don't want shedding, then a seagrass rug is an option. Seagrass fibers have a smooth texture and therefore don't shed much. Although a seagrass rug is not as soft as jute, we think its smooth texture, natural color, and classic construction make it a great alternative to jute.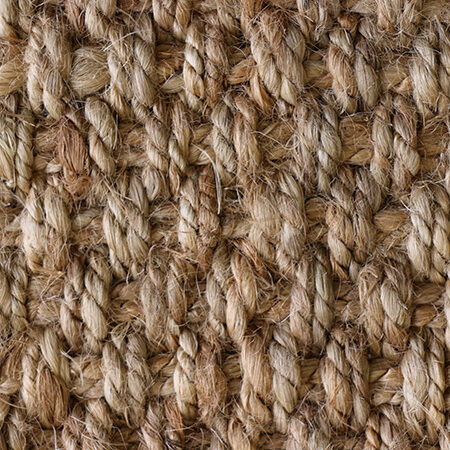 Can jute rugs get wet?
Our quick answer: no. Please avoid getting your jute rugs wet! Water releases oils in jute that will brown the fiber during the drying process. This presents a challenge not only for cleaning spills, which we address later in this post, but also for the perfect placement of your jute rug.
Do not place your newly purchased jute rug in moist environments or where spills are likely to occur. Cross bathrooms, kitchens, mudrooms or uncovered patios off your jute rug list.
Do not place your jute rug in humid environments. Moisture combined with warmth makes jute rugs susceptible to mold and mildew, decreasing the strength of the fiber. A jute rug for your vacation home in Florida might not be the best idea.
Have A/C? If you have a climate-controlled environment, then a jute rug should fair fine.
What kind of rug is ok in humid or spill-prone conditions? Since natural fiber rugs don't like to get wet, a synthetic rug like polypropylene is a better choice. Our synthetic sisals are woven from polypropylene, ECONYL®, nylon, or poly silk, and perform well in humid environments or resisting stains. They mimic the look of traditional sisal while being soft underfoot and super easy to clean. For a modern look or a colorful indoor-outdoor rug, check out our outdoor rugs collection—these weaves are made from modern materials like woven vinyl or polypropylene and some can even be pressure-washed.
Can jute rugs go outside?
In general, keep your jute indoors. As mentioned above, jute doesn't hold up well in warm and humid environments. Water or any other spill can stain a jute rug. Jute is the least durable natural fiber and deteriorates quickly when exposed to the elements. There is one scenario in which a jute rug outside would be o.k.: if your patio is covered and you live in a dry climate.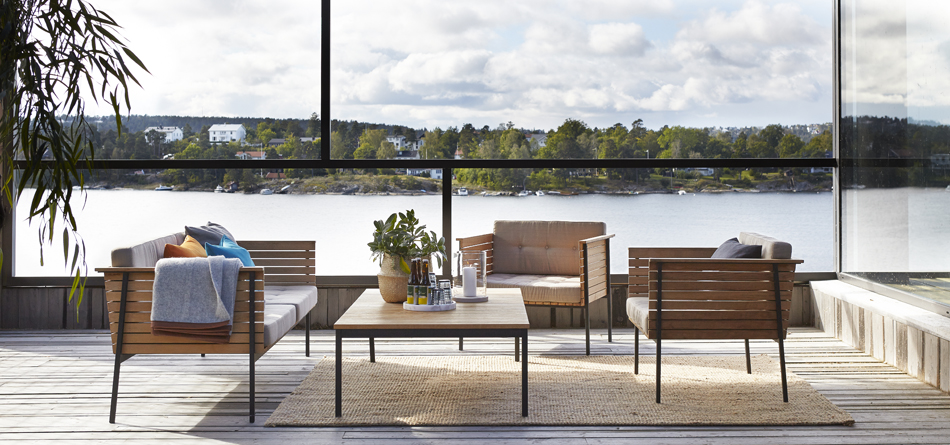 What rugs can go outdoors? An outdoor rug should be durable, water repellent, and easy to clean. If it is made from UV-stabilized yarns, then your investment will last even longer. UV-stabilized yarns retain dyed colors and vibrancy longer than non-UV-stabilized yarns. Many of our outdoor polypropylene carpets or woven vinyl rugs are crafted with UV-stabilized materials and built for the outdoors. Take a look at our expansive outdoor rug collection and find rugs with muted tones or colorful patterns. We offer a style for any taste.
Are jute rugs eco-friendly?
Jute is a fast-growing, rain-fed crop with little need for fertilizer or pesticides. A Corchorus crop can grow within 90-100 days and farmers can plant multiple crops a year on the same piece of land. Jute fibers are biodegradable, compostable, and leave no toxic substances behind. As a consumer, buying a sustainable jute rug is just another way of saying that you care about the environment. As a homeowner, you opt for jute to maintain a natural, healthy home.
Are jute rugs good for dogs or other pets?
Although jute is the softest of the natural rug fibers—and pets love soft—it is not recommended for rooms frequented by dogs or other pets. Pets scratch, gnaw, shed, have messy paws, and sometimes have accidents. For all of these reasons, you need a rug that is durable and easy to clean but still comfortable for your four-legged friend. If you don't want your cat's claws to get caught on a chunky jute rug or your rug to smell after a couple of mishaps, then we suggest these better suited materials:
SynSisal® If you want a natural, classic look, we suggest the SynSisal® collection. Made from regenerated ECONYL®, these sustainable rugs resemble natural sisal in aesthetics and strength, but they are soft and easy to clean.
Woven Vinyl Undeniably the easiest to clean, woven vinyl rugs are available in playful colorways as well as classic patterns like basketweave or stripes.
Polypropylene & Poly Silk Durable, cleanable, and colorful carpets woven from synthetic materials like polypropylene and poly silk make perfect rugs for homes with pets.
Are jute rugs good for allergies?
It all depends on your allergies. Allergies can be aggravated by dust, dust mites, pet dander, mold, or other air pollutants. All our natural jute rugs are untreated and thus, emit no toxins, but their shedding may aggravate allergies. A tightly woven jute, like our herringbone Grenada or bouclé Martinique, keeps allergy intruders on the surface for easy removal from vacuuming. Additionally, equip your vacuum with a HEPA filter and use it one to two times per week to improve indoor air quality. If these tips don't help, consider a low-VOC synthetic carpet like SynSisal® or wool.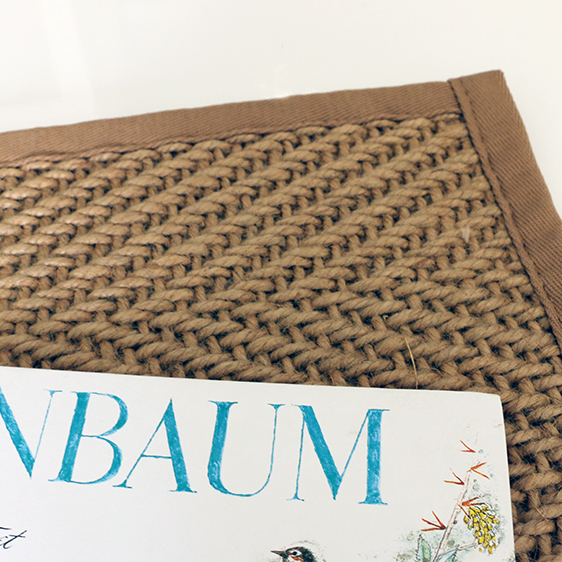 How do you clean a jute rug?
The key to keeping a jute rug clean is really about maintenance. Here are our top tips for maintaining and cleaning a jute rug that we have learned from our many years selling jute rugs.
Vacuum your jute rug regularly! This will remove not only obvious dirt and debris but also the fine dirt particles that lodge between the fibers and cause additional wear. Plus, it helps to stay on top of the shed fibers.
Adopt a "no shoes in the house" policy. This prevents dirt, dust, and other rubbish from entering your home in the first place.
Apply Sisal-Guard to your rugs. Sisal-Guard is a spray-on sealant that you apply to natural fiber rugs and it acts as a barrier to reduce the rate at which sisal absorbs liquid.
If a spill occurs, even if it is only water, attend to it immediately. Water will brown your jute. Dirt particles, carried to the top by a spill, will leave a dark stain. Scoop up any solids. Blot the spill with white paper towels or a clean absorbent cloth. Do not rub! Rubbing will only work the liquid deeper into the fiber. Work inward from the edge of the spot to prevent excess spreading.
If you need to spot clean, we recommend using a dry-cleaning agent. Pretest your cleaning agent in an inconspicuous area and proceed according to the manufacturer's instructions. Professionally clean as needed. Never steam clean or wet-shampoo your jute rug.
Review our detailed care and cleaning instructions on our on our Care and Cleaning resource page. Our cleaning instructions are developed with input from flooring installers, customers, and sisal manufacturers. We have advice for any type of stain.
Easy to clean alternatives
If caring for your jute rug seems too daunting, that is ok! We have many alternatives that will give you a natural-fiber look without the worry. A stain-resistant sisal, a synthetic sisal, or a SynSisal® weave all make beautiful floor coverings with low maintenance.
Which design styles work with a jute rug?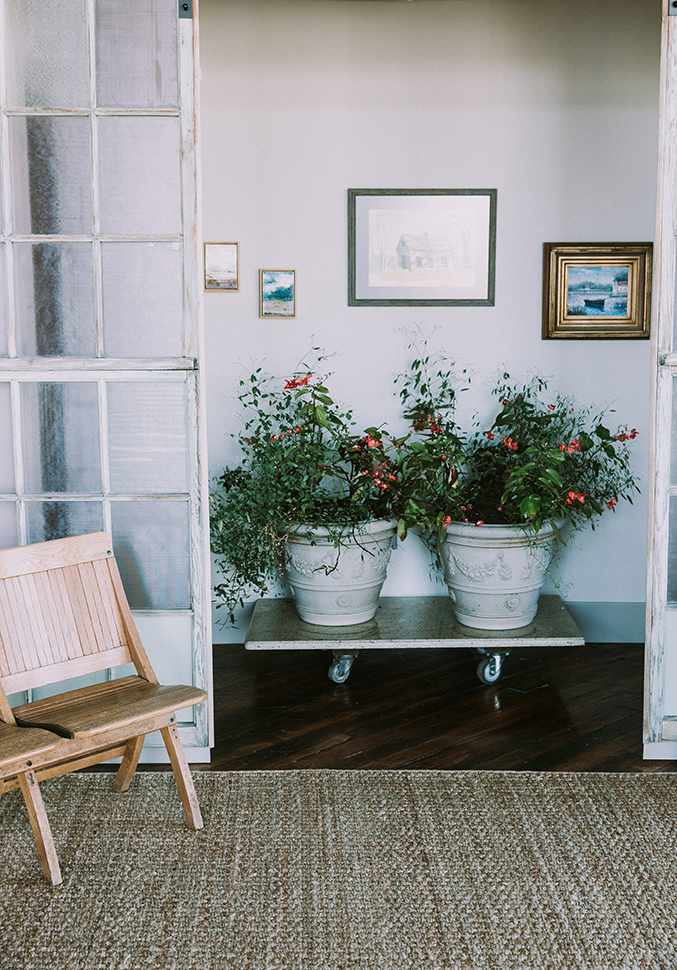 Natural fiber rugs are beloved in the interior design world because they are so versatile. They have neutral color palettes, interesting textures, and add a much needed natural element into decor. A jute rug has all of these properties plus a unique luster or golden hue that is especially evident in the chunky, braided jutes like St Martin or Barbuda. Our Interior Design clients have shared with us the most successful design style and jute rug pairings:
Boho Chunky jute rugs are a staple in bohemian or boho style. The thick fibers add visual interest and an energetic feel to the space. The natural colorways allow colorful found objects and artifacts to pop, adding to the richness of a boho-inspired tableau.
Coastal Recreate the horizon in your interior rooms and feel the calming influence of sand, sea, and sky. A jute foundation not only adds a natural feature, but mimics the color and feel of soft sand beneath your feet. Finish the look with light colored, casual furniture and blue accents to achieve a coastal style.
Mid-Century Modern A variety of materials, thoughtfully designed objects, and a view into the natural world are hallmarks of mid-century modern (MCM) interiors. A tightly woven jute rug like Tobago or Martinique has a minimalist flair but is full of character, thanks to jute's earthiness, and adds a prerequisite natural component to MCM spaces.
What kinds of borders are available for a jute area rug? You can customize a jute area rug to perfectly match your decor. A simple serge, a contrasting or complementary cloth border, or the unique jute braid are all wonderful binding choices for jute.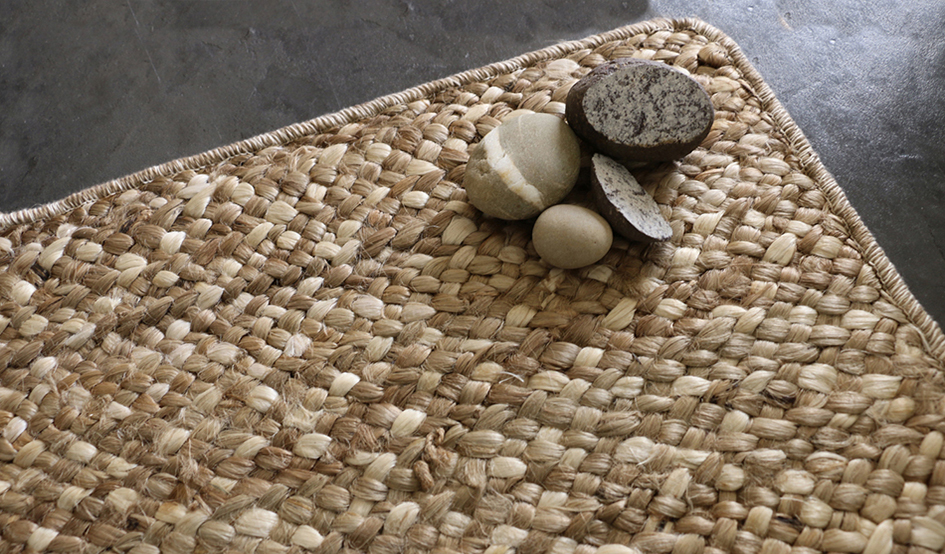 Jute rugs: pros and cons
In summary, here are the pros and cons of jute to help you decide if a jute rug is the right choice based on your lifestyle and design style.
PROS
Aesthetics It's no surprise that jute is popular with our clients—jute rugs add texture, visual interest, and a neutral canvas.
Natural Incorporating a natural element, like a jute rug, brings depth to interior decor.
Sustainable The Cochorus plant that produces jute grows quickly (90-100 days), on the same plot of land, without the use of pesticides.
Biodegradable When a jute rug's final days have come, the fibers will biodegrade instead of sitting in a landfill.
Affordable You don't need a massive budget to make a big impact with a jute rug on your next living room refresh.
Soft Jute fibers are soft, making jute rugs welcome in bedrooms or other rooms meant for relaxing.
Customize Thankfully, you can create a custom sized jute rug and finish with your choice of border.
CONS
Shedding Yes, a jute rug sheds, especially when it is new. It needs frequent vacuuming sessions.
Stains Natural fibers stain easily, sometimes even from water. A busy household with young children or pets might not be the best match.
Maintenance A regular routine of vacuuming and quick responses to spills are required to keep a jute rug looking fresh.
Indoor Only Jute's softness and tendency to stain means it is an indoor-only floor covering.