Learn what a sisal rug is before you decide whether one is right for you. With over 30 years of experience selling custom area rugs and wall-to-wall carpet, we've found that sisal remains the go-to choice for designers & residential clients. Because of this enduring popularity, we've curated 45 unique sisal weaves sourced from the best manufacturers in the US & Europe. Our selection includes tightly woven or chunky sisals, neutral colorways, and a variety of patterns: we have a weave for every situation in which is sisal is appropriate.
Sometimes we've found that a different natural or synthetic material may be better than sisal. This comprehensive post answers the most common questions our customers ask, such as "What is sisal?" and "Can sisal be used outdoors?" so you can make an informed decision about whether sisal is the right material for your next rug.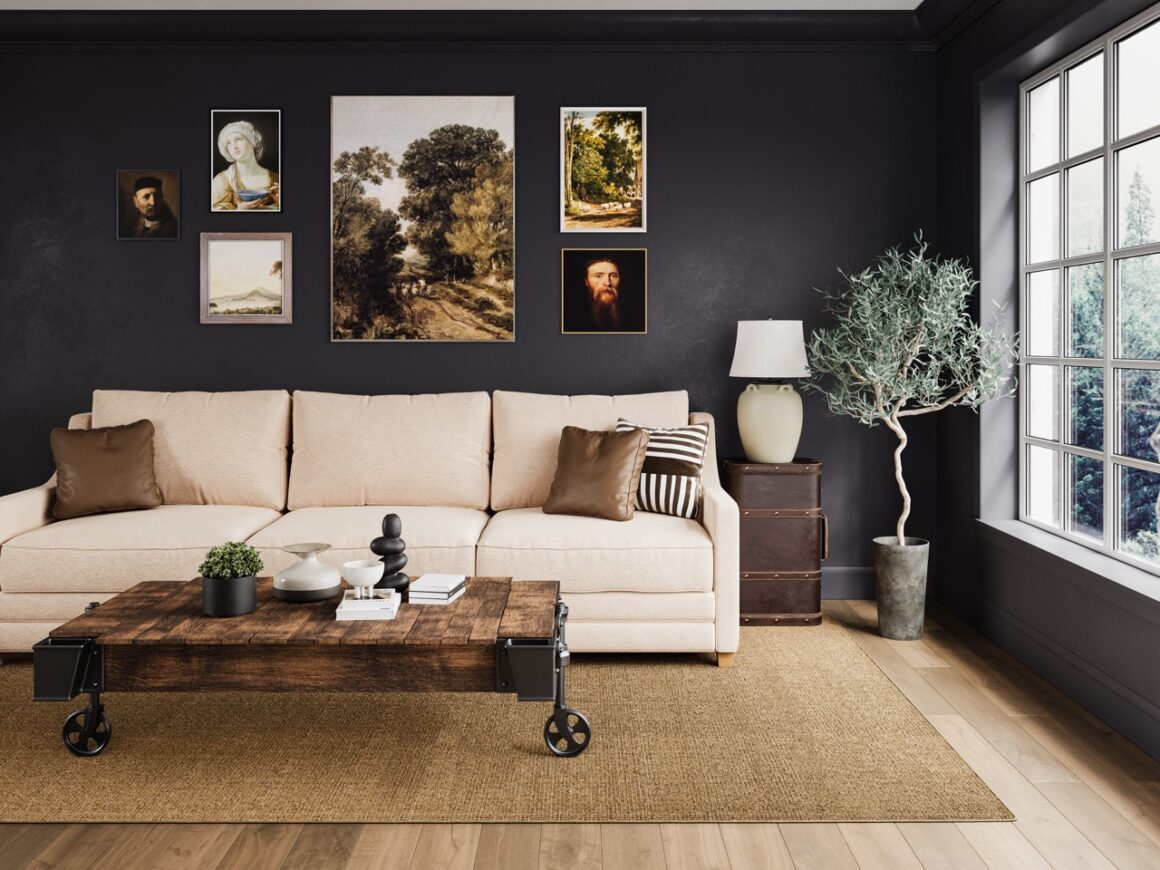 What is a sisal rug and why does the design world love sisal rugs?
Interior designers look for certain characteristics in a product before they recommend it to their clients. Beauty, versatility, durability, timelessness, and customization are at the top of their list. Since sisal rugs embody all of these qualities, they remain popular year after year, regardless of changing trends.
So what is sisal anyway?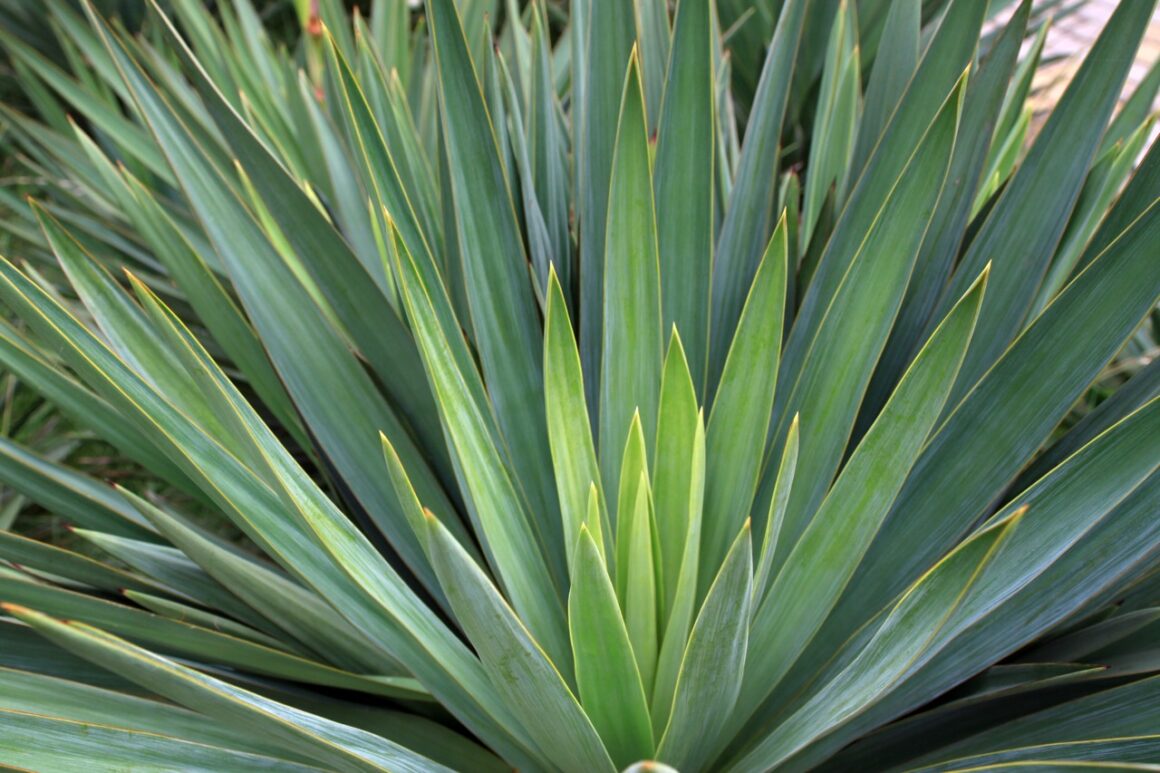 Sisal is a natural fiber that is produced from the long leaves of the Agave Sisalana succulent plant. Agave Sisalana is indigenous to Central America and is now widely cultivated in arid environments in East Africa and South America. Tanzania, Brazil, and Kenya are a few of the top sisal producing countries.
A sisal plant looks much like a cactus, with thick lance-shaped leaves assembled like a rosette around the stalk of the plant. Sisal is a renewable resource: the lifespan of a sisal plant is about 8 years, with the plant reaching maturity between 2-5 years. Once mature, the leaves are cut away from the stalk and "washed" to remove the pulpy fibers. When a plant stops producing leaves, it sprouts a central flower stalk with buds that become the next generation of Agave Sisalana.
After processing, sisal fibers are dried and bleached in the sun, then bundled and exported all over the world. Sisal's tough fibers are ideal for many hardwearing products like cordage, ropes, and rugs. The fibers are remarkably versatile, extremely durable, and dye well, enabling us to produce sisal rugs and carpets in a range of shades and styles. We select premium grade sisal from Tanzania, Brazil, and Kenya and weave our rugs in Belgium and China.
What is a sisal rug?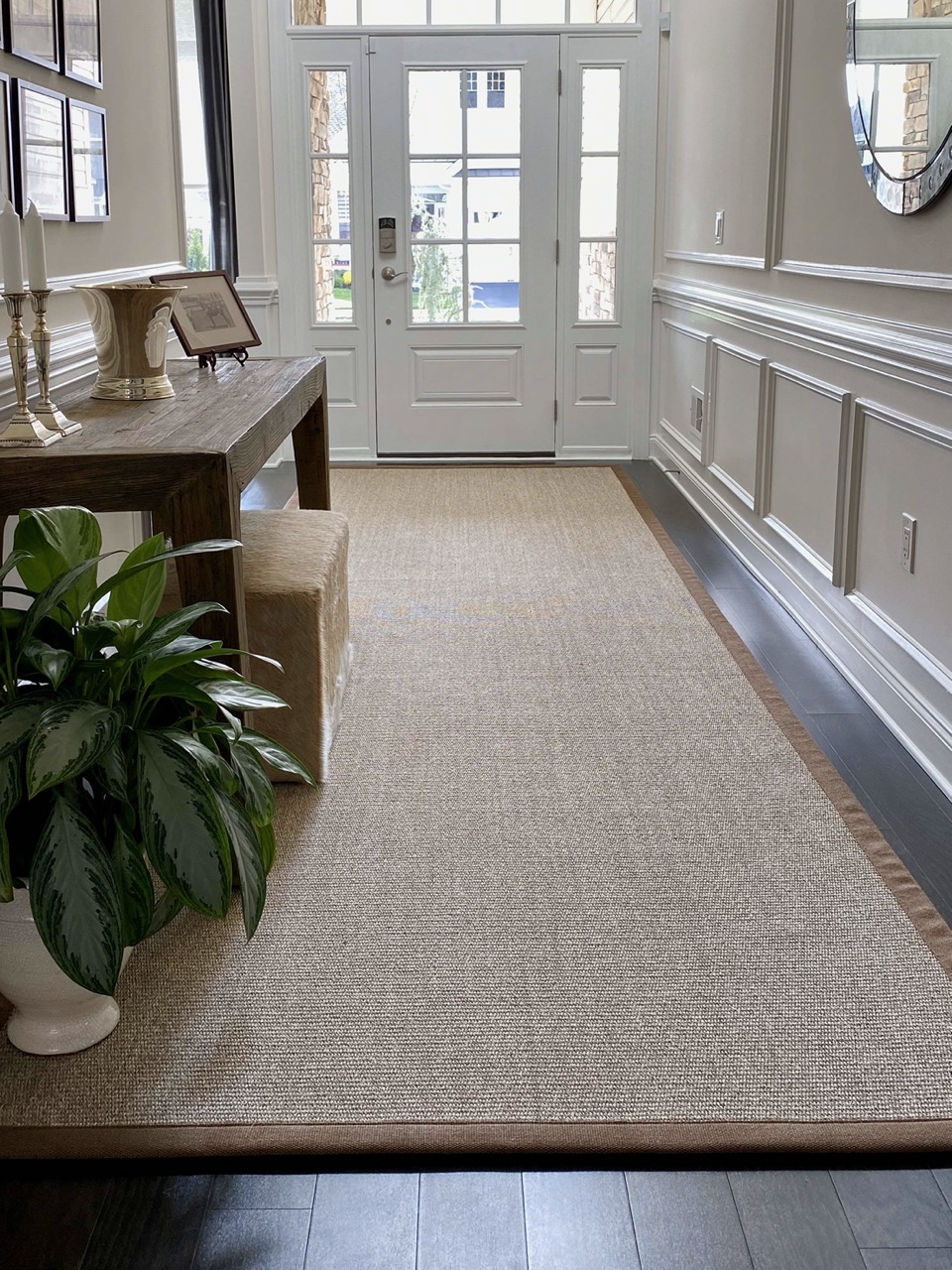 A sisal rug is usually flat woven (as opposed to handwoven or tufted, for example) by interlacing sisal yarns on a loom and worked in a repetitive pattern to create different structures like a bouclé, herringbone or chevron, basketweave, or tiger eye. A flat weave rug does not have additional knots that make a pile. This lack of pile and the tightly woven warp and weft threads result in a very sturdy rug.
Additionally, a natural latex backing is applied to sisal rugs which further increases the rug's stability. To keep the rug from unraveling, border options like serging or an applied cloth border complete the rug. Finally, many of our customers opt for a rug pad beneath their sisal rugs. A rug pad protects your flooring, prolongs the life of the rug, and increases comfort by adding cushion.
Many natural products have an unadorned look that is soothing and easily blends with its surroundings. This is true of sisal as well, but sisal rugs have a rustic texture, come in an array of earthy hues, with yarns that may be thick and more smooth, or petite with a rugged feel. Together, these attributes yield a sisal rug full of visual and textural interest that harmonizes well with many decor styles.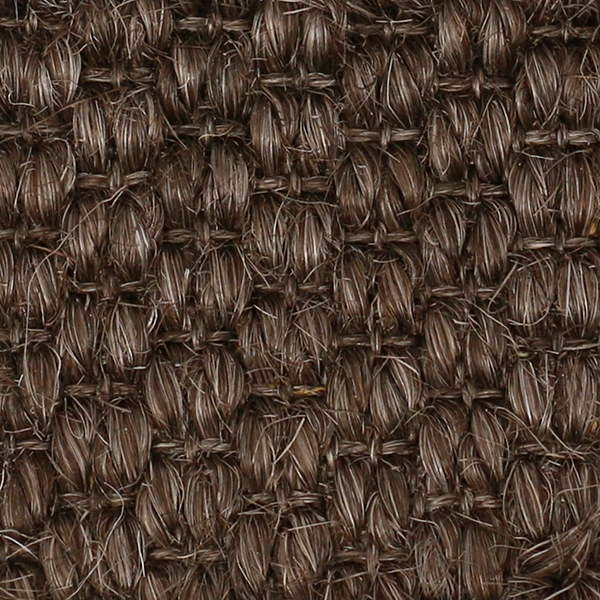 What are the pros and cons of a sisal rug?
Pros
Always on Trend Designers love sisal's design flexibility. You can easily pivot between a traditional style and a bohemian aesthetic by simply changing up accessories. This makes sisal a sound, long-term investment.
Durable Sisal rugs are hardwearing. Sisal fibers, produced from the robust agave plant, have high tensile strength and do not break easily. Further, sisal yarns resist abrasion, so a sisal rug can handle wear and tear. No wonder sisal is one of the most durable natural fibers used in the carpeting industry.
Natural Not only is sisal a renewable and sustainable product, it is an ideal addition to a natural, healthy home. Produced without the use of pesticides, a sisal rug has low VOCs and if regularly vacuumed, is a good choice for allergy sufferers because the dense flat weave does not trap dust and other particles.
Versatile Sisal's arresting textures and available patterns give designers a canvas to jump start their creative process. The right texture and pattern, like a chunky basketweave, petite bouclé or subtle herringbone, adds depth and interest to any design theme.
Neutral Foundation Another appealing attribute of sisal lies in its earthy, soothing colorways. Natural sisal colors—ranging from light-infused beiges to robust browns—form a superb color palette. These neutral tones enrich any design style, whether it is traditional, modern or minimalist.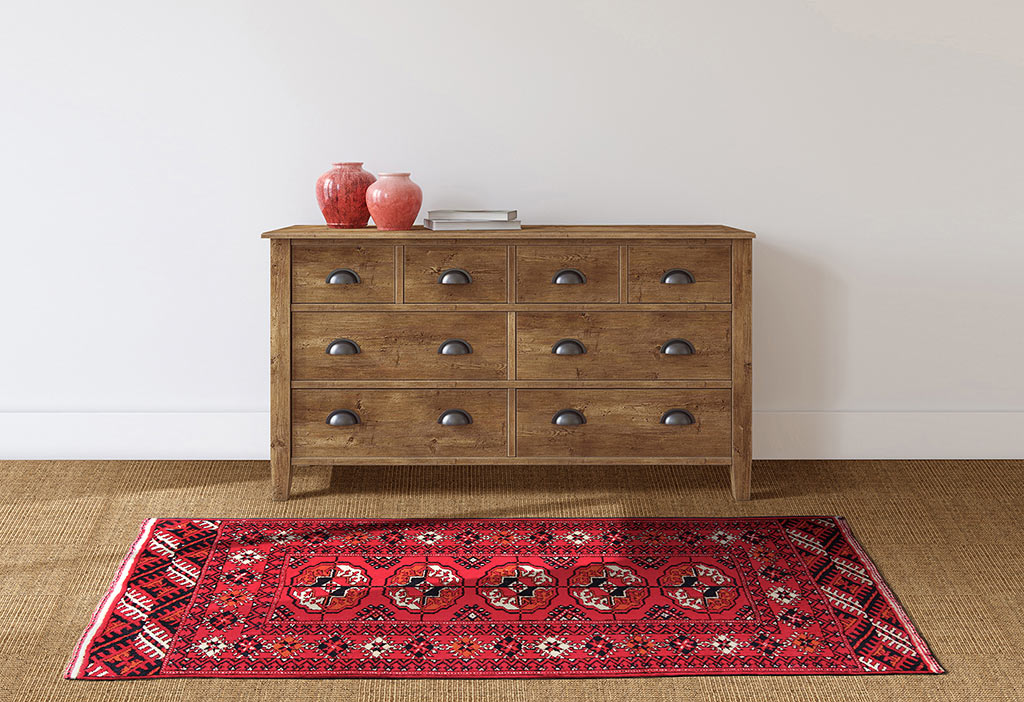 The Art of Layering
Sisal Tiles, a sisal rug, or sisal carpet installed wall-to-wall create a beautiful, natural base for layering a beloved vintage rug or colorful dhurrie. Sisal has long established itself as the preferred, timeless foundation for rug layering.
Cons
Indoor Only We often get asked "are sisal rugs good for outdoor use?" Our answer is no. Sisal does not hold up well in wet conditions or humid environments like bathrooms. Reserve your natural sisal for arid, indoor settings.
Alternatives? A synthetic sisal rug is a great choice. Synthetic sisal mimics the look of natural sisal but is highly resistant to moisture and easy to clean. Additionally, we have a diverse selection of outdoor rugs to fit your needs.
Sisal Is Not Soft Sisal rugs are made from the long leaves of the agave plant, resulting in a strong but stiff fiber that can feel coarse on your bare feet. Many people love the feel of sisal under their feet, but it is not for everyone. We recommend ordering a sisal swatch sample to discover if you enjoy the feel of sisal.
Alternatives? Chunky weaves such as Munich or Berlin feel softer underfoot and will smooth over time. Another option is to blend sisal with wool—one of the softest natural fibers on the market. We offer a wide array of beautiful sisal-wool blends in fresh colors and unique patterns.

Jute is also a great alternative to sisal. Jute is one of the softest natural fibers and a jute rug has the same organic look as sisal. Plus, all of these fibers are non-toxic—an added bonus. Learn more about the differences between jute and sisal.
Sisal Stains Although sisal is natural and durable, once it is dried and woven, it stains easily—even spilled water may cause warping and leave a stain. See Are sisal rugs easy to clean and maintain? below for cleaning tips.
Alternatives? Our SISALplus stain-resistant sisal collection gives you classic sisal colors and structures with added stain protection. Each individual sisal yarn has been coated with stain-resistant and fire-retardant material that also repels liquids and increases UV stability. This Bluesign® approved treatment makes the SisalPLUS collection ideal for active, high-traffic spaces such as hotels, resorts, store designs and residential homes with kids and/ or pets.
Are sisal rugs pet friendly?
There is no perfect rug for our four-legged friends, but some weave materials fair better than others. Tightly woven, durable and easy to clean are keywords you want to be looking for.
Image: SynSisal®'s Ravenna in mesquite
Natural sisal fairs well in all categories but stain resistance. If you are sold on natural sisal, here are our tips on choosing pet-friendly flooring:
Camouflage Choose a darker color that hides dirt or if your pet sheds a lot, choose a color similar to its fur. Patterns and bold textures are another way to distract from dirt and hair. Tip: For chewers, avoid fringes and loose threads.
Sisal-Guard Apply Sisal-Guard to your rugs. Sisal-Guard is a spray-on sealant that you apply to natural fiber rugs and it acts as a barrier to reduce the rate at which sisal absorbs liquid.
Consider Seagrass Since seagrass fibers are non-porous, many pet owners who love natural flooring opt for a seagrass rug. Seagrass does not absorb liquid and with prompt action, it resists staining.
Go Synthetic For complete peace of mind, a synthetic option like SynSisal® is a great choice. SynSisal® mimics the traditional look of natural sisal in structure and color, but has built-in StayClean technology. It's stain-resistant and contract rated.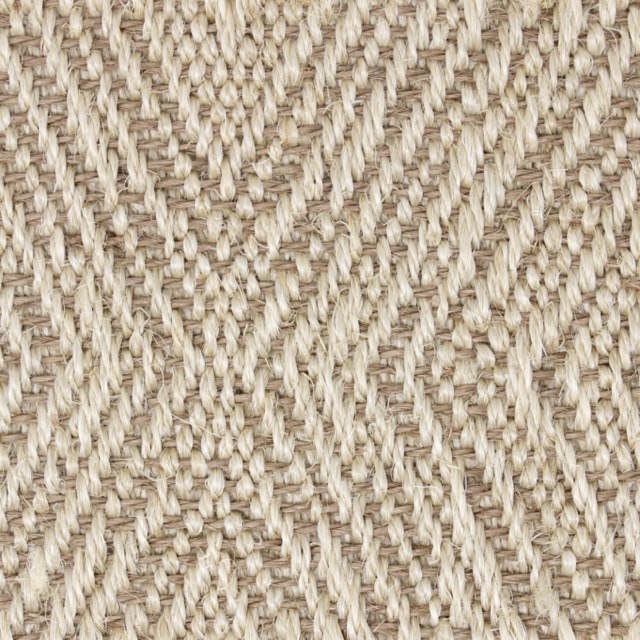 Are sisal rugs easy to clean and maintain?
Many websites will tell you that natural sisal is easy to clean, which does not mean that it is easy to maintain. These sources often only refer to dirt removal and less to treating stains and spills.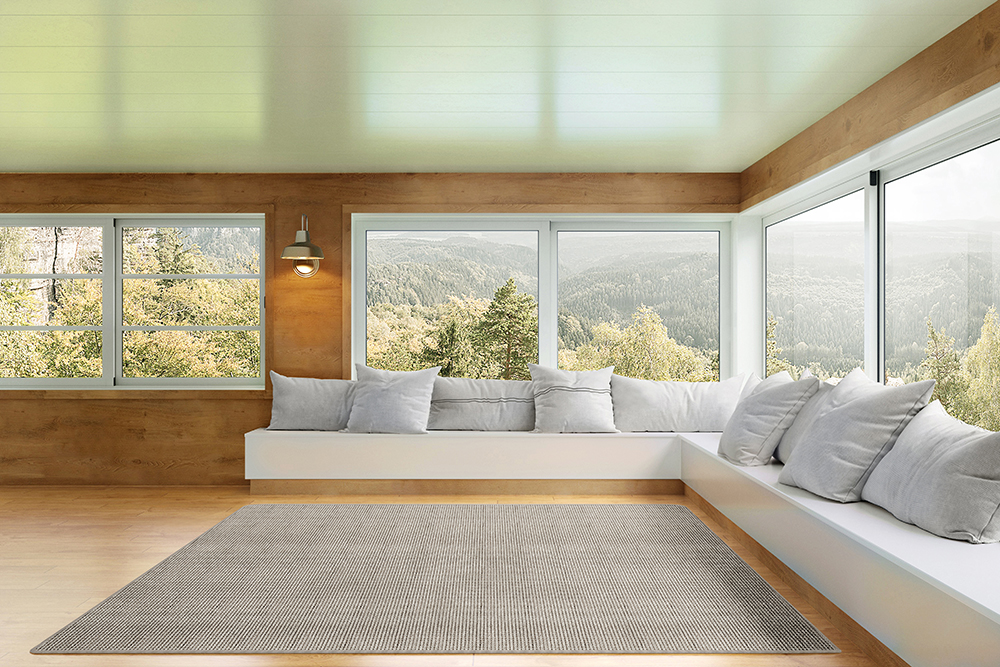 How do I clean a sisal rug?
First of all, we offer care and cleaning guidelines for all our weaves to help you protect your investment. And you can find detailed cleaning instructions for different materials and a comprehensive spot removal chart on our Care and Cleaning resource page. Our cleaning instructions are developed with input from flooring installers, customers, and sisal manufacturers. We have advice for any type of stain. But here are some quick tips for keeping your sisal rug looking its best:
Adopt a "no shoes in the house" policy. This prevents dirt, dust, and other rubbish from entering your home in the first place.
Vacuum often, ideally with a vacuum cleaner equipped with a HEPA filter. Use a strong suction to pickup all the fine dust particles, but turn off that beater bar.
Apply Sisal-Guard to your rugs. Sisal-Guard is a spray-on sealant that you apply to natural fiber rugs and it acts as a barrier to reduce the rate at which sisal absorbs liquid.
Since sisal is inherently absorbent, please do not place your sisal rugs in damp environments or where spills are likely to occur such as kids' spaces, dining rooms, or bathrooms.
If a spill occurs, even if it is only water, attend to it immediately. Scoop up any solids and blot the spill gently with white paper towel. Do not rub. Work from the outside towards the center of the spill.
Lastly, ask yourself if you are up for the care and maintenance that sisal requires. If you would prefer complete peace of mind, there are many alternatives! A stain-resistant sisal, a synthetic sisal, or SynSisal® weave all make beautiful floor coverings with low maintenance.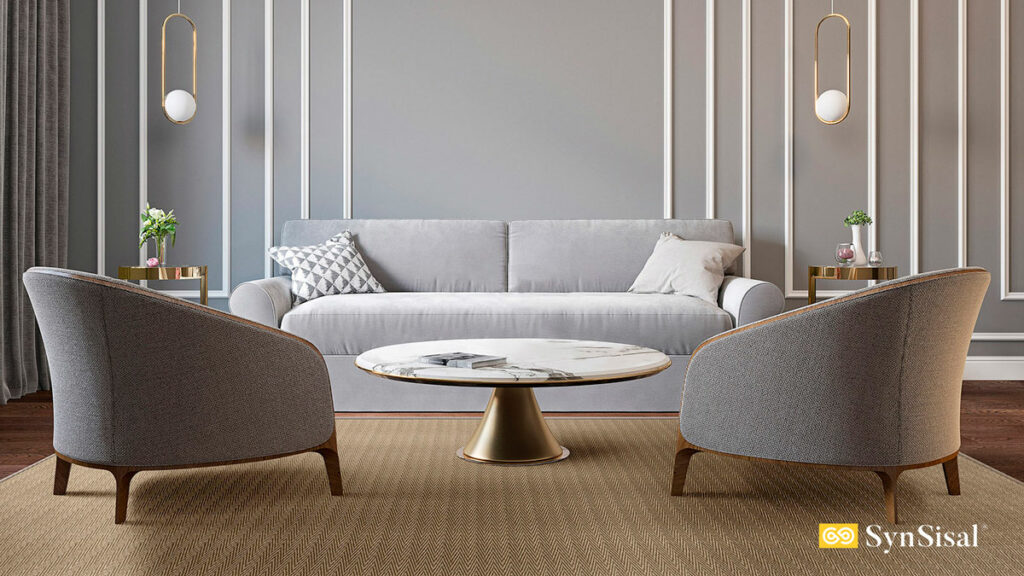 Learn More About SynSisal®
We took our extensive experience with sisal to develop a synthetic sisal product that goes where sisal can't. The SynSisal® collection is made from ECONYL® yarns, a 100% recycled nylon with low VOC contribution and StayClean technology. SynSisal® mimics the traditional look of natural sisal in structure and color, but is soft underfoot and carries contract grade ratings.
Read more at SynSisal®—Sisal Without Limits
Do sisal rugs shed and what is sprouting?
All plant fibers shed to some degree. Sisal sheds the least, and jute sheds the most. A tightly woven sisal rug like Astute or Madrid sheds less than chunkier sisal. Regular vacuuming will keep the debris at bay.
As for sprouting, customers often mistake sprouting for shedding. Shedding happens when small fibers loosen and detach from the rug. Sprouting happens when a yarn or thread that was tucked in during the manufacturing process pops out from the rug but is still attached.
Sprouting is a common process that occurs in many natural fiber rugs. It happens with regular maintenance and general wear and tear and is not a defect. Simply trim the sprout at pile height with a sharp scissor and do not pull. This routine maintenance will not hurt or affect the integrity of your rug. If you have questions, our customer service team is happy to help.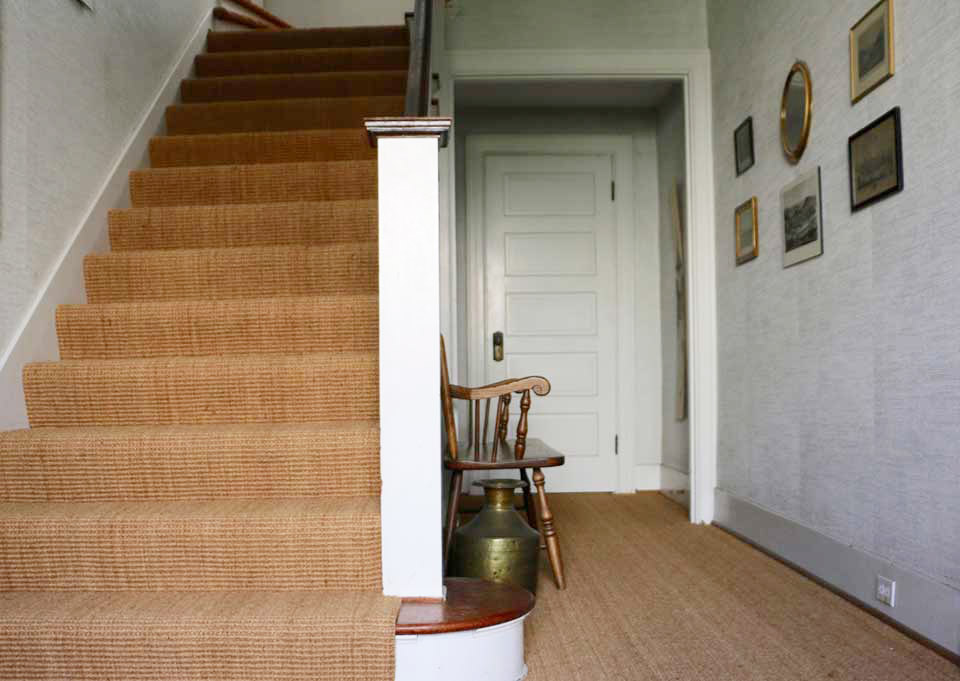 Is sisal carpet good for stairs?
A stair runner must be durable, hard-wearing, flat-woven and non-slippery. Sisal fulfills all of these requirements and more.
image: contract coir, with 40% sisal, installed wall-to-wall on staircase and hallway
Why would people add a runner to their stairs in the first place? Sometimes it is to hide an old, unappealing staircase or to avoid having to repaint it for the dozenth time. More often though, they want to protect their beautiful stairs or muffle sounds. For others, it is a design choice meant to emphasize a particular style or infuse radiance into an otherwise chilly atmosphere. Sisal rugs are perfect for all these purposes.
When Is Sisal Not Good for Stairs? There are three scenarios for which our sales team will not recommend a natural sisal rug for your stairs:
You have set your eyes on a chunky sisal
You live in a humid environment
You worry about stains
A sisal carpet with chunky or thick yarns is not the right application for staircases. Their smooth, thick fibers are too slippery. In the other two cases, we guide clients towards our stain-resistant sisal and synthetic sisal collections. These weaves won't absorb moisture and resist staining.
Aside from choosing the right carpet material, hiring a professional installer will ensure that your stair runner not just looks great but also lasts a long time. If you need more detail and inspiration, pay a virtual visit to our stair runners resource page for everything you need to know about stair runners.
Should I buy a sisal rug?
We hope that we shared everything you need to know about sisal and that you are ready to make a decision. Many factors influence this decision, including your design preferences, lifestyle, maintenance requirements, and budget. If you still are not sure and need more resources, we can help. The guides listed below will help:
But we have a few more questions to answer:
How much do sisal rugs cost?
Sisal weaves come with different price tags depending on the thickness of the fiber, the construction of the weave, the pattern and, of course, the size. For wall-to-wall installation, our sisal broadloom ranges between $60 to $160 per square yard. Custom area rugs also range in price, depending on the finishing and size. Here are some examples: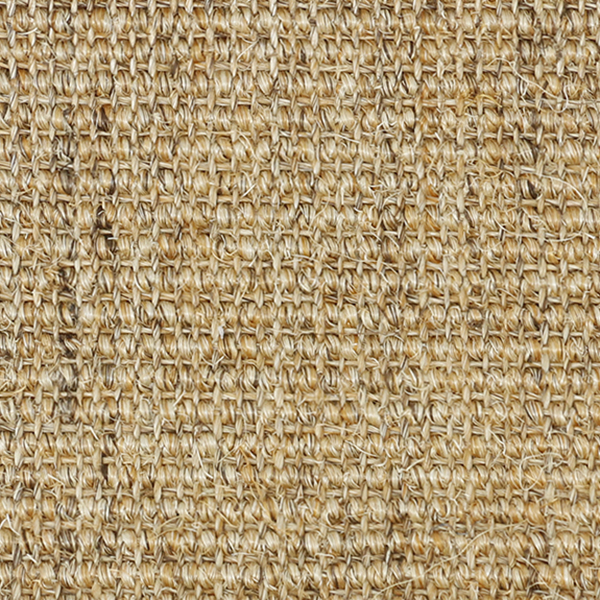 For a classic, flat bouclé sisal (like our Livos), an 8'x10' rug is around $1200.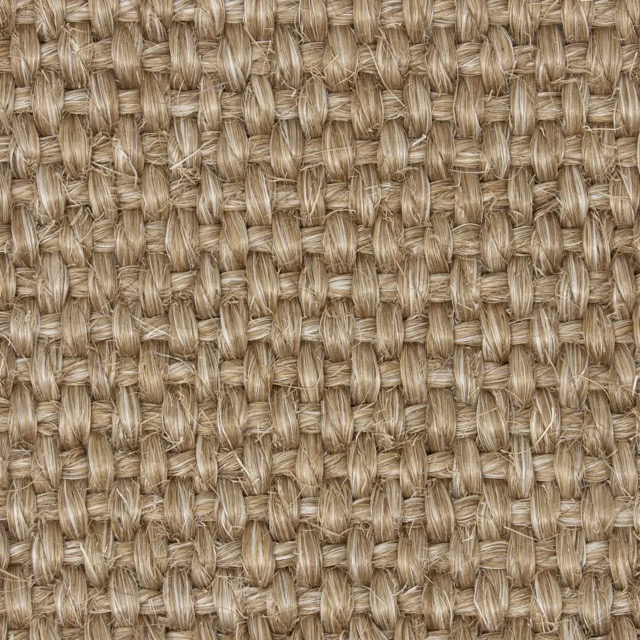 Our Legacy offers a basketweave construction and, for an 8'x10', costs about $1500.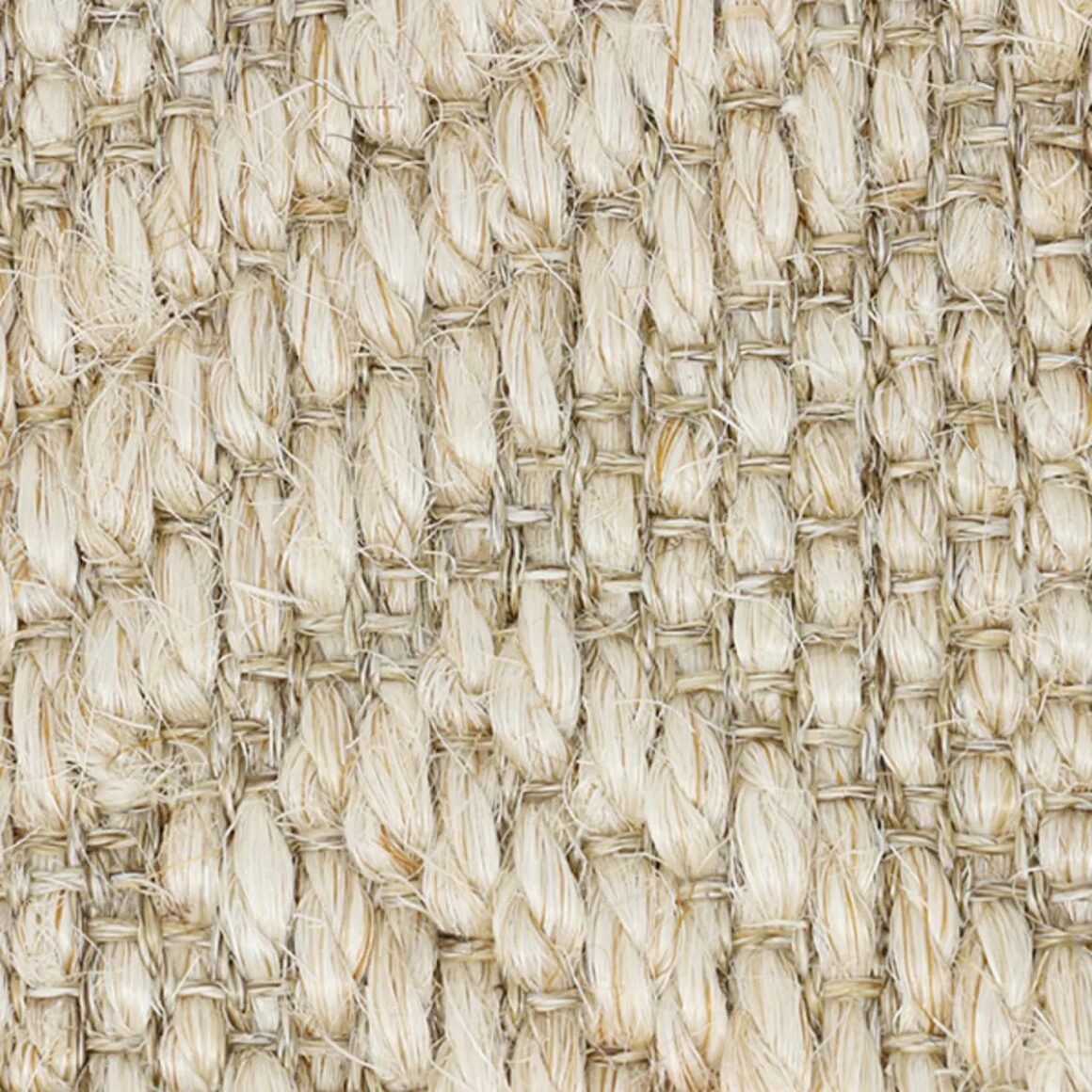 A chunky sisal with a graphic pattern (like our Lisbon) may be $2200 for an 8'x10' or $1100 for a 5'x7'.
Adding a cloth border or other designer finish around the edges of a custom sisal area rug will increase the final price as well.
Where can I buy sisal rugs online?
You can buy sisal rugs from us! We offer a wide range of premium sisal rugs made in the US or Europe. With an array of customizable options, including borders, shapes, and sizes, you can easily create your perfect, custom sisal rug. We offer free shipping and our exceptional customer service team is available to provide design advice or general help at any stage of your project.
How do I make a custom sisal rug?
While standard-sized rugs work great for some spaces, other rooms might require a custom solution. We specialize in custom sisal rugs and have an easy 5-step process to build the perfect rug to fit your room and style.
Browse Start by browsing our catalog. From here, you can use the filters on the lefthand side to narrow down the options based on material, use, pattern, and more.
Order Samples We highly recommend ordering samples. You need to see and feel the material. The color you see on screen can look very different once in your space.
Order Your Rug Navigate to your favorite rug's webpage and click "Price & Order." You will be guided through the rug building process which includes entering dimensions and selecting border options.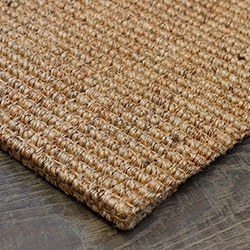 ---
In the end, know that a natural sisal rug brings warmth, depth and authentic beauty into your space. Whether your project is a residence, boutique hotel, office or retail space, natural sisal has a purpose in any of these applications. We hope this blog post helped you decide if sisal is the right material for your project. If you have any additional questions, please contact our knowledgeable sales team. We are here for you.