If you are undecided whether to use Sisal Tiles or a sisal weave for your project, we want you to keep in mind that, "there is a right application for any flooring. The trick is to find it." At least, that is what my boss always says. He, as well as our knowledgeable sales team, work with customers day in and day out. Before they suggest any flooring, they will ask you questions like, "What room is your flooring for?" "How much traffic does it receive?" "Do you have children or pets?" or "What is the style and color palette of your room?"
Furthermore, our team will emphasize that there are no material differences between Sisal Tiles and sisal rugs and carpet. Sisal harmonizes with traditional as well as modern settings. It is greatly valued by interior designers for its natural beauty and timelessness as much as its durability since it holds up to high traffic volumes. We fully recommend it for residential and light contract applications but less for heavy commercial settings because of its tendency to stain rather easily. Sisal can stand on its own or be used as a neutral foundation to frame an accent area rug. It equally shines in wall-to-wall installations. All of the above is true for Sisal Tiles and sisal weaves alike.
We recently dedicated a blog to "Sisal Rugs—Everything You Need to Know". Should you harbor any doubts whether sisal is the weave for you, just give it a read. If you have done all your homework and are still set on sisal, let's talk about the advantages of choosing tiles.
Sisal Tiles Are Versatile
We at sisalcarpet.com have a wide selection of natural sisals from chunky weaves in arresting textures to tightly woven, timeless sisals. But once you decide on a weave texture, pattern and color, you have committed to your floor covering for many years to come. Remember, sisal will last a long time if it doesn't get spilled on. Tiles, on the other hand, are modular. This lets you be more creative in the developmental phase of your project and later on. Those modules also allow for custom sizes and shapes. Plus, if you get tired of your design, it is much easier and cheaper to refresh your flooring. Just rearrange some tiles or add new ones in a different color hue to generate more interest.
Lastly, one major asset of tiles versus rugs and carpet: Should you spill onto your Sisal Tile, swapping just one tile is simple and much more cost effective than replacing a whole rug or carpet. Let's look at the advantages of Sisal Tiles one by one.
Get Creative with Sisal Tiles
Tiles are modular. They lend themselves to playing around to match your style or create a unique design. Our Sisal Tiles showcase a classic, fine boucle structure in earthy tones that allow for multi-colored installations such as creative borders and stripes as well as clever patterns like plaid and checkerboard.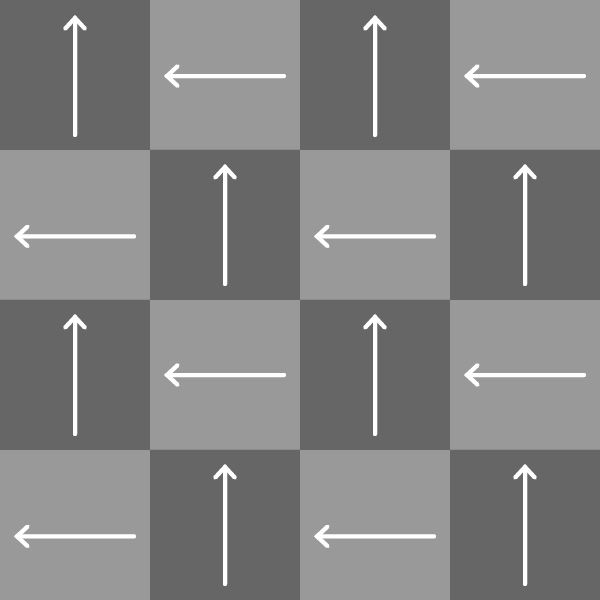 Design Custom Sizes and Shapes with Sisal Tiles
Tiles are adaptable to any room size if you do not shy away from a bit more work. They might be a great solution for odd-shaped rooms or smaller applications like dens or booths at a trade fair. For our more adventurous clients, cutting our 19.7" square Sisal Tiles in half to create two rectangular tiles (19.7" L x 9.85" W), opens up many more options. This is the case especially for textural installations or tone-on-tone blueprints. Just explore the herringbone and basketweave tile patterns below in plank shapes for more inspiration. Your imagination will set the limit.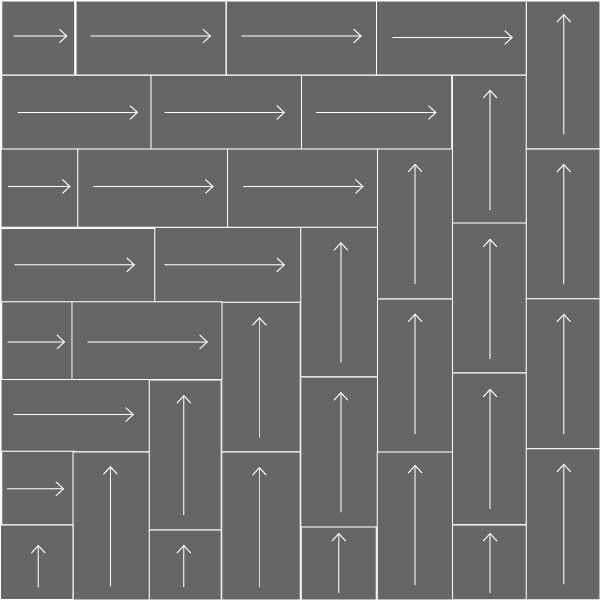 Note: All cutting must be done in a conventional way, meaning don't cut across the warp or weft. For this reason, we discourage diagonal or circular cuts. Those cuts will compromise the integrity of the tile's structure.
Refresh Your Sisal Tile Look
We can think of several ways to refresh your existing Sisal Tile flooring. In case of a loose-lay application, you could simply rearrange the tiles to create a different multi-color pattern. Reassemble your 3-Tile Buffalo Plaid into a 3-Tile Diagonal motif. Or, if you have only one color, you could add a second or third color to create a pattern in the first place.
Another way to spice up your tile flooring after a couple of years is to add a full-tile or half-tile border in a contrasting or harmonizing color. This approach works well for both loose-lay or glued-down tiles. Your neighbors will think that you got yourself a completely new rug.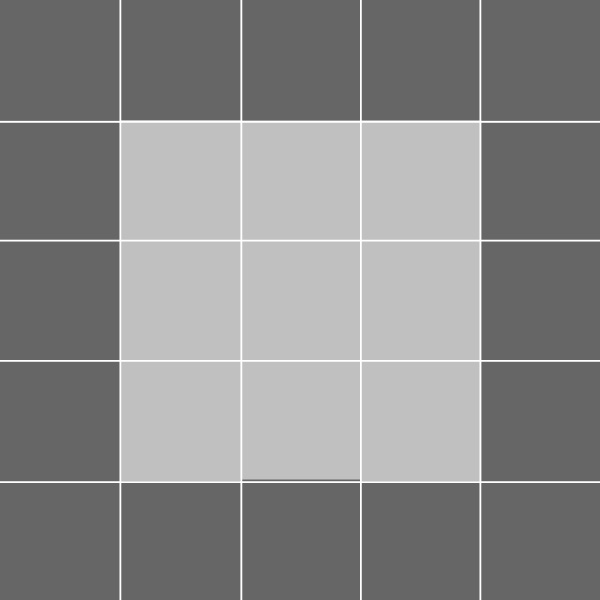 Lastly, one of our favorite suggestions involves a major design change: add some tiles in the same color to increase your existing tile flooring. Then use it as a foundation to frame a beautifully patterned accent rug. This approach gives your room a whole new feel.
Instant Spill or Stain Fix with Sisal Tiles
Caring for Sisal Tiles is the same as caring for your sisal rug or carpet. All natural fiber floor coverings are inherently absorbent. So do not place your sisal in damp environments like bathrooms or where spills are likely to occur such as kitchens. Vacuum frequently to remove fine dirt particles, which often add to wear and tear. A vacuum cleaner with strong suction will do the job. Please do not use a beater bar. Rug or tile, remove any spills as soon as they are discovered and follow our detailed Sisal Tiles Care Instructions on our website.
But now to the biggest upside of tiles versus rug and carpet. Should you end up with soiled or damaged tiles, they are easy to swap against new ones. Maybe you have an extra partial box on hand for the quick, hassle-free accident fix. Your flooring will look like new in no time and without added expenses. It would make sisal work in places where it otherwise wouldn't because you can replace a small area if needed.
Sisal Tiles Are More Economical
Just take a look at our sisal weaves available as wall-to-wall installations. We offer two sizes from 13'2" to 16'4" (extra wide). Let's say your project asks for a 20' wide sisal floor covering, then we would point you towards tiles. For one thing, we do not recommend seaming our sisal weaves unless you work with an expert installer. And for another thing, using 20" x 20" Sisal Tiles in this scenario is much more budget friendly. You do not have to worry about seaming; plus, you remain more versatile about the area you can cover.
Sisal Tiles Ship Quicker
Since we keep our Sisal Tiles stocked in a US warehouse, they are ready to be shipped out. The calculation of how many tiles to order is really easy. There are 16 tiles in a 60 pound case (we ship full cases only). One case covers 43.03 square feet of flooring. Once you place your order, the lead time is between 7-14 business days within the continental US. Shipping and receiving boxes is simple and fast.
Installing Tiles Saves Time and Money
We do not recommend installing a sisal weave yourself. But if you go with Sisal Tiles, there are several ways to install them and some are even suited for DIY. The easiest and fastest way is a loose-lay installation without adhesive. You just put the modular tiles next to each other in the layout you desire and that's it. Some people add a double-sided stick-on label in each corner where four tiles meet to lock the tiles into place. Another easy installation is the lay-in method. Please be aware that the stability of the tiles may change with fluctuating humidity. You may see these installations in showrooms, exhibition stands, etcetera, where quick assembly and disassembly is the key.
Permanent installations are harder to do yourself. This kind of installations use pressure sensitive adhesive (such as Ultrabond ECO 810 or 811) or contract-grade, pressure sensitive adhesive or tab to permanently fix the modular tiles to your subflooring. Both temporary and permanent installations take less time and thus, save costs. Besides saving labor costs, Sisal Tiles also do not need to be finished with an expensive linen, cotton or leather binding.
The choice is yours—Sisal Tiles or sisal rug/ carpet. But in any case, you will bring a beautiful, natural product into your home, which adds to your unique style while underscoring your love for sustainable solutions.