If you are undecided whether to use carpet tiles or a carpet for your project, we want you to keep in mind that "There is a right application for any flooring. The trick is to find it." At least, that is what my boss always says. He, as well as our knowledgeable sales team, work with customers day in and day out. Customers often ask questions like, "What are carpet tiles?", "Can I put carpet tiles in a commercial or residential space?" or "How do you install carpet tiles?"
To help you make the best decision, we created this post to discuss these questions as well as cover basics like the difference between carpet squares, Sisal Tiles and broadloom, how to make an area rug from carpet tiles, and how to lay tiles.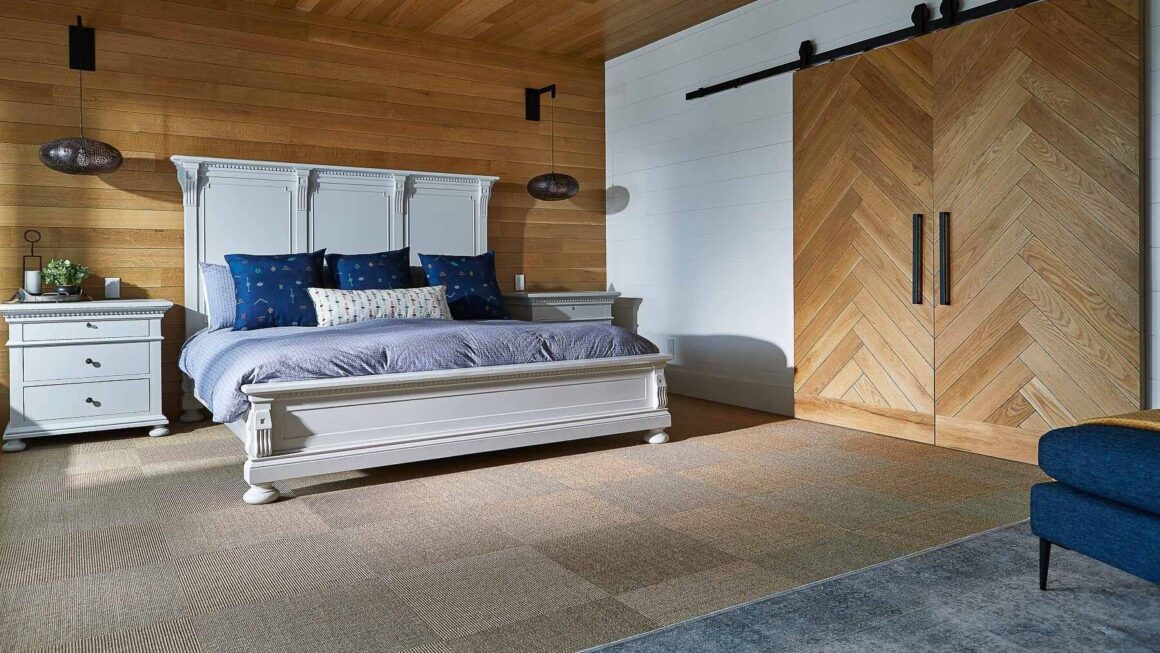 What are carpet tiles and how are they different from Sisal Tiles?
First, let's discuss carpet tiles: they are pre-cut squares or rectangles of carpet that are attached to a backing. The tile backing stabilizes the weave and prevents it from unraveling, buckling or curling. Carpet tiles can be made from synthetic materials like nylon or natural fibers like wool or sisal, and are also called tiled carpet, modular carpet, or modular flooring. Instead of being sold off the roll, as in broadloom carpeting, carpet tiles are sold by the case or box.
Sisal Tiles are carpet tiles made from our bouclé sisal carpet and attached to a durable, rigid backing. The only general difference between Sisal Tiles and carpet tiles is the pile material—one has sisal specifically, while a carpet tile could have sisal, wool, or another material. When we created Sisal Tiles, we wanted to take the natural beauty of sisal and build a product that is versatile, beautiful, durable, and easy to use. And since sisal is greatly valued by interior designers and design-minded consumers for its timelessness, a flexible carpet tile like Sisal Tile adds another great option for flooring.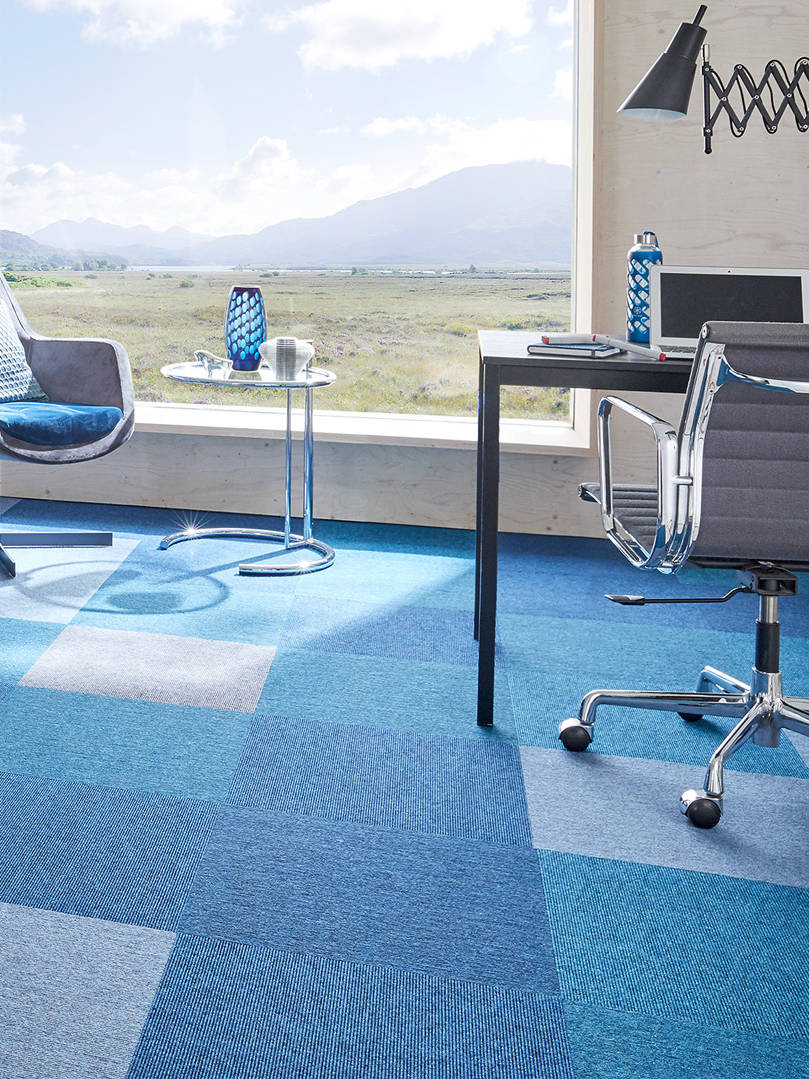 Carpet Tiles vs. Carpet: what are the differences and which one should I use?
In general, there are no material differences between a carpet tile and its broadloom counterpart (if it has one). For example, Sisal Tiles are a bouclé sisal carpet, cut it into squares, and adhered to a backing. Sisal Tiles are both a residential and a light commercial carpet tile, whereas not all sisal rugs and carpet are approved for commercial use.
Furthermore, both sisal carpet and Sisal Tiles can be can be used in wall-to-wall installations or used to create an area rug. But there is a difference in the installation process and the final look. Let's go over some of the important distinctions when deciding whether or not to use tiles or carpet.
| | Carpet Tiles | Broadloom Wall-toWall |
| --- | --- | --- |
| Use: Residential or Contract? | Check Product Specifications. For example, Sisal Tiles are rated for residential or light contract and tretford®'s Interlife Tiles are heavy contract. | Check Product Specifications. Some of our sisal carpet is contract grade, but most is residential. We carry a variety of commercially rated carpets. |
| Installation | Easy, DIY with loose lay, or professional installation for permanent glue down. Overall less expensive to install. | Professional installation or expert installer recommended. Permanent and more expensive to install. |
| Final Look | Seams or lines between tiles visible, but design flexibility and ability to create patterns. | A seamless, cohesive look but less design flexibility and limited to design or pattern present in carpet. |
| Repairs to Damaged or Stained Flooring | Damaged or stained tiles can easily be swapped out for new tiles. | Complete reinstallation may be required with stained or damaged carpet. |
| | | |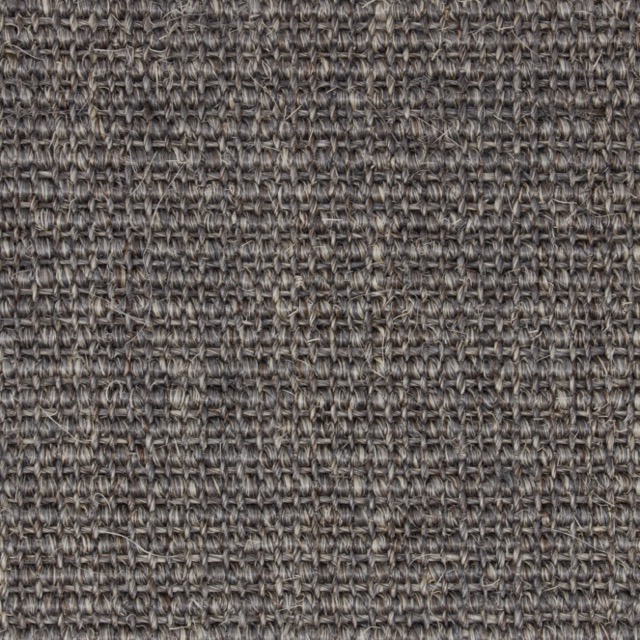 Benefits of Carpet Tiles
Carpet Tiles are Versatile
Carpet tiles are modular. For example, a Sisal Tile carpet square can easily be moved and placed to create a design. This versatility gives you more creative control in the developmental phase of your project. Carpet tiles make it easy to cover oddly shaped layouts and if you get tired of the design, it is much easier and cheaper with tiles to refresh your flooring. Just rearrange some tiles or add new ones in a different color hue to generate more visual interest. With a loose-lay application, simply rearrange the tiles to create a different multi-color pattern.
Carpet Tiles as a Custom Rug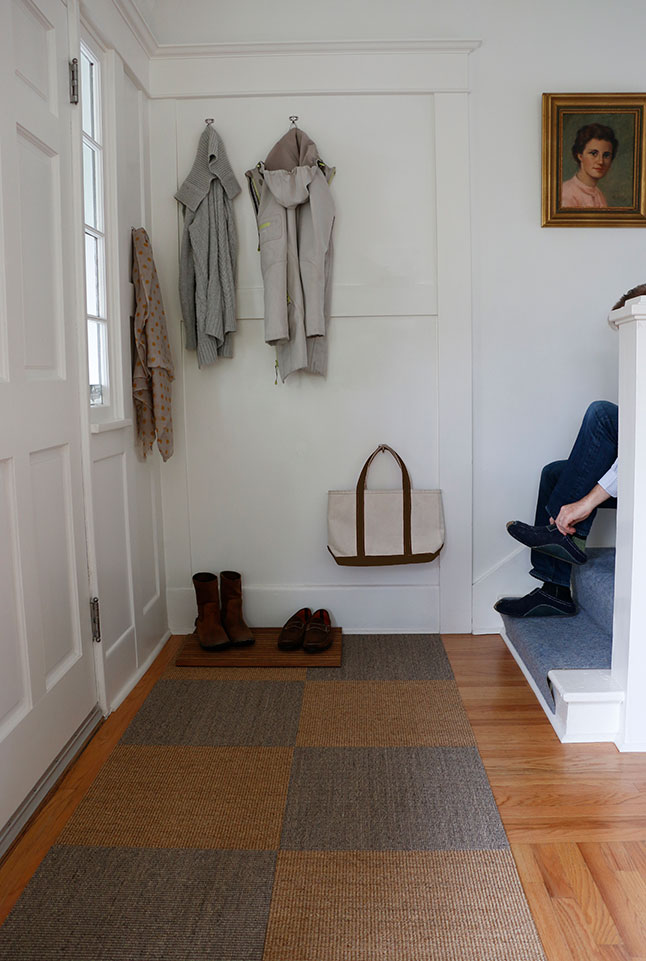 Your favorite carpet tiles can be used to create an area rug. Maybe you love the texture of Sisal Tiles or the bright colors available with Interlife Tiles but the cost of a custom rug is too high or your budget doesn't have room for installing tiles wall-to-wall. A couple cases of carpet tile may be all you need to craft a custom, unique rug for your space.
Easy to Install & Budget Friendly
A carpet tile installation is very different than wall-to-wall carpet installation. A wall-to-wall installation with one of our flat weave sisals is not something we recommend doing yourself. A successful and beautiful flat weave installation requires expertise. (To learn more about installing flat weaves, read our comprehensive Flat Weave Carpet Installation-Everything You Need To Know blog post). Here are some key differences between a carpet installation and a tile installation:
| | |
| --- | --- |
| Wall-to-Wall Carpet Installation | Carpet Tile Installation |
| A roll of broadloom carpet can weigh hundreds of pounds and be difficult to handle. | A box of Sisal Tiles weighs 60 pounds and most carpet tile boxes weigh approx. 50 pounds. |
| Professional installation is recommended and adds to the overall project expense. | Do-It-Yourself installation is completely possible, saving labor costs. Read our carpet tile install guide here. |
| It's pretty permanent. A fitted carpet is meant to last for many years. If your style preferences change, your carpet may not be able to. | Even a permanent carpet tile installation can be swapped out more easily than wall-to-wall carpet. |
| Stains or damage will require professional assistance to fix, or a complete re-installation. | A heavily soiled tile or damaged tile can be pulled up and exchanged with a fresh new tile. |
Carpet Tile Installation Methods
If you opt for Sisal Tiles or another carpet tile, there are several ways to install them and some are even suited for DIY.
Loose Lay Installation The easiest and fastest way is a loose installation without adhesive. You just put the modular tiles next to each other in the layout you desire and that is it. Some people add a double-sided stick-on label in each corner where four tiles meet to lock the tiles into place. A loose lay installation is often used in residential settings or in showrooms, exhibition stands, etcetera, where quick assembly and disassembly is the key.
Permanent Installation Permanent installations are harder to do yourself. These kinds of installations use pressure sensitive adhesive (such as Ultrabond ECO 810 or 811) or contract-grade, pressure sensitive adhesive or tab to permanently fix the modular tiles to your subflooring. If you want to learn more about carpet tile installation, our Carpet Tile Installation Guide shares the tips and tricks we have learned over the years.
Both temporary and permanent installations take less time and thus, save costs.
Instant Update
Maybe you already have carpet or Sisal Tiles in your space and need a refresh.
If you have only one color, add a second or third color to create a pattern.
Add a full-tile or half-tile border to the room or carpet tile area rug in a contrasting or harmonizing color.
If you have a carpet tile area rug, consider adding tiles to increase the size of the rug or extend the tiles to the wall. A new flooring foundation is created from which you can layer smaller accent rugs. This approach gives your room a whole new feel.
Design Custom Sizes and Patterns with Carpet Tiles
It's easy to get creative with carpet tiles. Since they are modular, they lend themselves to experimentation. Play around with patterns or colorways to find the right look and fit. For our more adventurous clients, cutting our 19.7" square Sisal Tiles in half to create two rectangular tiles (19.7"L x 9.85"W) opens up many more options. To get you started, here are some of the most popular carpet tile pattern ideas.
Tonal Stripes
Our Sisal Tiles showcase a classic, fine bouclé structure in earthy tones that when combined, create subtle stripes. Stripes can be easily created from two (or more) colors.
Borders
Use a darker tile to create a border either around the edge of a room or to define the border of a carpet tile area rug. Carpet tiles cut in half to create a rectangle make a refined border and help with the budget.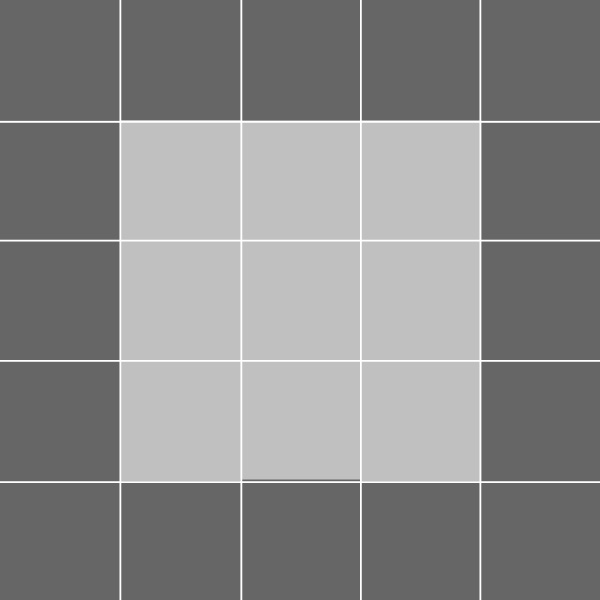 Checkerboard & Plaids
Clever checkerboard patterns enliven a space. A checkerboard tile pattern can consist of two colors, or three for a more intricate buffalo or diagonal checkerboard.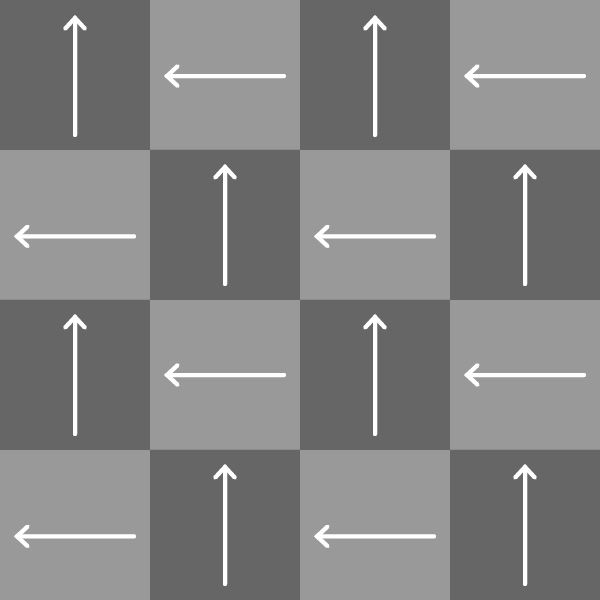 Herringbone & Basketweave
You can achieve a herringbone or chevron pattern as well as a basketweave if you are willing to cut the tiles. The rectangular, or plank, shape of the tile allows more flexibility.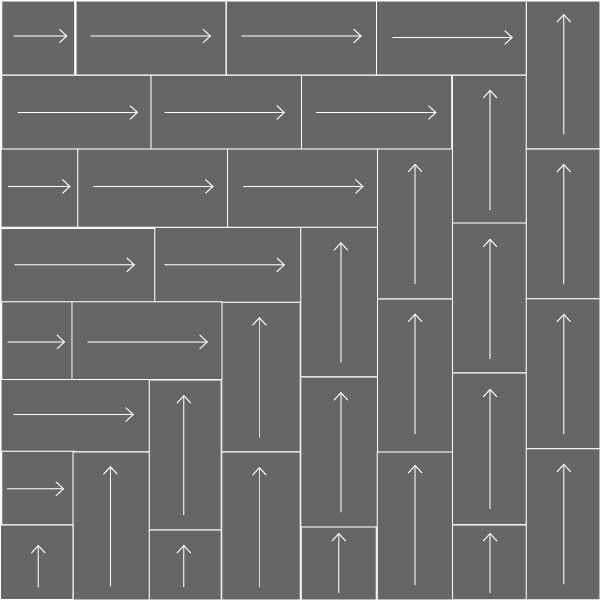 Note About Cutting Tiles: A sharp blade is essential for successfully cutting tiles. With our Sisal Tiles, cutting parallel with the ribbing will yield the cleanest edge. However, you can cut across the ribbing. We discourage diagonal or circular cuts because it compromises the tile's integrity and may lead to sprouting or fuzz at the carpet tile's edge. If you need to cut diagonally at a termination point or create a rounded edge around an exposed pipe, we recommend applying seam sealer to the open edges and/or installing base trim or some other kind of threshold protection.
How to Care for Carpet Tiles
Care for carpet or Sisal Tiles is the same as caring for a rug or carpet. Vacuum frequently to remove fine dirt particles, which often add to wear and tear. A vacuum cleaner with strong suction will do the job, but please do not use a beater bar.
Natural fiber floor coverings are inherently absorbent, so do not to place Sisal Tiles or sisal flooring in damp environments like bathrooms or where spills are likely to occur such as kitchens.
Whether carpet tile, area rug or wall-to-wall carpet, remove any spills as soon as they are discovered and follow the detailed Care guidelines that came with the product or from our website.
If a tile becomes heavily soiled or damaged, remove the dirty tile and swap in a fresh, new one. This quick change without added expense is one of the greatest benefits of carpet tile, so consider ordering extra tiles just for this purpose.
Do you need padding or underlayment with carpet tiles?
With most applications, a padded surface beneath carpet tiles is not needed or recommended. Rug padding is by nature soft and could prevent the tiles from laying flat and tightly packed, thereby creating a walking hazard. However, with some commercial tile installations, a compact underlayment is used. This would always be at the discretion of a professional installer.
How many tiles do I need?
Tile dimensions and case coverage amounts are listed on the product's website. You will have to calculate how many cases you need to cover your project. If you need assistance, our customer service team is happy to help. For our Sisal Tiles, there are 16 tiles in a case (each tile measures 19.7" x 19.7") and one case covers 43.03 square feet of flooring. Each case weights 60 pounds. Please note that we only ship full boxes of carpet tiles and for Sisal Tiles, we have a 4 box minimum.
Quick Ship
Since we keep our Sisal Tiles stocked in a US warehouse, they are ready to be shipped out. Once you place your order, the lead time is between 4-7 business days plus transit time within the continental US. Shipping and receiving boxes is simple and fast. Many of our other carpet tiles ship quickly from within the US.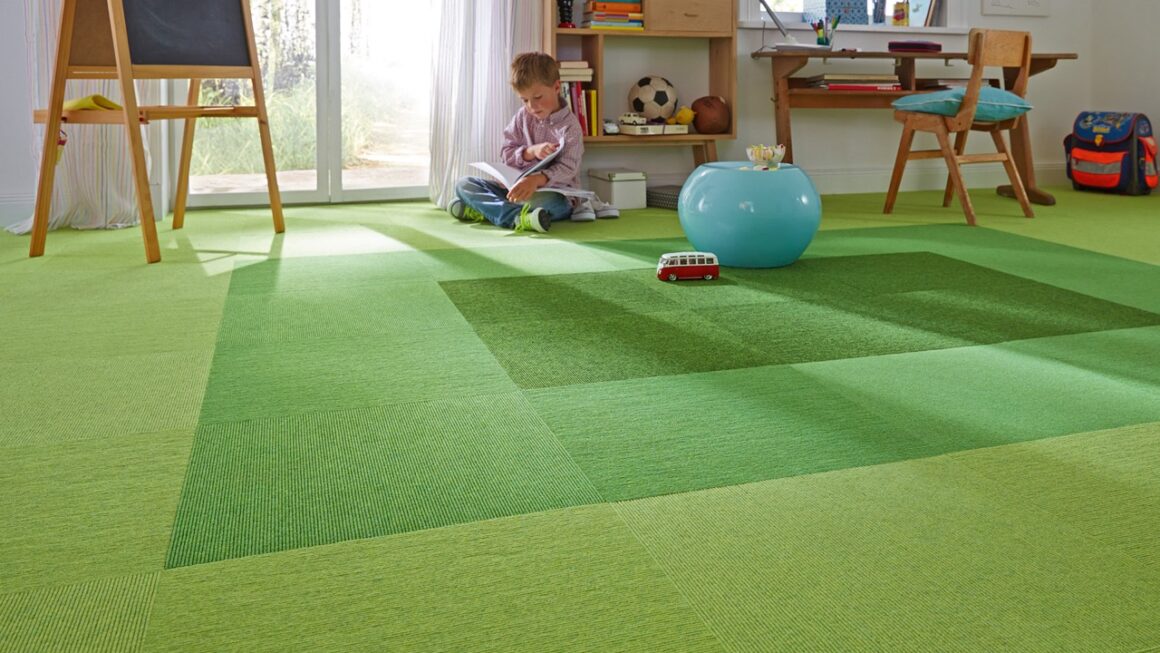 Final Thoughts
The numerous advantages of carpet tile make this flooring option a consistent best-seller amongst residential customers, interior designers, property managers, and architects. Although carpet tiles don't have the same seamless look that we love about wall-to-wall carpeting, the ease of installation, the visual interplay of textures and colors, and the ability to swap tiles in and out are powerful benefits.
Regardless of which flooring option you choose, we hope this post pointed you in the right direction. If you are still unsure, we have many resources available, from choosing the right rug based on your design style to in depth discussions about natural fibers like sisal, seagrass, and jute.
Need more details about how to choose the right material for your next custom rug?
Our Everything You Need To Know series has the information you need.
Creating an outdoor gathering space?Need just the right amount of shade? Our guides are here for you.