What Is Mid-Century Modern Style?
A member of the modern design style family, the mid-century design movement emerged in the middle decades of the 20th century, from the 1940s through the 1960s. War-time scarcity and manufacturing innovations combined with a desire for something fresh yet practical fueled the MCM design movement. Although it mimics many aspects of modern design, mid-century modern (MCM) style has a bit of playfulness that makes it unique.
To create a mid-century modern feel, layer in these basic tenets of MCM into your space:
Clean lines are still welcome with MCM style, but with the addition of iconic curves. Look for amoeba shaped coffee tables, pedestal dining table with circular or kidney-shaped tops, enveloping egg chairs, and other sculpturesque pieces.
Just like modern style, MCM inspired spaces merge indoor and outdoor realms with sliding doors or large windows that bring in natural light and offer exterior views. Maintain sight lines throughout the interior space via uncovered glass windows, low-backed furniture, and minimal clutter.
Add doses of color like mustard yellow, ruddy orange, or earthy green, all common hues in MCM decors.
The race to the moon inspired atomic and celestial themes, like sunburst light fixtures or mirrors, or wallpaper studded with star motifs. Incorporate these iconic themes and/or geometric patterns via wall art, upholstery, accessories, or flooring to express mid-century style.
As in modern design style, mid-century modern mixes natural materials like wood with manufactured materials. Many classic MCM pieces are crafted from fiberglass, molded plastics and metals, as well as concrete, glass, and plywood. Curate a variety of materials and architectural details in your home for MCM cred.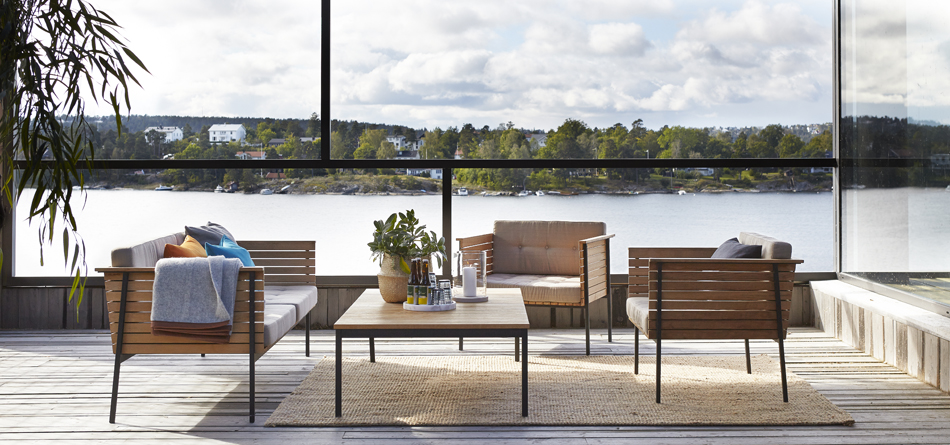 ---
Looking for outdoor furniture with a MCM aesthetic? View our curated collection and learn more about the mid-century modern movement in our post "Modern Classics: A Guide to Mid-Century Modern Outdoor Furniture" on the Curran blog.
---
Which Rugs Amplify Mid-Century Modern Style?
Seamless A mid-century modern style rug crafted from sisal or jute creates an expansive and neutral foundation, allowing architectural and decorative elements to stand out. Also, natural fiber rugs are a visual reminder of the environment outside our windows.
Spotlight Highlight the playful side of MCM design by incorporating spotlight-worthy rugs into the mix. Flashback is a perfect mid-century modern rug, expertly crafted and woven from colorful yarns in a delicate herringbone pattern. Rugs from Jacaranda, with their subtle shimmer, add unexpected luster and intensify natural light. And for outdoor patios and pool decks, synthetic outdoor rugs offer a variety of styles and colors to complement MCM-inspired outdoor furniture.
Geometric Mid-century modern rugs with a geometric pattern are another way to layer depth and character into living rooms, dining rooms, bedrooms and more. Abstract patterns or delicate motifs add energy to the understated tendency of MCM style by contrasting with minimalist designs and creating a sense of movement.
Quick Tip For Achieving A Mid-Century Modern Look
Tapered legs or hairpin legs on furniture are a quintessential mid-century modern look, adding a subtle sophistication to everyday objects. A couch floating a few inches off a mid-century modern rug or a side table with a small footprint evokes openness and lets light move through the space. Incorporate furniture with hairpin or tapered legs into your interior design and you are well on your way to emulating a MCM vibe.
Need more details about how to choose the right material for your next custom rug?
Our Everything You Need To Know series has the information you need.
Creating an outdoor gathering space?Need just the right amount of shade? Our guides are here for you.
Christy is the Flooring Content Specialist at Curran and sisalcarpet.com. She writes about flooring products with a focus on design and sustainability. For 5 years, her blog posts, technical guides, and product descriptions have led customers along the path from purchasing to maintaining their flooring investments. Her favorite natural flooring? A sisal rug, of course.