What is Modern Style?
Modern style encapsulates a "form follows function" ethos. Strip away unessential flourishes and embrace clean lines, uncluttered furnishings, and open space living. Modern style rejects the ornate, highly decorated trends of the Victorian and Renaissance periods. Instead, it embraces a turn toward functional design movements like Bauhaus or Scandinavian.
Key ingredients for modern decor include:
Crisp edges, simple lines, and an understated yet chic decor are hallmarks of modern design. Curvy, ornate antique furniture upholstered with decorative tapestry does not belong in the modern catalog. The expression "boxy but good" offers a good direction for choosing furniture for modern styles.
Modern style takes advantage of vertical space, both in welcoming in as much light as possible (think floor to ceiling windows) and in displaying statement pieces of art. Additionally, exposed concrete or beams invite us to look up and remind us of the function these materials serve in our living spaces.
Muted, monochromatic colors like whites, greys, blacks, and beiges blanket modern spaces, providing a neutral backdrop.
Doses of energetic color, like red, blue or yellow, punctuate modern spaces and invite the eye to wander. These colorful elements can be created through art work, found objects, and modern area rugs.
A mixture of natural materials like wood and manufactured materials like concrete or glass is a common fixture of modern design style.
Inset shelving and built-in appliances maintain clean lines and an unobtrusive look in the modern home. This uncluttered look extends to decorative objects, knick-knacks or excessive ornamentation: the less stuff in the space, the more room for light to move through.
Which Rugs Amplify Modern Style?
Simplicity Beautiful, unadorned natural materials make ideal companions for modern decor. A modern style area rug braided from abaca leaves or crafted from pure wool is an example of form following function: a practical area rug is elevated into a beautiful form, with minimal embellishments, while providing durable floor covering, sound or thermal insulation, and a splash of style.
abaca braided rug in color aluminum
minerals wool area rug in color ivory-walnut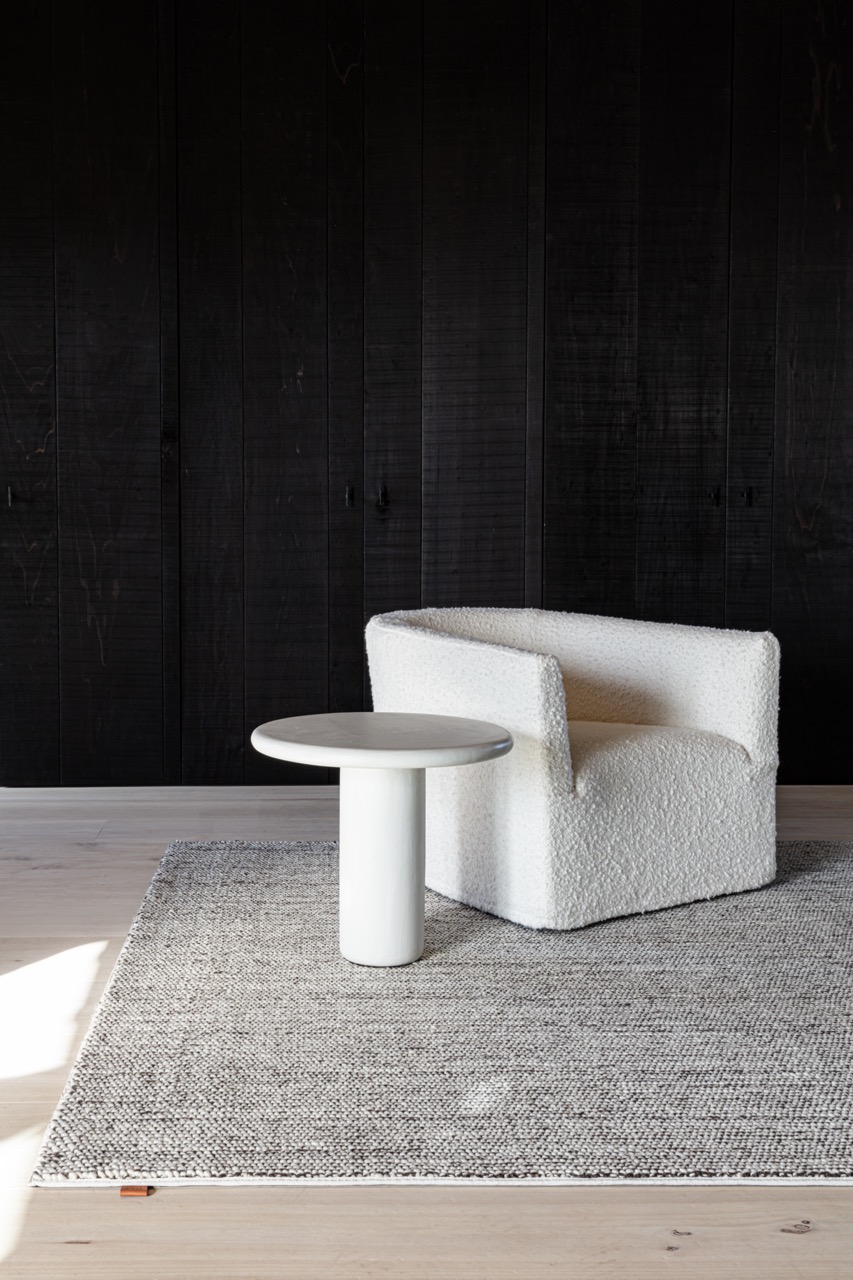 Monochrome Soothing, natural colorways found in undyed wools and grasses like sisal and jute complement the modern style by furnishing a calm, neutral foundation. A modern area rug like our St Helens or Fiji Jute add subtle texture while maintaining a monochromatic scheme.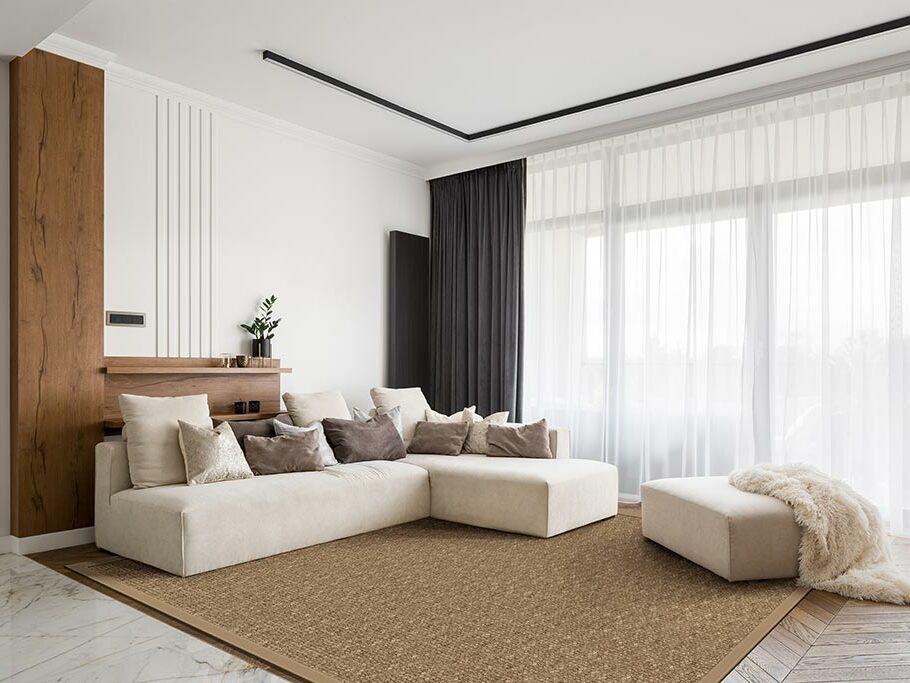 Pattern Just like subtle texture adds tactile interest to a modern space, a modern area rug with an uncluttered motif or delicate pattern adds visual intrigue to an otherwise monochromatic decor. Additionally, geometric patterns with crisp lines and unfussy features are also welcome.
Quick Tip For Achieving A Modern Look
Blurring the lines between the outside and inside realms is a key tenet of modern home design. The massive windows seen in many mid-century homes frame the natural world and welcome abundant light. Combined with an open floor plan, they add to the airiness and flow of a modern style home.
Amplify this flow with raised furniture, like a coffee table with hairpin legs or a couch with tapered legs, that provides a path for air to move. For double light exposure, incorporate reflective surfaces like chrome fixtures, lacquered surfaces, or clear lucite into your modern design plan.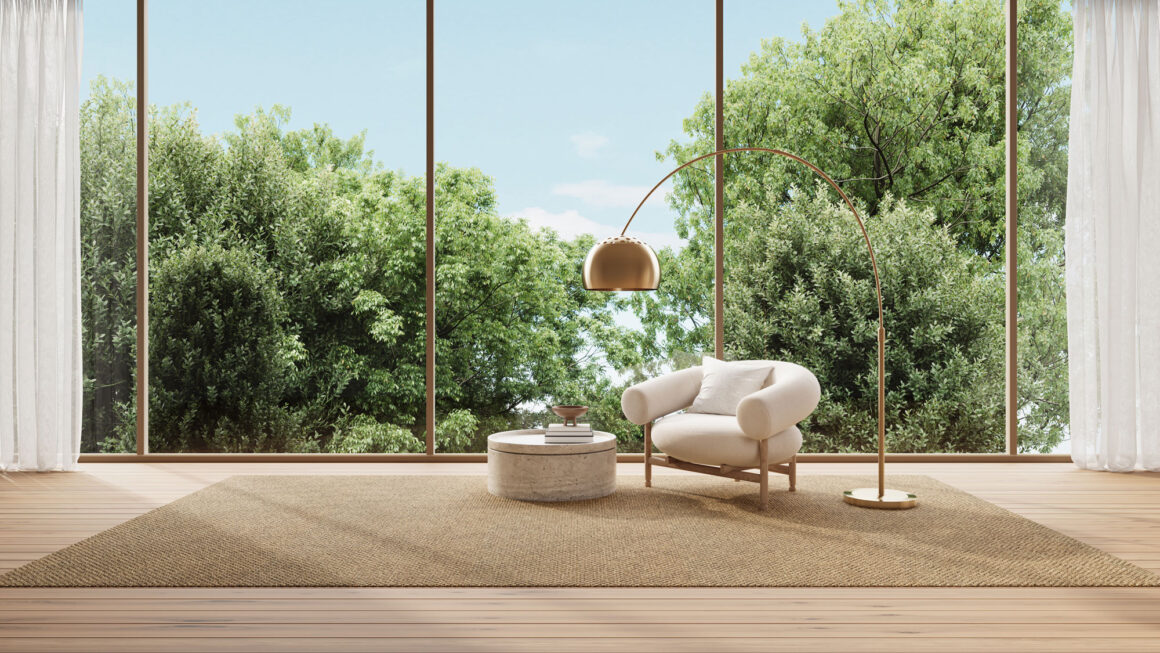 Christy is the Flooring Content Specialist at Curran and sisalcarpet.com. She writes about flooring products with a focus on design and sustainability. For 5 years, her blog posts, technical guides, and product descriptions have led customers along the path from purchasing to maintaining their flooring investments. Her favorite natural flooring? A sisal rug, of course.